Kneeling on the bed, following my Dominant's instructions to the letter.
Posted by
Pandora
on April 19th, 2014 in
Alex Reynolds
,
Dreams of Spanking
,
Featured
,
James Johnson
,
Korey Johnson
,
Northern Spanking
,
Paul Kennedy
,
Performers & producers
,
Photos
,
Play
,
Sites & studios
Last week we spent a lot of time hanging out with our friends James and Korey Johnson. I first met them at the Texas All State Spanking Party in 2012, where we bonded chatting about selling porn, running websites and content management systems. At Boardwalk Badness Weekend last year I was lucky enough to play with Korey on the last night, but disappointingly, I was so sleep-deprived by that stage in the weekend that my accuracy as a top was not up to my usual standards and I wasn't sure I'd made a great first impression.
Still, the friendship was cemented in the UK last autumn when they came to visit and we spent an enjoyable evening hanging out. We didn't play that time, but it turns out that this was due to a miscommunication rather than a lack of interest on either side. Funny how even seasoned spankos can still miss an opportunity because both of you are too shy to ask straight out, "Would you like to play?" Lesson learned – I'll be more direct in future!
Thankfully, Alex Reynolds has no such shyness and as such is an excellent facilitator of play between her friends. We all had fun during James and Korey's stay in LA, and some of it was even captured on camera. Alex has written an in-depth shoot report on the Northern Spanking forum.
I got to watch James spank Korey in a nurturing, loving and very hot domestic discipline scene:
Then while Korey took a break, I touched my toes for twelve of the best from Paul Kennedy in an office caning scenario – this time for Dreams of Spanking:
And finally, I got to spank Korey on camera for a cute kitchen scene with her looking adorable in an apron, cotton panties and a red bottom. The panties didn't stay on for long, however!
Posted by
Pandora
on April 18th, 2014 in
Alex Reynolds
,
Clare Fonda
,
Featured
,
My Spanking Roommate
,
Naughty Diaper Girls
,
Paul Kennedy
,
Photos
,
Sites & studios
,
Spanked Call Girls
,
The Cameraman CFW
My week in Canada for the Feminist Porn Awards and Feminist Porn Conference was intense. I want to write more about it here, and I'm intending to post the text of the two talks I gave, too, but in the meantime you can read a short recap on the Dreams of Spanking blog.
I flew straight from Toronto to LA, and landed amongst palm trees, blue skies and sunny weather. As Chris would say, I felt tumble-dried after my flight – jet lag was still chasing me from the UK and in Toronto it would have been nearly bedtime even if I hadn't been skimping on sleep the last few nights.
Still, I was on the West Coast, and on our way to get some food Alex and Paul suggested that we drive to the beach for my first proper sight of the Pacific ocean. (I glimpsed it from Vancouver a few years ago, but never made it down to the beach). The sky and sea were very blue, the beach was surprisingly full of people for a Monday afternoon in April, including families and a dude sitting cross-legged to meditate. I really was in California.
The first couple of days of my stay in LA were taken up with settling in, buying groceries, recovering from the intense time in Toronto, thinking, processing, and keeping in touch with all my new feminist porn friends via social media. I was really behind on work, but before I could do any the first order of business was buying a laptop powerful enough to edit video.
I found a pretty nice one, but it took another day to set it up and get all my software working. Why do programs never seem to install correctly the first time?
New laptop! Also, a preview of the HOT hotel spanking scene I shot with Australian porn starlet (and official Feminist Porn Heart-throb of the Year 2014!) Zahra Stardust.
Anyway, by Wednesday evening everything was in place and I was finally good to go. Then I discovered I hadn't brought all the footage for the scene I'd planned to release that week. Cue a hasty reshuffle, and some urgent video editing to get 'Bitch', my lesbian spanking scene with Ms Vixxxen, ready to publish at the weekend. It's a perfect example of the consensual non-consent material I discussed in my second panel at the Feminist Porn Conference, so if you like queer, rough resistance play and are curious about my work, you should check it out.
Meanwhile I've been having fun staying with Alex and Paul in their cosy, sunlit little house in LA, meeting the rest of Alex's polycule, and hanging out with our mutual spanking friends James and Korey Johnson, who happened to be visiting LA at the same time as me. While they were here we shot some impromptu spanking scenes for Northern Spanking and Dreams, and I'm looking forward to seeing them again at Boardwalk Badness next week.
I've squeezed in several shoots for other sites, too. Alex and I did a fun cat-fighting shoot for a private client, as tennis girls fighting over the only racquet. We got so horny shoving and slapping each other around that we had to really concentrate to not just tear each other's clothes off!
Last Saturday I got to bring a dream to life and work with Jamie Foster, AKA Clare Fonda, for her site Naughty Diaper Girls. Adult baby isn't a kink of mine, but I read Pampered Penny's blog, and she has always had a knack of explaining the fetish in a way that makes sense to me. I filmed four short clips with Jamie with me wearing a nappy, including an intro interview in which I talk about my perspective on the adult baby kink. Jamie is a hoot and so much fun to work with.
I love this photo of her stroking my boob. It's like she's mesmerised in the boob-appreciation zone
It was amazing to meet her and fingers crossed, I'm hoping to shoot a couple of spanking scenes with her for Spanked Call Girls on Monday.
But I'm getting ahead of myself. My next engagement was for the Clare Fonda Network, with the guy who used to be Clare's business partner and is now running the empire singlehandedly. His stage name is simply The Cameraman. He's a lovely guy and we had a great day shooting for My Spanking Roommate with Madison Martin and Courtney Shea. Spanking and being spanked by two beautiful ladies – and being paid! Days like this I feel so incredibly lucky to live this life.
After the shoot, Alex and I went out for dinner with the Cameraman to a hilarious sushi restaurant where the waiters did sexy dancing in the style of N-Sync. They encouraged diners to dance and a couple of people got up on tables (not us, we were too busy scoffing sushi). Alex and I particularly enjoyed the disclaimer they had up on the wall:
See? You can't punish us, we aren't responsible for anything! It says so on the sign!
During the meal we played a game where we tried to name all the Clare Fonda Worldwide sites. We managed all of them except the Clips4Sale stores and Kara Prepare Yourself – the Cameraman had to fill those in for us. Eleven membership sites – that's an impressive empire!
After dinner the Cameraman persuaded us to go to a karaoke bar he likes. Well, we didn't need much persuading. All three of us got up to sing, and he sang "I love LA" by Randy Newman for my benefit, since I hadn't heard the song before. "Look at that mountain! Look at those trees!" is pretty much what I've been saying every day since I got here.
I love this town. When you see LA in TV and films it's always presented as this hectic, neurotic place, full of women who never eat and high-powered people screwing each other over. Maybe there are places downtown like that, but the neighbourhood I'm staying in couldn't be more relaxed. Sun every day, warm winds; soft, spacious architecture very reminiscent of south Spain; palm trees and wide, clean streets. It feels gentle and comfortable, the kind of relaxed calm that comes from security.
I keep on looking at the mountains and wanting to get out of the city and see more of them. After I've finished my video editing this week I'm hoping there'll be time to do some hiking. You don't get landscapes like this in the UK; I want to explore.
The karaoke night ended up getting rather drunken and hilarious. I'm going to leave you with this photo of the three of us wearing the false moustaches that the bar staff handed out. If you wore them, you got two dollars off drinks.
Alex and I are rocking the falsies but the Cameraman's tache is 100% real.
Posted by
Pandora
on April 10th, 2014 in
Vintage
"Very few people have seen these, as they've just been left and stored away, unpublished. I was wondering if you'd be interested in them."
I opened the email and saw the attachments: a dozen scans of 35mm prints of vintage spanking photos. I liked them so much that I wanted to share them with you – and I called the photographer, Jon Garrett, to get the inside scoop on these rare spanking pictures.
One of the first spanking photos Jon ever took, this striking impact shot was a lucky capture, with Jon himself wielding the paddle and the camera set on a timer. "I had to give her a few swats before we got it right," he admits. The lady is a French professional model named Toril, and Jon went on to shoot with her several times, including for video on VHS.
Another timed capture while Jon took Toril over his knee. I love the energy and vibrant composition.
Jon didn't just photograph women. Here's a very well spanked male bottom belonging to a young man named Charles, who could clearly take a sound thrashing.
Charles played with this particular top a few times after she got in touch with her dominant side, and Jon got to watch him go over the knee. He recalls, "A proper hairbrushing she gave him. She really let him have it. He was squealing, but he enjoyed it – and she did."
Jon also took this evocative photo of the lap in question.
The young lady bending over in school knickers is Samantha, who did a few shoots with Jon while building up her modelling portfolio.
She wasn't into spanking, but on one shoot she did agree to bend over for a few swishy strokes of the cane.
The top in this next photo is Mistress Caroline; the bottom remains anonymous.
"This was my idea," Jon tells me. "I set it all up for this shot, the stuff on the wall and so on." Caroline was a dominatrix, and on at least one occasion Jon's friend Charles found himself on the receiving end of her cane.
Fans of vintage lingerie will enjoy these photos of the same bottom; both clad in satiny vintage knickers, and bare.
"She was a professional model, but she was also actually into spanking," Jon recalls. In these shots she's over someone else's knee, with Jon standing behind, aiming to capture the spanker's point of view – a style of spanking photography that has now become so popular it's almost the default.
This gorgeous art nude, with natural light creating a soft, painterly effect, features model Tracy Lomax:
This shoot was commissioned by a patron who saw the black and white over the knee photos above and called up asking for something similar. Jon loves working with natural light. He told me, "This is my natural style. If I'm in a good environment and the light is just right, CP is a fantastic opportunity to create some really great photography."
Jon is available for private and commercial CP work. Check out my website Dreams of Spanking for more artistic spanking photos.
I spent a lovely evening on Friday in the company of D, Molly Moore and her husband Signs, where the conversation over dinner ranged from blogging and SEO to spanking, fantasy and polyamory.
They encouraged me to participate in Sinful Sunday, so here's my contribution for this week. This is a photo I took of my friends Nimue Allen and Andrew Shada last September on a spanking shoot.
It was Andrew's first day exploring the wonderful world of creating spanking video and so for his first film, I came up with the idea of a newbie top trying spanking for the first time, encouraged by his more experienced date. Both of them are switches, which always lends a lovely empathy to a scene, and Nimue's enthusiastic sensuality as she urged Andrew to spank her harder was incredibly sexy to watch!
It's weird to me how many producers in the adult industry are jealous about their knowledge. A lot of people are reluctant to share info that's seen as "insider", and it baffles me. How are we going to make porn more diverse, more ethical and more transparent if we don't open the gates and let people in? I get people coming to me all the time asking me for info about how to get started in porn. My advice may not be perfect but I'm happy to give it.
It seems silly to me to be threatened by the idea of having more competition in the porn industry. Porn is inherently, absolutely personal and everyone has something different to offer. I have my audience, you will find yours and there's more than enough to go round. There's really no need to guard our "industry secrets" so closely.
I believe that the more people create their own porn, the better the porn industry – and society as a whole – will be. If more people start making DIY porn it will be good for the industry, good for the economy and good for the performers. Even consumers win, having a greater diversity of porn available and knowing that it's fairtrade, homegrown and free-range.
I've written an article for the Frisky explaining how to get started making, and selling, your own DIY porn, and why I think more people should. I love the cover image they've chosen for it.
Read, share, and I hope you'll be inspired to give DIY porn a whirl.
What with the recession, welfare cuts and increasing financial inequality it can be difficult to know how to make ends meet. I've got some advice for you which might seem controversial: empower yourself through porn.

It's easy.

The internet, as the saying goes, is for porn. In fact the internet has not only increased access to pornography, it's also democratized content creation in a way unprecedented in history. Aspiring filmmakers no longer need to spend thousands of pounds on expensive equipment – high definition video can be shot on a smartphone. Computer processing power allows you to edit video on a home PC, and free software is available to help you do it. Here are some tips to help you get started.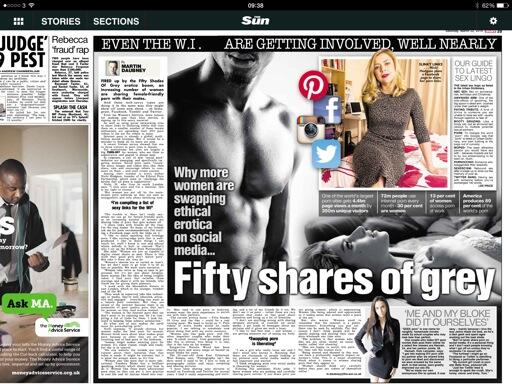 Given my general hatred of all things tabloid, I was surprised to learn that I'd been mentioned in the Sun newspaper. Even more surprised to learn that the article – on "the rise of social, ethical, shared porn for women" – has a positive spin.
Pandora Blake has a brilliant spanking website which shows you how to do it. Women like these more educational porn sites, so they can put it into practice in real life and let fantasy bleed into reality. Men tend to use porn in isolation, women want the porn experience to enrich sex with their partners.
The piece quotes Nichi Hodgson, a journalist and activist dedicated to promoting awareness of ethical and feminist porn. The glaring gender essentialism and inaccurate generalisations in the above paragraph aren't Nichi's fault, although if you click through to read the full text, you'll find plenty more. For the record, women use porn alone, men use porn to enrich sex, whether you like educational porn has nothing to do with gender. Okay, whatever. Misquotes and simplifications are to be expected from publications like this. I want to talk about why it's important that this article exists.
Nichi and I are very much on the same page when it comes to what makes porn ethical, why it's important, and the need to raise the profile of the fantastic work that feminist pornographers have been doing for years. These articles all want to seem ground-breaking, and so it's common to read statements that "porn for women is hard to find", implying that there isn't much good stuff out there; or that feminist porn is a relatively new phenomenon.
Women are put off by the mainstream porn websites as they are seen as misogynistic and only about satisfying men.

The trouble is, there isn't really anywhere we can go for female-friendly porn, so an increasing number of women are sharing links of porn that gets women off.
Actually feminist porn has been around for decades. Candida Royalle founded Femme Productions in 1984, the year I was born. Anna Span's first film aired in 1999 and Petra Joy launched Strawberry Seductress in 2003. The Feminist Porn Awards are going into their ninth year. Feminist porn isn't news – but it is niche. Or at least it has been so far, despite the best efforts of feminist pornographers to promote their work.
So despite the misquotes, the generalisations and the inconsistency (saying "there isn't really anywhere we can go for female-friendly porn" one moment; then listing female-friendly porn the next), I don't want to complain too much about this piece. Yes, it's annoying that it focusses on women "sharing" porn – presumably considered a less threatening activity than women making porn, or watching it, or y'know, wanking to it, any of which would surely be more relevant. But my desire to give feminist porn a wider audience is more important than tabloid coyness. The excellent work that politically-minded female porn directors have been doing for a generation deserves to be common knowledge. Articles like this help raise awareness that porn isn't all aimed at men; and that can only be a good thing.
When the opening panel of a conference comprises a writer, a pornographer and a lawyer, you know you're set for an intelligent, stimulating weekend.
There should be a joke that starts like this. "A writer, a pornographer and a lawyer walk into a con…"
When Ruby Kiddell invited me to speak during the opening keynote of Eroticon 2014 alongside Myles Jackman (better known as "Obscenity Laywer") and renowned author and kinkster Zak Jane Keir, I wondered what I could have to add. Myles is an expert on the legal situation regarding censorship in the UK, and Zak would surely talk with authority about how censorship as a feminist issue, how it affects authors and perverts. What could I possibly say that wouldn't already be covered?
Well, I suppose there was always that kerfuffle with CCBill last year – that might at least raise a laugh, through sheer absurdity if nothing else. And I'd be addressing a roomful of erotica authors, who would presumably be interested in the foibles of Amazon's content guidelines…
My concerns proved fruitless when the civic-minded Zak emailed me and Myles to tell us what she was planning to talk about, so that we could plan around each other and co-ordinate. It turned out that there was no overlap whatsoever. Ruby had chosen her panel well. My intention to talk about my personal experiences of corporate censorship as a pornographer didn't clash with anything they were planning to say; and if they laid the social and legal groundwork, that left me free to tackle the commercial side of things.
All in all, it worked out rather well.
#Eroticon2014 starts with Zak Jane Keir: "Censorship is always used by the powerful to control the powerless."

— London Faerie (@londonfaerie) March 8, 2014
Not at #Eroticon2014 but am always amazed that I can do something with someone and it's legal but filming it and sticking it on net isn't

— sarah (@sarahluv81) March 8, 2014
As a porn producer my primary experience of censorship has not been legal, but corporate. Anyone who creates erotic media and wants to find a way to make it available to others is at the mercy of restrictions placed by financial institutions, publishers and distributors. We might all want to increase the diversity of erotic material available, but however innovative we are, unregulated commercial bodies still have the power to control the marketplace.
Censorship is strongly controlled by financial institutions as they can control what can and cannot be sold #Eroticon2014

— Chris McC (@stranded_in_to) March 8, 2014
There are two fallacies at play here – excuses cited by corporations to justify censorship. The first is 'what is legal', and the second is 'what will sell'.
A few years ago Suraya Sidhu Singh developed an erotic magazine called Filament. This was the first print magazine for women which combined erotic photography of male models with adult fiction and intelligent articles on subjects as varied as physics, music and Morris dancing.
Filament's problems started with their second issue, the first one to contain actual photos of actual erections. Small fry, one might think, compared to the explicit imagery included in lads' mags; but no. It turns out that there's a total double standard between what's permissible in sexualised images of women for the male gaze, and what's permissible in sexualised images of men for the female gaze. When Filament's printer found out that the issue would include erections they said they couldn't print it, claiming that it would upset some of their other clients. Suraya needed to run the world's first democratic "erection campaign" to raise the funds to hire a more progressive printing company.
First film erection passed by censors was allowed because "only the middle classes would see it". Class, power and censorship. #Eroticon2014

— Blacksilk (@BeingBlacksilk) March 8, 2014
Even once printed, Filament struggled with distribution. One distributor who was interested after the magazine was featured in the Independent changed their mind after seeing the second issue, claiming that printing erections was illegal in the UK. The thing is that it isn't illegal now, and it wasn't then. The CBS guidelines don't even mention erections – it is considered so trivial a concern as to be a complete non-issue. But the actual legal status doesn't matter when companies are setting their own rules. The law takes on a mythical status. When neither corporations nor producers are accurately informed, they often hedge their bets for the sake of brand image. The resulting uncertainty surrounding the law creates a chilling effect whereby perfectly legal material is tacitly censored.
The distributors who impeded Filament often used the excuse that the material "wouldn't sell" – despite the fact that they themselves had expressed interest in the product. This is a fallacy I encounter time and time again when working to improve diversity in porn. "It won't sell" is a self-fulfilling prophecy if publishers ensure that something is impossible to buy.
The internet is an empowering, liberating tool, but the truth is that everything online is controlled by corporate entities somewhere down the line. Everything has to be hosted somewhere, and the online publishing tools and marketplaces that make distribution so accessible for independent creatives have lot of power. In the 21st century we may not have to be accepted by an agency or publisher to distribute our work, but individual companies still impose restrictions that control what can be published online.
Any erotica writer will be familiar with Amazon's foibles when it comes to adult content – and the loss of sales many authors experienced when the online bookstore stopped adult fiction from showing up in search. Likewise, Google is famous for its adult content restrictions; you may remember when Blogger gave users four days to remove any "adult advertising" under threat of having their blogs summarily deleted. In its search algorithms Google has recently started favouring pages which are linked to a Google Plus account – where pseudonyms and porn links are not permitted, effectively discriminating against sex workers and adult content producers.
Nothing about this has anything to do with law and everything to do with corporate prudishness. Trying to find an audience for your work can be an uphill struggle against restrictive and ever-changing terms and conditions.
These commercial controls doesn't just affect over-18 content; they can also reflect the prejudices of the business owner by being gender discriminatory or homophobic. For instance, the tube site SpankingTube which hosts user-submitted free content (and makes money off advertising) accepts male/male spanking videos, but hides them from search – to protect the homophobic sensibilities of the straight male target audience. For fuck's sake.
Then there are the problems that arise when you try to monetise adult content online. Paypal is famously harsh – and arbitrary – in its restrictions. Online financial institutions control our money, and they have the power. I had my Paypal account frozen last year for accepting donations via this blog; and Maggie Mayhem had the same experience when she was fundraising for disaster relief in Haiti.
@AndreShakti I remember being shut down by paypal when raising funds for disaster work because I was a sex worker. Keep being loud!!

— Maggie Mayhem (@MsMaggieMayhem) March 6, 2014
Other payment operators have similar restrictions, and one hears numerous stories from sex workers of funds being confiscated or frozen, for instance Andre Shakti's tweet above – regardless of whether the transactions themselves are adult in nature.
If you want to sell porn or erotica, you can't use Paypal, WePay, Worldpay, SagePay or any of the standard credit card processors. You have to use a specialist service that caters to "high risk" merchants (a category which includes gambling and porn sites). I produce spanking porn which is openly and explicitly consensual and ethically produced, but which sometimes includes severe punishment, up to and including judicial caning. Despite the fact that none of my work is illegal under the UK extreme porn legislation, it is notoriously difficult to find a credit card processor willing to handle transactions. Most billing agents that serve adult sites do not permit images of vivid welts or bruises, both of which are a common feature of my personal sex life, and therefore of the porn I choose to make.
My site Dreams of Spanking uses CCBill, which officially does not restrict images of hard spanking, but has a very vaguely worded T&C which is erratically and inconsistently enforced. Your site has to be vetted before launch, but even once your content has been approved, you can be subjected to irregular, unexpected checks at any time. Decisions are made subjectively by individual CCBill agents, and so content which passes one check may fail another.
One frustrating example is blanket word bans. As erotica writers you will be familiar with this sort of control imposed by publishers; I was talking to a Mills and Boon author in the bar last night who was told to remove all instances of the word "cock" from her book. (Apparently you aren't allowed to use "dick", "prick" or "cunt" either. No wonder written erotica has a reputation for using stupid synonyms for genitalia.) Well, the same sort of thing applies online. In my case, CCBill told me to remove all instances of the word "non-consent" from the Dreams of Spanking blog, regardless of context; even from blogposts in which I was discussing how to communicate the consent of my performers. Other words subject to the same blanket ban included "little", "daddy" and "rape". The latter caught a sci-fi thriller inspired by the TV show "Fringe" in which a psychic villain interrogates someone by forcing their way into their mind. I had to change "telepathic rape" in the scene description to "telepathic ravishment", which I think is my new favourite porn keyword of all time.
Other scenes which had passed previous checks were randomly flagged for removal. I was told to remove all scenes which featured sword-fighting. Now I'm producing historical porn for a female audience and let's face it, guys duelling with swords is super hot. One update featured wooden bokken and capped fencing foils; another was a silly pirate scene that used rubber LARP swords (yes, me and most of my co-performers are massive nerds).
Both these scenes had to be taken down because they included the use of a "lethal weapon". I'm serious. Rubber LARP swords. I remember sitting on the phone talking to a nice woman at CCBill called Clare, going through the site working out what I was allowed to keep. I pulled up one picture from the pirate set which showed the prop in close-up and said, "Look at that – does that look like a real sword to you?"
"Yep, that looks pretty real to me."
Had she ever seen a sword?
Another example is Furry Girl, who runs a menstrual porn site called Erotic Red. Pretty harmless you might think – happy hippies, female empowerment, reducing body shame and so on. But no. It turns out it's basically impossible to find a credit card processor willing to handle payments for menstrual porn, because blood is against all their terms of use. Never mind that menstrual sex and masturbation is totally legal and natural, and menstrual blood rightly belongs in a different category to injurious blood; this sort of blanket ban is not discriminating.
@pandorablake @NimueAllen HughesBilling finally stopped processing for blood. There are European companies that will take blood porn, but…

— furrygirl (@furrygirl) September 6, 2013
@pandorablake @NimueAllen …I would have to incorporate and maintain a bank account in Europe. Not worth it to me.

— furrygirl (@furrygirl) September 6, 2013
In fact Nimue Allen had a hot wax scene removed from Shadow Slaves because the red wax apparently "looked too much like blood".
The takeaway here is that the content you're producing can be perfectly legal, not obscene by any jury's definition, and if you can't find a way to publish it you can still be censored as effectively as by the government or police. Everything we sell online is controlled by unregulated, international corporate entities that are not subject to any particular legal jurisdiction. Online marketplaces have democratised publishing, but that ease of access is the very thing that permits them to censor our work.
We can't ever escape corporate control entirely. The bottom line is that everything has to be hosted somewhere, so unless you run your own server you will be subject to some company's terms and conditions somewhere down the line. But the more independent we can be, the less vulnerable we will be to corporate censorship. Host your own blog rather than using Blogger or WordPress.com. Distribute your work in as many places as possible, so if one outlet is shut down, you still have others.
The most stringent controls affect financial transactions, so consider alternative ways of monetising your content than a straight-forward sales-based business model. For instance, when I was no longer able to sell my sword-fighting and severe caning scenes via CCBill, I moved them to a self-hosted free download website, with donate buttons provided by fetish marketplace Clips4Sale. They take a hefty cut, and they still impose some restrictions (for instance, no menstrual blood!) but they haven't objected to the caning welts or fencing swords so far, and the buttons still allow me to receive some payment for my work.
In fact free downloads are great publicity. Perhaps you could give away your fiction as a loss leader for paid commissions; or publish videos online to advertise your real-world performance or sex work. You might have a site that gives away downloads to attract traffic, and make money selling advertising or merchandise.
Independent creatives and small businesses will always be quicker and more flexible than global corporations, and as soon as one control is put in place, someone will discover an alternative method of doing the same thing. It's stupid that we should be at the mercy of these ever-shifting restrictions. But if we inform ourselves about corporate regulations, and are smart in how we work around them, we can avoid making ourselves vulnerable to dependence on a single distribution method.
Above all, it's crucial that we keep talking about censorship, raising awareness, and sharing ideas to inspire and empower each other.
(Photos: thank you Cara Sutra. For more tweets check out these collections on Storify.)
D bound my wrists and led me through to the spare room, smiling. He slung the rope over the top of the weights cage, pulled it down and my hands up, and tied it tight. The rope wasn't thick enough for me to comfortably hang my weight from it, so instead I reached up and grasped the bar above my head. In the mirror I watched my torso stretch taut.
He kissed me, touched my thighs and my breasts, pulled my head back by the hair to kiss my neck. He spanked me as if to say hello to my body, and I exhaled slowly, feeling the tingling as my skin woke up. Then he walked away.
I shifted my weight in the high heeled shoes. I had time to notice the contrasts in my reflection – opaque black stockings and bare skin, small breasts and broad hips. I hadn't expected a scene tonight. I wondered if I was supposed to feel scared, but I decided it was fine to feel happy and excited.
He returned with a few toys. A red ribbon which he tied around my throat, an old collaring symbol of ours. I wanted to kiss his hands, but instead I bowed my head to let him tie the bow. He had a flogger, too, and to avoid getting distracted by my reflection I closed my eyes as he began to play it over my body. Thighs, flanks, buttocks, then little flicks around my sides, the tips wrapping round to tease my front.
He turned me around and whipped my breasts. The flogger began moving faster, whirring and flickering over my (by now very hard) nipples. Was it supposed to hurt? It just felt good. I moaned, already wanting him to fuck me.
"Spread your legs."
I have never been more ready to obey. Moving my feet apart made it harder to keep my grip on the bars above my head, so I let go and hung from the rope, feeling precarious, vulnerable – and sexy.
He reached down, eyes locked with mine, and slid a finger between my legs. A little movement and it was evident to both of us that I was soaking wet. He never took his eyes off my face, and I could see the desire shining in them.
I was disappointed when he withdrew his hand. He picked up the flogger again, returning to the theme of whipping my breasts, and between the hardest strokes he bent his head and licked at my nipples, which were already feeling stiff and sore. Waves of pleasure and pain.
I surrendered. He could do whatever he wanted.
He put the flogger down, but it wasn't over for my breasts. He started to slap them, one by one. I shifted my feet so I could hang from the bar again, a more secure position. Each smack connected with the soft flesh in a way that felt thuddy and good, making them jiggle. My nipples hurt the most, as if tiny jewels were embedded in my breasts.
He held my gaze and drew his hand back. I knew it would be a hard one. I exhaled and prepared myself, but when it came, I cried out with pain and twisted my body, one leg drawing up involuntarily.
The smacks increased in force until they were rocking my whole body. I was gasping, and every time his eyes caught mine the air between us seemed to crackle. He hit me again and I wondered if it would bruise.
All the time he was hitting me hard and slow, I wanted it lighter and faster. I didn't have to ask; he did that too. At first I felt the light, rhythmic slaps, landing on one breast again and again, as pure pleasure, jolts of lust making my thighs quake. My breast bounced and wobbled under his hand. Then all of a sudden the cumulative sting broke out of pleasure and into pain, and in one second it went from hot and exciting to acute and unbearable. I lost control and gave out a weird keen, bucking and writhing to try and escape the slaps. Eventually, he stopped. I whimpered. He moved to the other breast, and the whole thing started again.
We kissed as if we wanted to eat each other, both of us overtaken by desire even as he held me in his power.
His eyes were like galaxies as he stroked my dripping cunt. I was dizzy from the slaps and the kisses, and my breasts throbbed. He told me to spread my legs again.
Somehow I knew what was coming next. He smacked my swollen cunt and electricity shocked through my whole body. I let out a low groan. His fingers pressed against me again, soothing the tingle, and I felt my own wetness spill against his hand. Another slap, harder, and my legs shook as tremors rocked my body.
I could see his rock hard erection straining up until the tip touched my belly, smearing me. He drew back his hand and smacked my cunt a few more times. Each slap made lights flash inside my skull and arousal dribble down my thighs. Now I really, really wanted him to fuck me.
Luckily he was thinking the same thing. He slid his cock between my legs and I couldn't help but moan. I realised I was going to need to concentrate as he tried to get the angle right, but teetering on high heels, thigh muscles trembling, it wasn't easy. He kissed me to quell my nervous giggles and I felt his cock slowly push inside. He stayed there, kissing me, playing with my breasts, until I was desperate for him to move, to fuck me properly.
I couldn't bear it. I needed him to move inside me. I shifted my hips and the change in angle pushed him out. So much for my idea.
Instead, he untied my wrists and re-tied them behind my back, suspending me bent forward from the waist. I was facing the mirror and I could see his face as he held my hips in both hands and finally, gloriously, began to fuck me. I had no way of stabilising myself so he had to hold on pretty tight to stop me rocking forward too much with every thrust. I moved my feet further apart, lifted my hips and exalted as he filled me.
Just as I thought I might come, I had to adjust my straining thigh muscles to keep my balance, and the concentration shift broke my curve. I sighed in frustration.
He knows me well enough to know exactly what had happened, and he didn't waste time. Down came the rope, and down went I, no longer tied, bending over the weights bench while he fucked me from behind. Better; but I was still on my feet, and it was hard to relax in the high heels with legs straining to keep me stable.
And so we retired to the bedroom, and then it was just fine. On my back, legs in the air, his hard cock hitting that sweet spot again and again, hands grabbing and squeezing my sore and tender breasts, until his hips were slamming against me with every thrust and I came so hard I saw stars.
-x-
We didn't stop there, but after that I basically didn't stop coming, and so I can't be sure exactly what happened next.
He fucked me on the bed on hands and knees, my arms stretched out full length in front of me, and he gripped my hips to keep me in position as I writhed on his cock and came again and again.
He fucked my face a lot, and later I wrapped my legs tight around him, my heels digging into his back, and licked his ear and kissed him until eventually he came too.
We rolled around on the bed in a sticky, sweaty tangle, unable to stop touching each other, aching with love. His cock got hard again and I sucked him and pumped him with my hand, not knowing or caring if he was going to have another orgasm, until he did.
-x-
The clichés have it, he fucked me senseless, he fucked me into oblivion. But the opposite is true. He didn't fuck me into emptiness; he fucked me into fullness. We fucked until my whole mind and body was throbbing with sensation, until fireworks went off in my brain, blood roared in my ears, and kaleidoscopes danced behind my eyes. We fucked until my body was so full of pleasure, I was whole.
He didn't fuck me into oblivion: he fucked me into consciousness.
Posted by
Pandora
on March 11th, 2014 in
Politics
Last weekend I was at Eroticon 2014, the conference for sex bloggers, sex writers and writers of erotic fiction. I travelled to Bristol on Friday night to attend the meet and greet, and avoid a crack of dawn start on Saturday morning, as I was scheduled to speak in the opening keynote at 10am. Conference organiser (and all-round good egg) Ruby Kiddell had kindly offered to let me stay in her hotel room on Friday night, to make things easier. Given we had never met this was incredibly lovely of her. Ruby is a very impressive woman and it was an honour to get to know her this weekend.
She had sent me the room number by text, so when I got off the coach I found the hotel, made my way up to her floor and just knocked. She opened it and without bothering to introduce ourselves we leapt into each other arms for a massive hug: "HIIII! It's so good to meet you!" Travelling to a random hotel in a new city and opening the door to hug someone I'd never met before: I love that these things have become normal in the world of the online sex community.
That surreal combination of newness and familiarity continued all evening. I walked into the bar and a dozen unfamiliar faces lit up with recognition. Total strangers waved me over: "Pandora! Hi!" I had no idea who any of these people were, but they knew me, and I was looking forward to getting to know them. Most erotic writers and sex bloggers protect their anonymity online, so as one of the few people present whose face is attached to my name, I stood out. I'm actually pretty shy in groups of people I don't know yet, so this suited me fine. In fact I was grateful when people came up and introduced themselves; it made me feel instantly welcomed, and was so much easier than standing around trying to work out who to approach. When no-one was coming up and saying hello, it gave me the confidence to do the same, and so I got chatting to a lot of new people that night.
The conference itself lasted all weekend, but sadly I could only stay until 4pm on Saturday before having to shoot back to London. I had a wonderful day networking, making friends and attending workshops, and wished I could have stayed all weekend.
I put together a Storify of the Friday and Saturday which you can read here, but it's quite long, so here are the potted highlights from my time at Eroticon 2014:
At the end of this session Molly mentioned that one of the photos she'd wanted to take this weekend, if she could find enough volunteers, was of a line of bared bottoms, so maybe we could do that sometime this weekend? Not wanting to be left out of such an excellent idea, I piped up: "I'm leaving in two hours. Let's do it now!"
Eroticon did me proud: A dozen bottoms, both male and female, lined up to join in. Good effort, Molly. Our work here is done.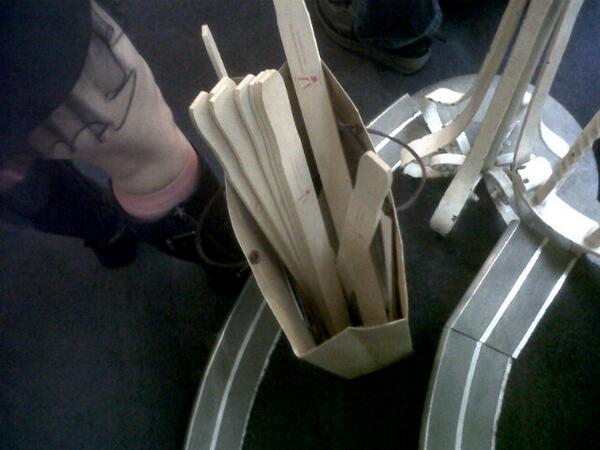 Renee's ingenious idea of printing her details on wooden rulers rather than business cards, and handing them out as free spanking toys. While Renee and I were chatting CJ Forrest came up and said he wanted to sample one before taking it. Sneaky. Renee demurred: "I'm a bottom!" Lucky I was there to help.
I have no idea why I look so manic in this.
Finally I attended an informative, motivating seminar by DomSigns and RubyGoodnight on driving traffic, which has inspired me to fix various things about my sites, including load time and how they look on mobile devices.
It was all too brief, but my time at Eroticon charged me up with inspiration, motivation, happy-making brain fizzes and excellent chats with with creative, interesting, lovely people. I wish I could have stayed for the cocktail party on Saturday night and the second day, but sadly I had to dash back to London for vanilla work on the Sunday.
What a wonderful, interesting group of people erotica writers are. New friends, check. Connections, check. Learnings, check. Professional opportunities, check. Many learnings, check. I'll definitely be back.
I connected with far too many people to name, but one I want to mention in addition to the above is Zak Jane Keir – an inspiring and remarkable woman.
Thanks to everyone who welcomed me with open arms, despite the fact I am not, in fact, an erotic fiction writer. But particularly, thank you to Ruby for not only being nice enough to invite me to speak, but also generously sharing her hotel room on Friday night.
Ruby, it's a shame there wasn't time, but if you were serious about wanting that spanking, come to London and claim it any time you like.
(Photos by the lovely Cara Sutra, Innocent Lover Boy and Renee Rose, and the title shamelessly nicked from a tweet by AM Harding. Thanks all!)