Posted at 18:21 on 6 May 2010 by Pandora / Blake
I arrived in Rotterdam for the Spanked in Uniform shoot at 10am their time, having got up at 5am my time in order to catch my flight. I don't fly often these days - I try to keep it to a minimum for environmental reasons - but I love doing it. I never get tired of the belly-fluttering feel of take-off; I always bag a windowseat and watch the landscape receding, laid out before me like a giant, real-time, high-definition Google map. I love watching the colours change in the sea as the plane sweeps over the coast, and I love lifting above the clouds and watching the dazzling play of sunlight and wind across that strange, shifting landscape.

So it was kind of cool, in a way, that my first ever airline stewardess role was filmed only a couple of hours after my first flight in a year. The setting was still fresh in my mind, and it was far easier to imagine the airport environment than it would have been the week before.

The first clip we filmed was my Birchrod Inn episode (we ended up doing a second the next day - the first should be up on the website on Monday), in which I was playing a dominant character who was outraged at the treatment she received. I enjoyed getting to mouth off a bit and throw my weight around (even more fun to be flung over Mike's lap as my character got her comeuppance!) but for the next film, I wanted to play a softer spoken character, a bit less loud and arrogant.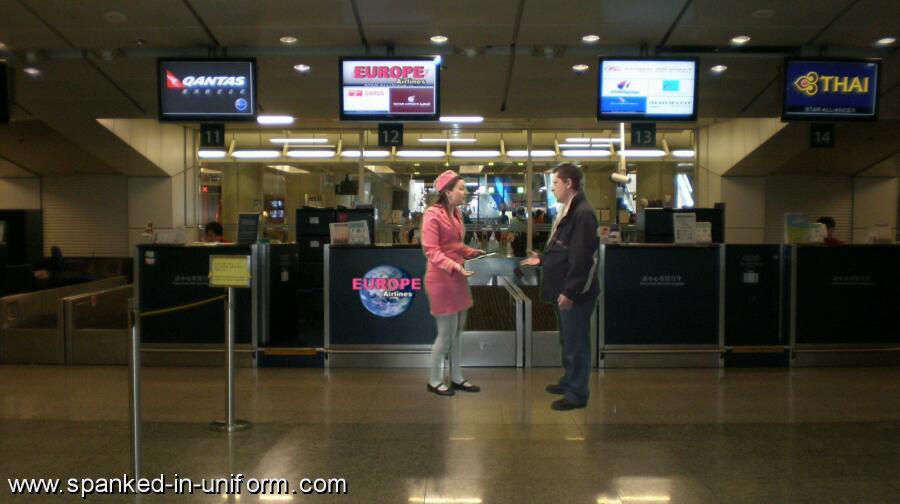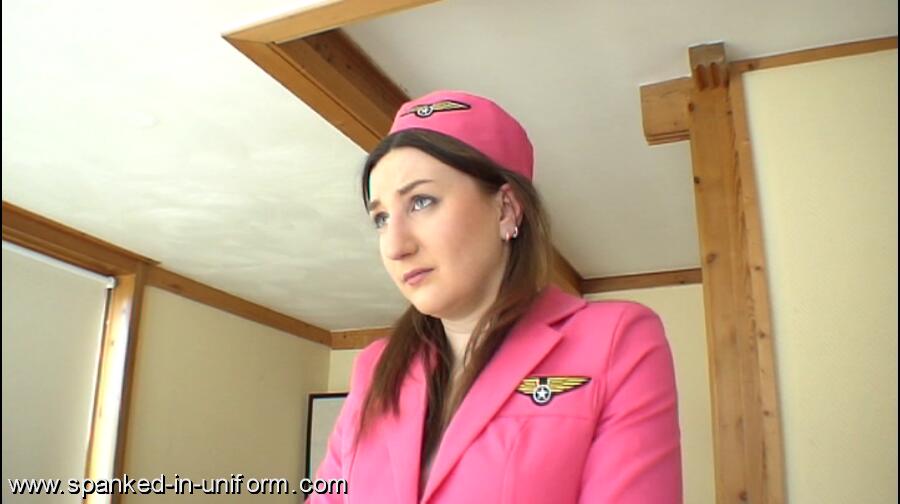 We'd brainstormed scene ideas by email before the shoot, and I'd suggested using the current affairs theme of the Icelandic ash cloud, grounding all the flights. (I was worried that this might date the clip quite quickly, but given the news this week it looks like the theme might stay relevant for most of the summer - a mixed blessing!) We decided on a plotline where stewardess Pandora was given the job of placating the angry passengers whose flights had been cancelled. She lost her temper with a customer, got stressed out by the whole thing and decided to go home with a headache. Unfortunately, her boss caught her as she was leaving in her plain clothes, and insisted she stay on duty during the emergency. He told her to change back into her uniform and get back to her shift, but first, she had to report to him in his office for a 'conversation' about her attempt to skive off when things got tough. You can imagine what direction it took...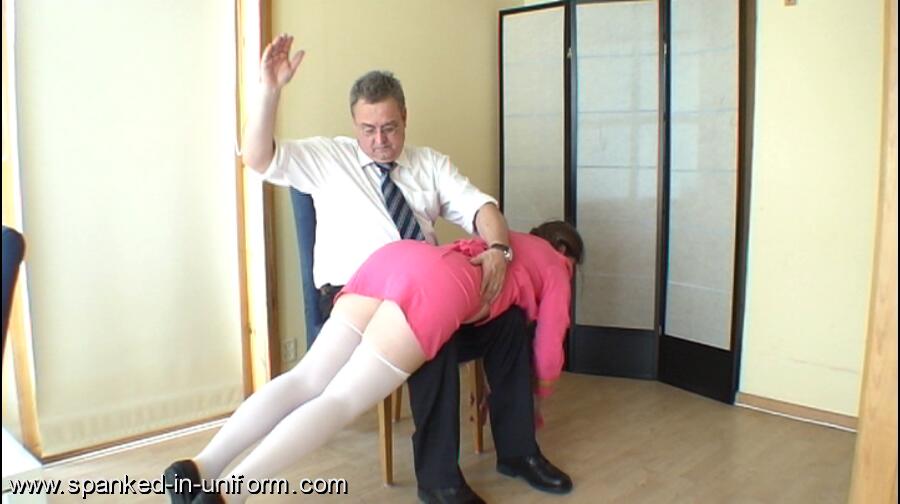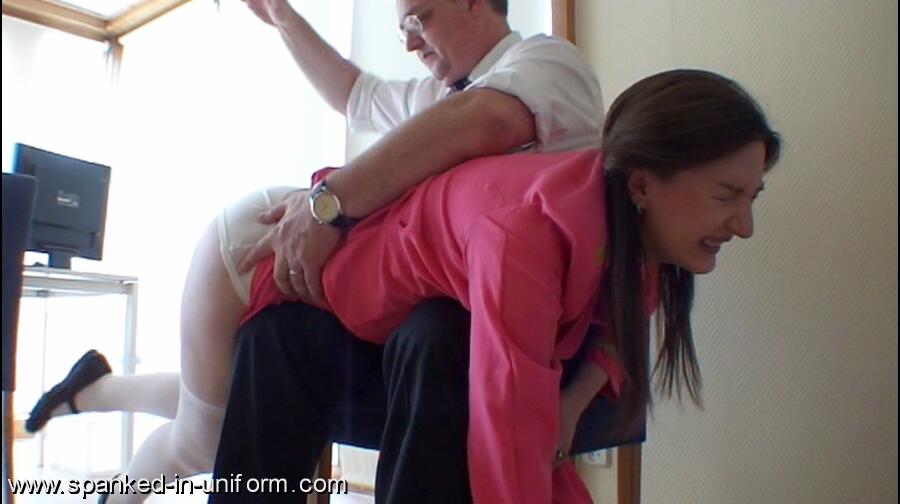 I'll tell you now that I got a huge thrill from wearing the uniform. It was very pink - not my colour - and a bit more Thunderbirds than airline, but I loved it; loved the jacket, the hat, the white stockings and gold trim. The suit was somewhat too tight, there being only sizes small and large in the wardrobe, and me being a very definite medium. Luckily, the fabric stretched just enough that I could tug it over my hips, resulting in a very tight and short skirt which I could barely walk in. Maybe it was Mike's positive comments, but rather than feeling too fat for the outfit, I felt slinky and professional and kind of turned on. What can I say, I love dressing up - and I love dressing up in the clothes that a top has picked out for me even more.

This was the first time I'd been spanked while wearing a jacket and a hat, and there was something delightful about it. It was businesslike, formal, and at the same time normalised. Just another day at the Europe Airlines office - no need to take your jacket off, you'll be back to work in twenty minutes, with your bum hot and throbbing under your tight tight skirt... Yum.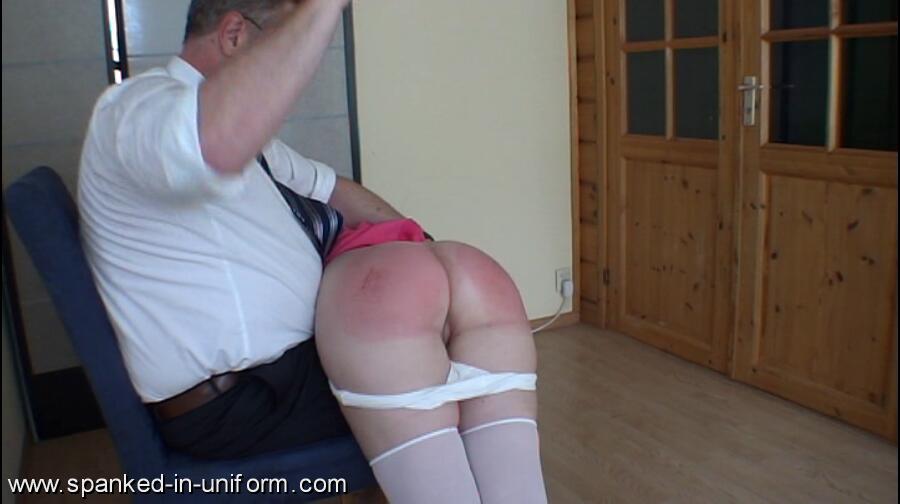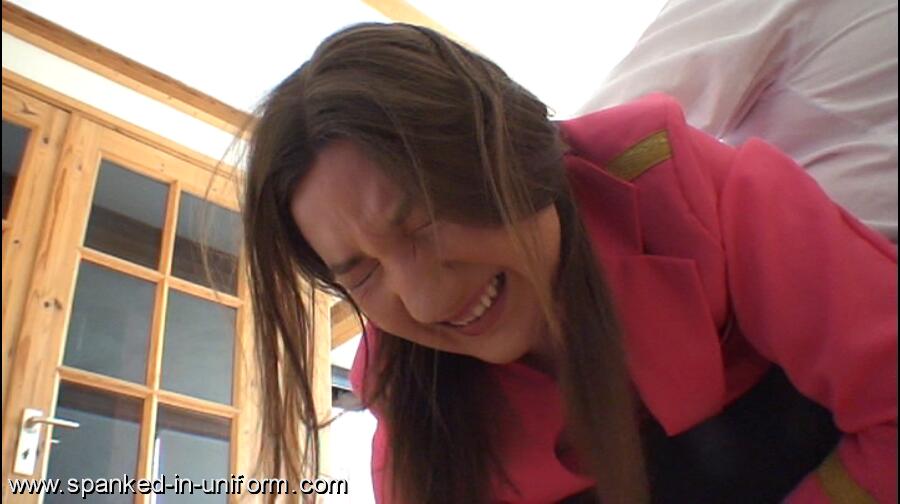 At the time, I felt like the dialogue in this scene fell a little flat, and when I mentioned my concerns Mike said he thought so too, but he was sure it would be fine. The next morning when I got back to the location from my hotel room, he led me into the office and said "I've got a surprise to show you." He astonished me by showing me this Europe Airlines clip, in more or less its final form. He'd thrown it together in super-quick time the night before. I was really impressed. Not only with his efficiency, but with how well it worked when it was all put together. I think both of us were just a bit thrown off by the change in pace from the argumentative Birchrod Inn scene we'd just filmed; in the end, I think the quieter dialogue in this worked out fine. Don't take my word for it though - watch it yourself, and let me know what you think!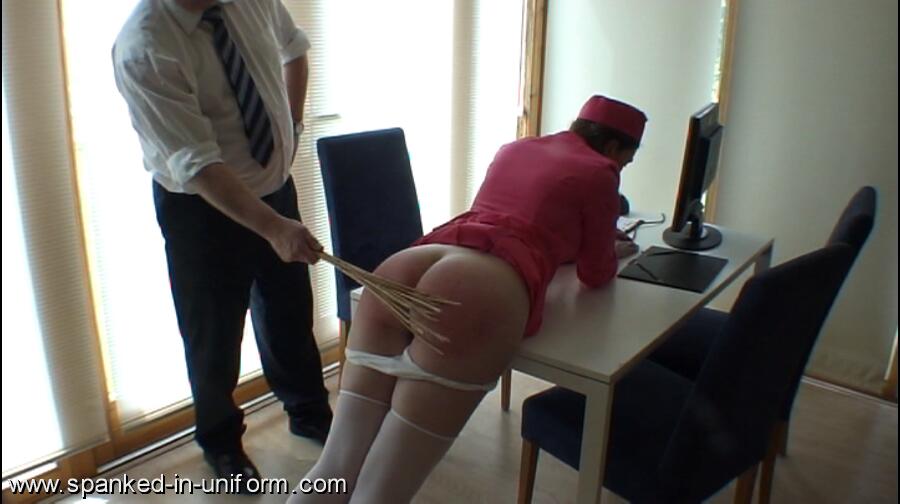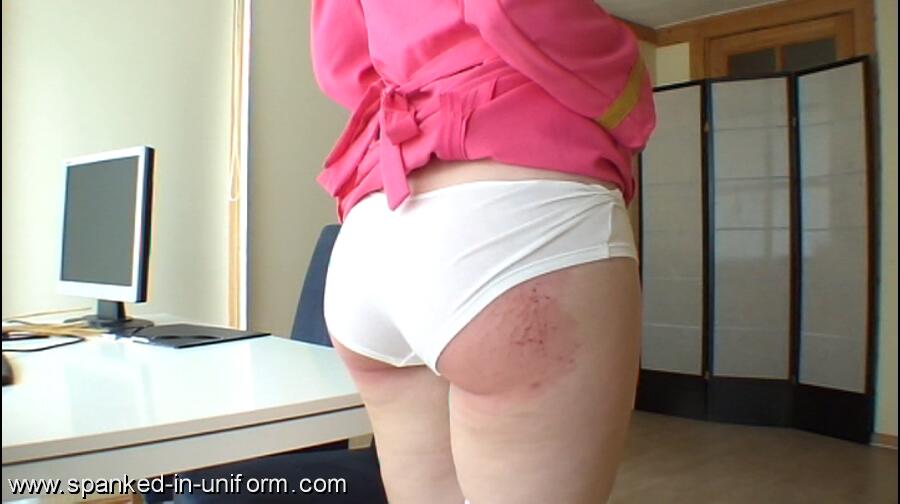 Comments