Posted at 02:19 on 25 Jan 2011 by Pandora / Blake
This morning, as I emailed D my daily report on the previous day's drinking (one pint of berry cider, for the curious) I asked him a question which came up while I was swimming yesterday. How about if I listed my exercise along with the booze? No pressure to add it to the D/s deal, but I'm picking up my fitness schedule at the moment and I want to keep track. Since I was sending these emails anyway, it seemed easiest to roll it in, if he didn't mind?

Happy to keep notes, he replied, also happy to discuss how you might be held accountable for keeping at it. Thrills.

This evening, I got online to an email entitled 'Instructions'. I'm to bring a school uniform with me this weekend. Not the sexy brat kind, the authentic kind. White knickers. Flat shoes.

Things progress apace.


It's astonishing how well long-distance (well, relatively; different towns, but only 2 hours away) has suited us these last few months. Seeing each other is a treat; in between we miss each other like crazy. It's not just the distance; our communication is the best it's ever been, we're confident with each other, and every good experience swells the positive feedback loop. But the distance, the missing, wanting what we can't have, sending each other horny text messages when we're not seeing each other for days - it gives it that urgency, that edge.

In chat this evening, he enquired whether asking for spanking would ruin the experience for me. I was surprised by the question - surely I've blogged enough about asking for a spanking over the years? - but thinking about it, I realised I've done that with Tom far more than with D. Partly because D's topping style is so spontaneous; partly because our communication about sex has only recently become so fluent, and in past years I was more insecure and afraid of rejection, and less articulate about my wants. Partly because D has, historically, been more into mindfucks than beating me - has treated my penchant for CP with a wry amusement - and I didn't want to impose my kink on him too much.

But the positive feedback loop seems to have done its stuff. D's confidence has grown with experience - specifically, his confidence that I really do enjoy it - and that knowledge seems to have fed his sadism in a direct way. He's more interested in spanking me, and, apparently, he's also interested in being asked explicitly when I want it. He's always encouraged me to talk filthy. He likes it, especially if I feel shy and end up squirming.

In answer to his question I said that spanking works for me with a myriad different headspaces. Wanting to please, but finding this implement difficult. Sexy, enthusiastic, loving it. Immersed in subspace, flying high. Playful and laughing, mock-hating it. Roleplay scenes. Punishments. Edgy and emotionally difficult scenes in which I'm pushed.

I enjoy all of these, but only some of them are compatible with asking for a spanking. If I've asked, the consent is made explicit - it's difficult to play with non-consent after that point. So yes, asking for a spanking is great if I want a playful, sensual scene - but for the D/s to get intense the control has to be out of my hands. The only way an asked-for spanking could become edgy is if the top turns the tables on me and gives me more than I expected, an implement I didn't ask for; starts to make me regret having asked in the first place. Which ... would be hot.

"Even if I want and ask for a spanking," I said, "there are some types of pain that are just going to push me. Like anal sex."

D grinned.

As I've mentioned before, anal play has been off-limits for a while for health reasons. Nothing serious - just fragile skin that tore (frustratingly, not during any sexy escapades) but has taken over a year to heal up. Much patient nursing has paid off and lately, it's felt it might be possible again.

D has been teasing me with the idea accordingly, as any self-respecting sadist would. Somehow, I guessed that this whole schoolgirl plan might have something to do with my recently healed, pseudo-inexperienced arse. The image made me shiver with arousal and fear.

He confirmed my impressions as soon as the topic came up. "I tell you this now," he said smugly, "so you can agonise about it for the rest of the week."

"Waaay ahead of you."

"I hope my housemates are out. I'd like to hear you screaming for me."

I visualised myself, white knee socks, innocently flat heeled shoes, white school blouse. White knickers puddled around my ankles. Being spanked, the fantasy remained demure. But this ... I would be frightened, struggling, sweaty. School tie around my wrists, perhaps? Knickers stuffed in my mouth?

"Pity I don't have a Japanese school uniform," I quipped, disguising my flutters of erotic fear with flippancy. "I'm going to feel like a manga character."

By mutual unspoken agreement, within a minute we were both browsing Ebay.





I've also developed a sudden desire to own legwarmers, one pair black, one white: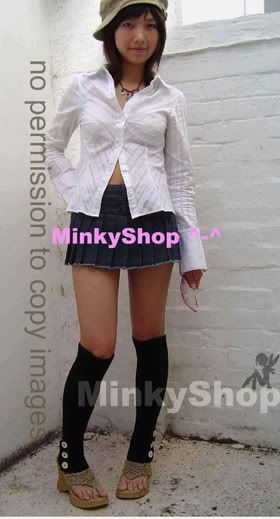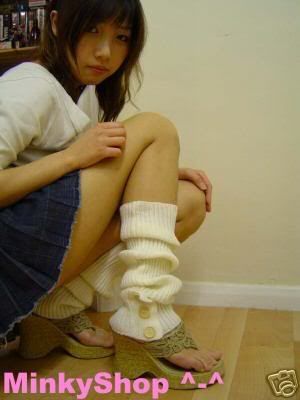 Neither could arrive by this weekend, but the English schoolgirl has her own appeal. And it's nice to have more than one thing to look forward to.

--


So I asked D if he wanted me to play a schoolgirl, or a grownup woman wearing a school uniform. He considered the question happily for a moment before replying that a schoolgirl would be fun. Now, our previous attempts at non-consent roleplay have been very sexual, and my ability to pretend to be suffering goes out the window once penetration is concerned. But since then I've had more practice at roleplaying, and the idea of being a very scared, very helpless, very punished schoolgirl who doesn't know what's happening to her and feels horribly dirty and violated is a fantasy that appeals. I sent D a link to Mr Defeu's extremely hot "punishment plus" story when it was posted, and he apparently found it as hot as I did.

I also like the idea of being an older schoolgirl, daring to ask for what she wants. But roleplay is where it's easiest to play with non-consent, and the little girl image appeals right now, especially in the context of the violation fantasy.

The only question remaining was, who would D be? With his long hair, tattoos and cat eyes he's not the classic authority figure. My wicked uncle? My perverted biker uncle, the black sheep of the family. Not uncle. Guardian, perhaps. I'd definitely find roleplay easier if I wasn't the only one in character; and the rougher and meaner he was, the easier I'd find it to take the pain.

To my surprised delight, and despite some understandable self-consciousness, he's game to try playing a role. I don't know what sort of shape it might be, but it wouldn't be D without some spontaneity. I'm looking forward to being surprised.




Pictures of Zille Defeu provided by the incomparable Northern Spanking. Thankyou for providing such hot fantasy fodder!
Comments
No comments yet.