Posted at 23:11 on 18 Nov 2011 by Pandora / Blake
A weekday morning. Winter-tired, D and I have both slept in, but between work, tiredness and my period we haven't had sex in a week, so we stay in bed a while longer. The sleep fug hangs over me as we caress each other, nagging me with a faint headache. I want to be here, I've missed this, but even his loving tongue doesn't stimulate me the way I want it to. Instead I turn my attention to him, hoping that his arousal will awaken mine, as it so often does.
If spanking is my biggest kink, the filter through which I most enjoy experiencing D/S, then fellatio is D's. Gentle, rough, slow, fast: he likes it all. He likes teasing me with his cock, and being teased; he likes rubbing the head of it over my lips while looking into my eyes, smearing it slowly over my face and cheeks. He likes it when he's still soft, and I can take his entire cock easily in my mouth, swirl my tongue around it. He likes it when he's hot and hard and only half of it will go in before nudging up against the back of my throat. He is at his most powerful when I'm going down on him, and his most vulnerable.
I love worshipping his cock. He keeps himself shaved, and I love licking around the smooth base of it, pleasuring his balls with my tongue, smelling the fresh sweat fragrance of the place where his thighs meet his crotch. I love resting my cheek against the length of his cock, feeling its warmth. And I love the heady combination of surrender and power that I feel when he holds my head still and pushes it deeper inside me.
This morning, however, it wasn't quite working for me. Lying on my side, nestled against him, I obediently moved my head as he slid in and out, but it wasn't getting me hot. When he filled my mouth, cradled the base of my skull in his hands and pressed the head of his cock against the tender spot at the back of my throat, I felt myself closing up. Sometimes, the feel of that pressure will make me surrender, become soft and malleable in his hands. I can't always suppress my gag reflex satisfactorily, especially not when he's moving fast, but that gentle, insistent nudge will make me want to take as much of him in as I can. This time, it just hurt. I didn't know how to let go, or how to communicate it to him, how to explain the difference in my responses this time.
He sensed my distance, and when his hands on my nipples also failed to provoke the desired response, he withdrew and flipped me onto my front. The tension that had built up as I'd failed to give him what he wanted left me as I exhaled. I hadn't needed to explain, or to ask. He knew what I needed.
"Hold onto the headboard," he told me, leaving the bedside for a few moments. He returned holding a long, thick, lightweight bamboo cane.
Without a warm up, without even the comforting familiarity of pillows lifting my hips, each stroke was a sharp slice of pain. I hid under my hair and welcomed them even as I yelped. I was grateful to him for knowing this about me, for being willing to provide it. It hurt, but I wanted him to keep going, to go harder, to break down my barriers.
He paused, for a while, to try other pursuits. But it was clear to both of us that I wasn't yet where I needed to be. Once again, I didn't even need to ask.
This time, he went harder on me. "I think you should be thanking me for these," he said quietly, after the first few strokes. And I did, gratitude in every tremor of my voice as he whipped me hard enough to leave welts. I wasn't asked to count them, so I don't know how many there were. I just remember them being hard, as hard as I needed, and my thanks became sobs of joy as he deliberately placed stripes on the tender crease below my buttocks, and at the tops of my thighs.
By the time he'd finished I was softened, tearful, eager. After that, everything flowed much more easily.
A week or so earlier, we were in a familiar position on our sides, facing each other in a comfortable reverse spoon with my arms wrapped around his hips and his cock in my mouth. I'd just been given a glorious orgasm and was ready, willing and relaxed. With his hands holding my head and mine his flank and arse it felt like a particularly close hug, the front of his thighs pressing against my breasts and my legs tucked below his. I angled myself so I could look up at him, past the sleek planes of his tummy and chest and into his eyes. His face was crinkled in a loving smile and his eyes sparkled with dominance. We moved together, co-operating to slide his cock deeper and ever deeper into my throat. With each slow thrust, at around the three quarter mark, I would have to tilt my head forward slightly to accommodate him. My eyes would involuntarily close as I concentrated, and break off our shared gaze. But as soon as I was released, I'd find it again.
He likes to play with my breath, to make me wait for the privilege of air, tease me with uncertainty. Sometimes this makes me terrified, other times it makes me feel sorry for myself - but sometimes, like this time, I luxuriate in the enforced passivity, relaxing completely into my trust in him. Knowing that panic would only make me gag, I let go and feel at peace.
I was horny, I was loved up, and I wanted to make him feel good. Whenever I got the chance I would use my tongue and lips to create new sensations. He picked up on my enthusiasm and we moved together with a building rhythm. I would surface to swallow excess saliva and take a deep breath of air, then dive back in again. I kept a firm grip on his haunches, confident that any problem would communicate itself instantly to him through my fingers. As he pressed deeper my eagerness got the better of me a couple of times. When I started to gag violently, my palms involuntarily slapped against his thighs as I struggled, and he instantly withdrew and held me, stroking me and soothing me until I was recovered. Each time we stopped, I was the one to initiate things again.
We've played this game so many times before. On a couple of occasions he's taken me into the bathroom and made me sick, over and over again, until I was shaking and broken and hopelessly aroused. Unless we're on that sort of trip, when I need him to give me a moment he does, unquestioningly, holding me until my breathing quietens. Sometimes that's the end of the scene, and that's fine. He asks me what I want to do next with no pressure to carry on unless I want to. Over the years my boundaries have ebbed and flowed, and sometimes one or the other of us wants to push against them and sometimes we don't. I feel very safe doing this sort of edge play with him. I absolutely trust him to know when to stop.
We went round the loop a couple of times. I was increasingly horny and enjoying going deeper. The next time he started to push, my whole body wanted to open up and let him in. He increased the pressure; the hard, broad head of his cock pushing insistently against the tightest, most vulnerable place in my throat, and finally I felt it starting to give way.
It was like I was inhaling him. It was painful and wonderful and strange. He gave a delicious, vulnerable groan of pleasure and wonder; and slowly, ever so slowly, maintained the pressure until the whole length of his cock was buried in my throat. His hands were tangled in my hair, warm and dry and gentle on the back of my head, and I was gripping his flanks. He withdrew enough to let me to breathe, then sank back in. This time, I knew how it worked, and it went more easily. It hurt, but it was also amazingly intimate; the most marvellous feat of co-operation, working together to enable him to fuck my face as deeply as possible. If my mouth hadn't been full, I might have laughed with delight.
The sounds he was making made it clear he was close. Palms pressed against bare skin, filled with the scent and taste of him, drinking him, breathing him. As he reached the point of no return his moans became almost whimpers, as if he was helplessly overwhelmed by how good it felt. He came crying out, with his cock buried so deep I didn't even need to swallow, and I could feel the beat of his pulse in my throat.
We disentangled slowly, wonderingly, looking at each other with little touches as if we couldn't quite believe the raw intimacy we'd just shared. It was strange, but I knew at an instinctive level that he had made himself just as vulnerable and exposed as I had.
A little while later, after the cuddles and conversation had faded, after I'd cleaned up and got dressed and returned to my desk, he popped his head round my study door with a smile. I didn't expect this at all, and grinned with pleasure when he presented me with my new kinky merit badge: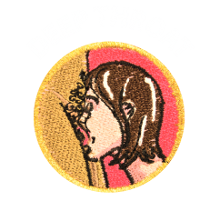 Comments