Posted at 20:42 on 20 May 2011 by Pandora / Blake
I am ridiculously excited by a new project launched by Hywel Phillips and Ariel Anderssen/Amelia-Jane Rutherford of Restrained Elegance.
For a while, Restrained Elegance has beaten most other UK kink sites (as it were) when it comes to the quality of photography and professional production values. I watch their films because they are compelling, interesting and beautiful to watch, but the truth of it is that bondage isn't really my kink. It's a fun means to an end if that end is impact play, but taken in isolation it leaves me kind of cold (and combined with, say, very mild flogging, it's even more frustrating!) Restrained Elegance films are great for showing to people new to kinky porn as an example of the quality that's possible, and they're brilliant for bondage fans, but for me, they are often only so much elegant foreplay, and ultimately leave me wanting more.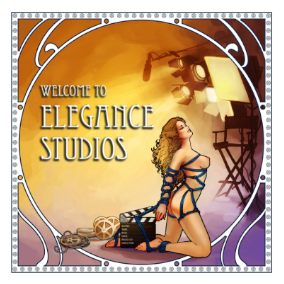 Imagine my delight to discover that not only have they just launched Elegance Studios, their new studio producing full-length features, but that these will include spanking and discipline films as well as bondage.
This is a download-only site, and already has two films available: bondage epic Acquiesce, and a personal domestic discipline film called Amelia's Sunday Spanking. Here's what Amelia herself has to say:
I love the idea of formalised discipline sessions, and I also really liked the idea of shooting a whole spanking movie where all the punishments were on unmarked skin (which obviously isn't possible if you shoot multiple scenes in a day, unless your model is made out of enamelled tin or similar). So for a month, we spent consecutive Sundays catching up with all the spankings I'd earned according to the punishment diary I was keeping.

The result is an hour-long domestic discipline movie, with loads of spanking, a number of rather brazen negotiation attempts, and an awful lot more strokes of a leather strap than I'd have agreed to if I'd had director's control!
I am delighted that producers of such high quality are finally turning their hands to the sort of spanking content I want to watch. Not only that, but their first film takes advantage of Amelia and Hwyel's wonderful chemistry, trust and intimacy. I love watching real couples interact on camera, and in a D/s scenario there's nothing more convincing.
I know from filming "real life" domestic discipline scenarios myself the extent to which some aspects of performance and staging are inevitable - but also, despite one's awareness of the camera, how real they can be as well. Tom and I filmed a clip this week as our own, out-of-character selves, with no premise but that we were shooting a custom clip for a client, and I asked him if he would like to play while the cameras were out. It was delicious, a rare treat in our busy lives - and made even more 'realistic' when my cat wandered onto the set and started trying to get my attention. I talked back to her, and suddenly the whole mood was established as lighthearted, intimate and natural.
The punchline is that we paused the camera after the spanking. I wanted to carry on, so we did, and Tom gave me a biting and delicious 18 strokes of the cane. It wasn't until the next day that I realised we were so immersed in our play we'd failed to press 'record' before the caning. A bit frustrating - but nowhere near as annoying as if we'd been filming something more dramatic. Our mutual reaction was to shrug, and say "well, it was fun anyway, which was the main point. We'll just have to do it again".
In general, I am far more interested in watching "real life" discipline with this air of everyday romance, and the undercurrent of genuine sexual chemistry and eroticism that comes with it. When it comes to domestic discipline, I would rather watch a real couple interacting with love and a sense of humour, clearly enjoying the experience of being together, than the most dramatic of scenes between actors.
Comments