Posted at 20:00 on 10 Sep 2011 by Pandora / Blake
When I first heard that the Restrained Elegance team had launched a separate studio for ambitious, feature-length spanking and bondage films, I wrote an excited post to let you all know. I was particularly keen to see their first and only spanking movie. In my opinion their production values, photography and cinematography are the best you'll see in our BDSM niche, and while respecting Hywel's preferred genre, I've always been somewhat disappointed that they were using their powers for evil bondage, rather than the hard corporal punishment scenarios that get me really hot.
Well, I've been lucky enough to end up with a review copy, and on Wednesday Tom and I sat down to watch it. (NB. Neither Restrained Elegance nor Elegance Studios has an affiliates scheme, so I have no financial interest in this project.)
Vital statistics
Title: Amelia's Sunday Spanking Stars: Amelia Jane Rutherford and Hywel Phillips (who also collaboratively wrote, produced, crewed and directed it!) Running time: 1 hour 8 minutes Price: 32.90 (as mp4 download or burnable PAL DVD) Implements: hand, hairbrush, heavy leather strap, light cane, multi-tailed tawse, heavy cane. Theme: Real punishment, domestic discipline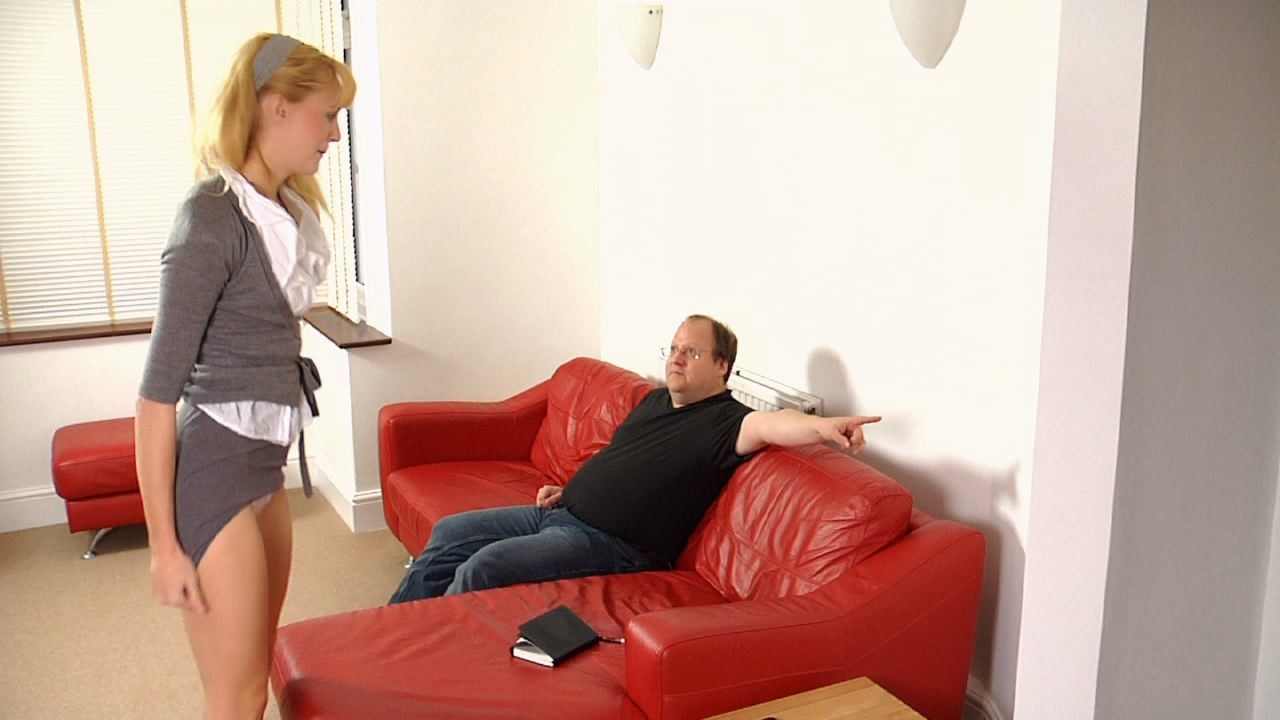 This is a genuine domestic discipline movie, by a real couple who haven't really portrayed domestic discipline on film before. Hywel doesn't have much opportunity to focus on spanking during the normal course of his work on Restrained Elegance. Amelia is one of the most skilful actors in the whole industry, and is far more usually to be seen playing a character role than being her day-to-day self with her real life BDM ("boyfriend/dom/master").
The format is four weekly discipline encounters, each one taking place on a Sunday to deal with the misdemeanours accumulated during the week. This results in an hour long movie in which each punishment takes place on Amelia's unmarked bottom - a novel way around the problems usually arising from shooting a spanking feature on location over one or two consecutive days.
The style is candid, with Hywel occasionally nipping off camera to correct shot angles/focus/other technical wizardry. At once point in the second scene, some technical error or other results in a minute of downtime, during which rolling text apologises for the fault, telling us that while Hywel was getting things up and running again, "meanwhile, Amelia's mind wanders and wanders..."
In some ways this sums up the emotional landscape of the film. Hywel has a very steady, unflappable personality. He is incredibly clever, hardworking, and although he's a dominant and sadist, he's fundamentally a calm and gentle person. By contrast (and contrary to the persona she plays in many spanking films), Amelia is up-tempo, highly distractable, somewhat giddy and fluffy, and ever so perceptive, empathic and tactful. It's quite rare to see either of them spend this much time on camera without putting on a persona, and the dynamic which arises between them is delightful to watch. Where Amelia chatters, negotiates and giggles, with an artless charm which would have many a top wrapped around her little finger, Hywel is steadfast, a solid rock around which her butterfly dances. He is not without a twinkle in his eye, and a lot of the dialogue in this film will have you giggling along with Amelia - and Hywel can hardly be said to keep a straight face throughout. But the sense of humour in their interaction by no means weakens the intensity of their D/S dynamic, and even as Hywel is grinning at the ridiculous, he stands firm and successfully imposes his will.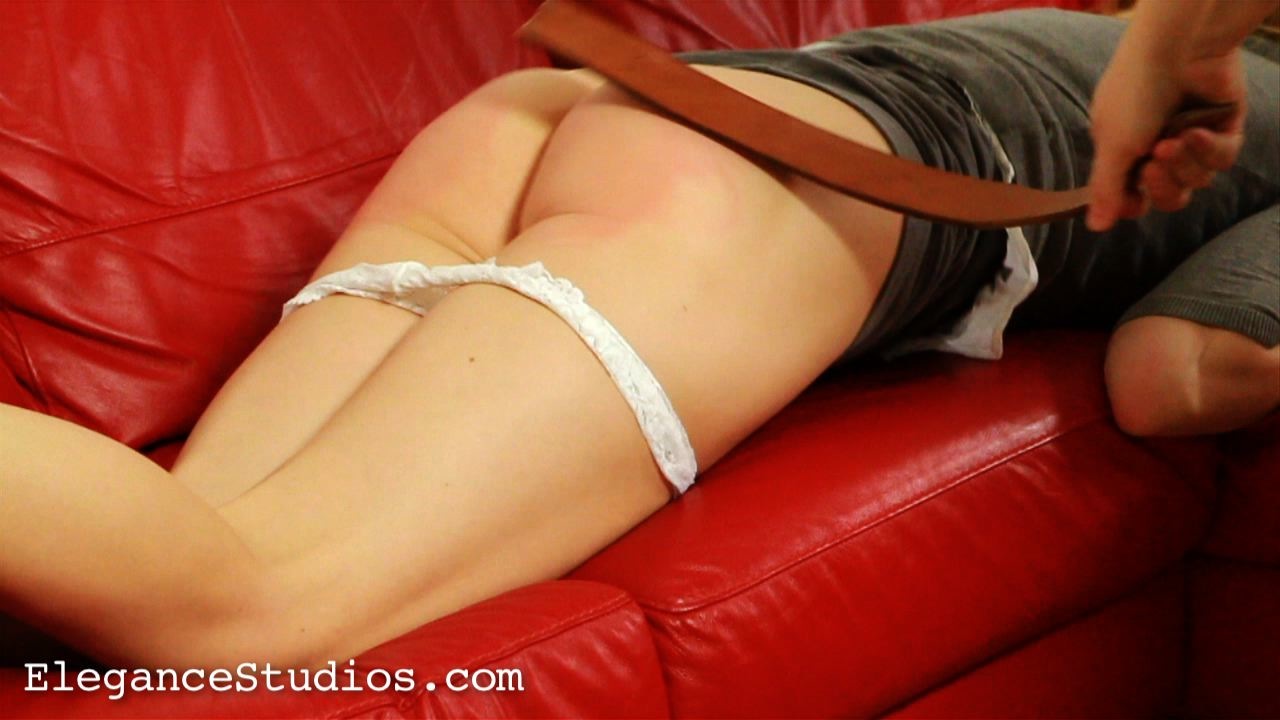 The premise of the film is centred around the idea of a punishment book, in which Amelia must write down the things she does wrong during the week. Some of these are drawn from existing household rules (under the structure of their D/S relationship, she is obliged to ask permission before entering his study or putting her shoes on, and to keep her feet well moisturised - Hywel has a bit of a foot thing, as anyone familiar with Restrained Elegance will know); others are identified by Hywel on the spot. The latter category result in some hilariously unexpected misdeeds. My favourites included:
"Failing to welcome Hywel home properly and speaking in a silly voice"
"Claiming to have a PhD while making fudge"
"Hitting a light with a cardboard tube while pretending to be Mr. Punch."
In addition, every misbehaviour which arises during the punishment itself is, of course, written in the book - and Amelia spends a fair amount of time adding things to next week's list, a process which becomes somewhat recursive as "Petulant behaviour while writing in the punishment book" becomes something for which she is punished. One of the most amusing moments in the film is when she accidentally, forgetting to put the pen down, scribbles on the sofa while being spanked. It's even funnier when she manages to do it again in the second scene, and Hywel's amusement and her (admittedly somewhat amused) horror are brilliant to watch.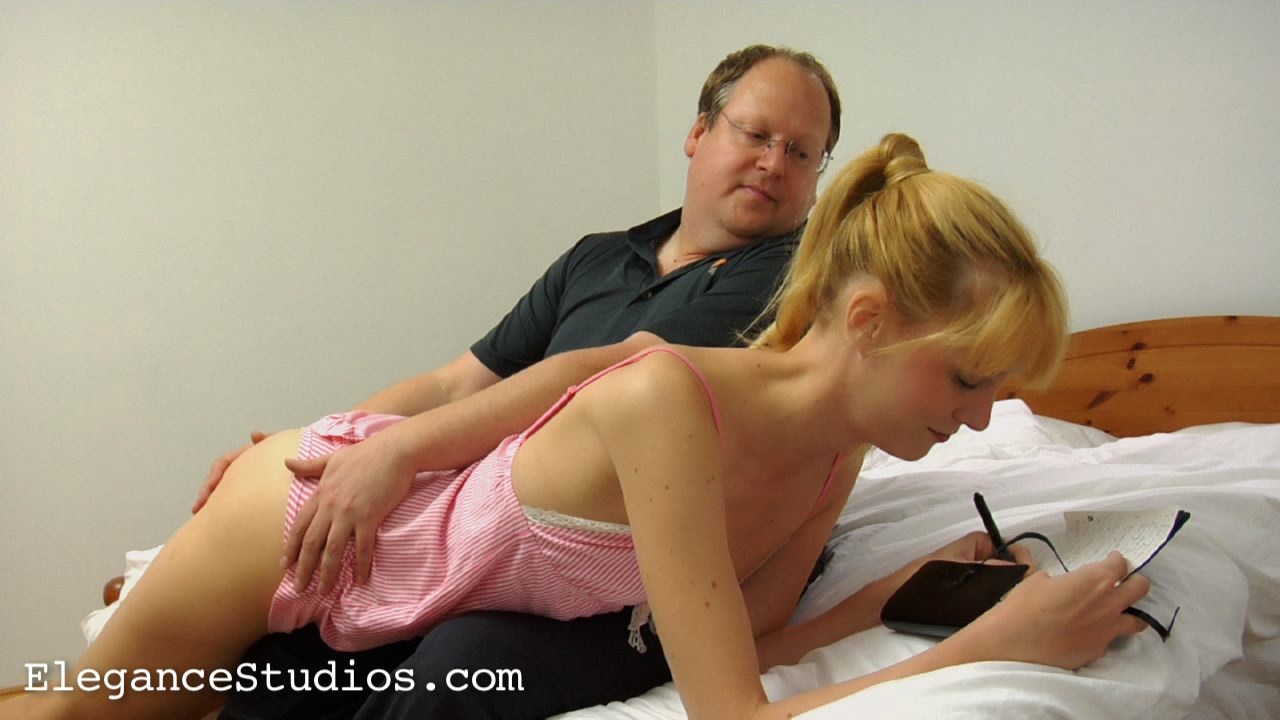 Scene 1 consists of an over the knee hairbrush spanking, during which Amelia is obliged to read out the contents of the book to date (and adds no few items to the list). This includes some hand spanking after the cold - and evidently painful - hairbrush spanking, and concludes with an unexpectedly intense session with the leather strap (18 strokes, I think, but don't quote me on that). The strapping was hard, clearly very difficult for Amelia (I felt ever so sorry for her!) and very hot, but I'm afraid for me the appeal was lessened by several extended slow-motion sequences, which were particularly disruptive as they were accompanied by slowed down, lower-pitch sound. I don't know if this was a deliberate choice or a necessary means of covering some technical glitch, but I found it jarring. Thankfully the device wasn't re-used in any of the later scenes.
After the strapping Hywel, exuding coldness, leaves Amelia for 5 minutes time out, facedown on the sofa with her red bottom on display and instructions not to remove her hands from her head. There follows a wonderfully intimate interlude during which Amelia confides in the camera about how she's feeling, including the sudden realisation that perhaps she's not meant to be talking to the camera, how much harder it is being spanked on film without the protection of a character to hide behind, and how much she wants to rub her bottom.
Scene 2 begins with Amelia being "woken up" late on Sunday morning - the first obviously staged moment in the film. There follows an over the knee hand spanking and a caning, during which Amelia is obliged to maintain a difficult all-fours position with her bottom thrust out and vulnerable. The hand spanking includes one of my favourite lines of the film, as Amelia, pinned over the knee and being soundly spanked, wails "Ouuuuch! Ow! Hywel! Ohhhh, I wish your name didn't sound so much like 'ow'!"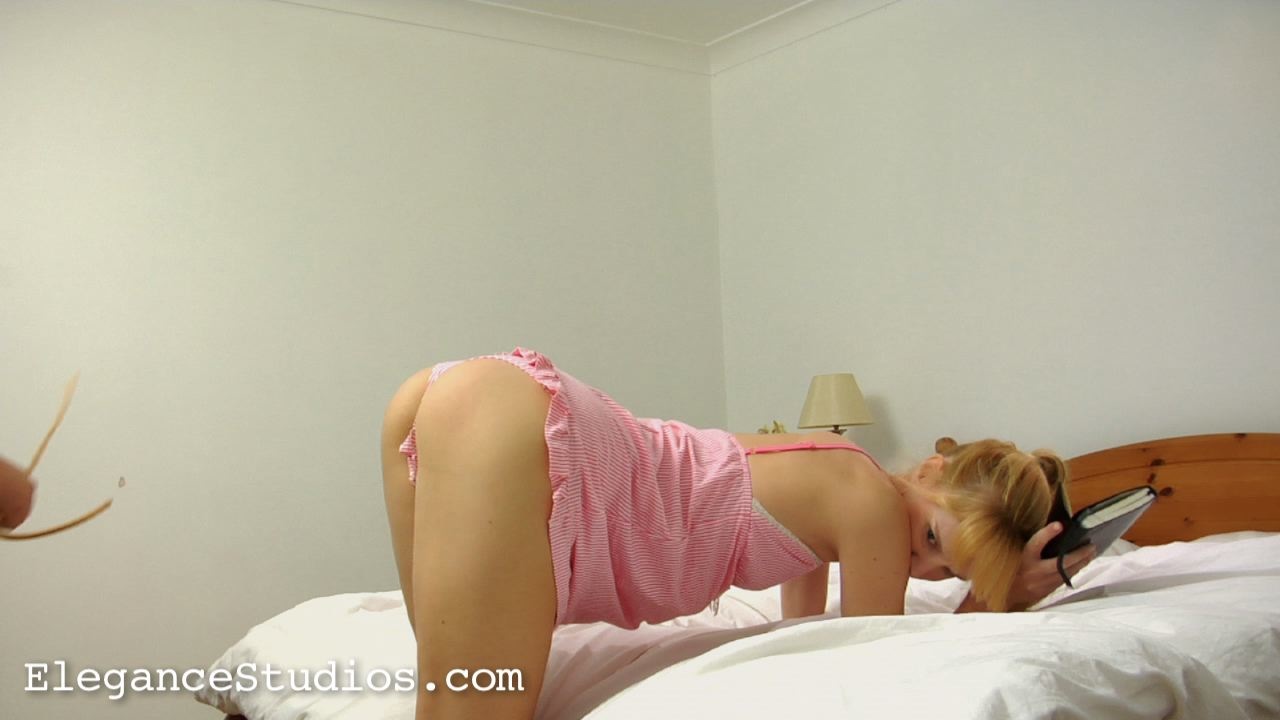 Scene 3 opens with Amelia bringing in a teapot, and Hywel reminding her that today is Sunday, and she knows what that means. Again, while this is clearly staged - Amelia must surely have known they were about to start filming, in order to do her hair/makeup if nothing else - it's charming, and gels well with the other genuinely candid aspects of the film.
(Amelia: Can't I at least have my tea first? Hywel: No, of course you can't!
Unspeakable tyranny!)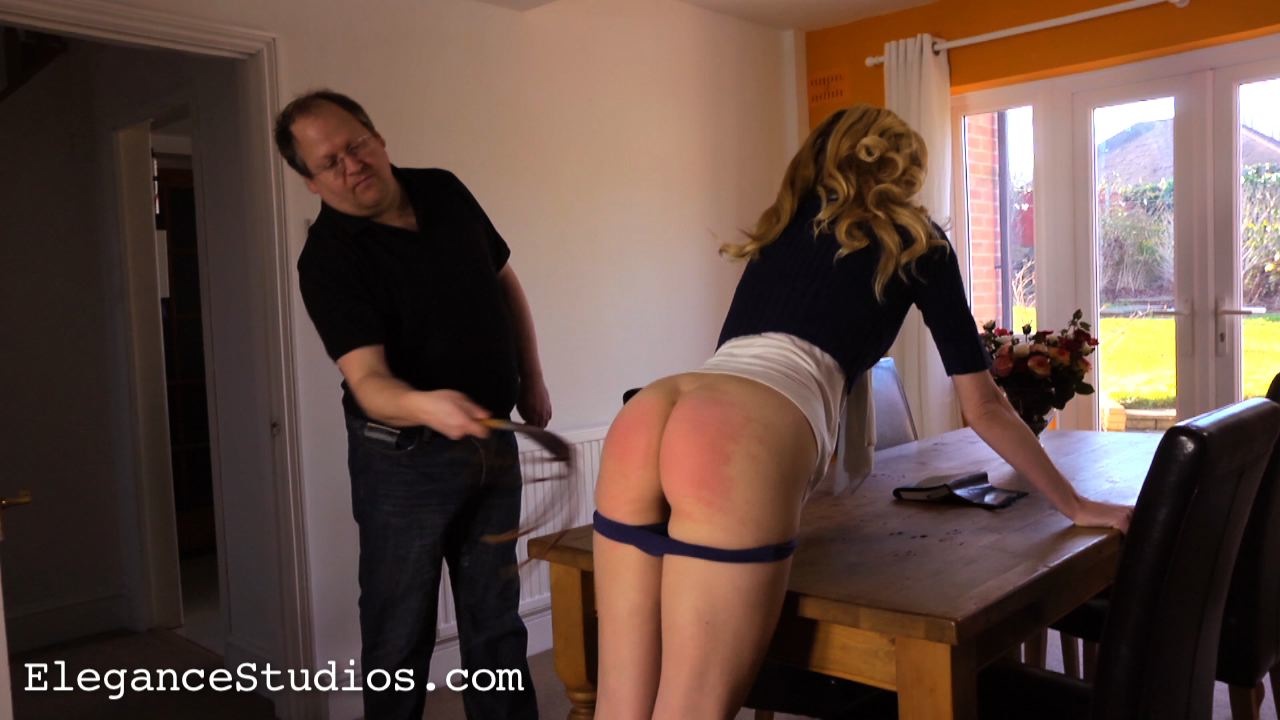 The following scene is the strongest in the film. The dialogue is highly entertaining, with some hilarious misdeeds and a number of rather brazen negotiation attempts. Amelia is sentenced to a hundred strokes with the strap ("I'm not saying 'Thankyou, sir' one hundred times!"), the first ten over her jeans and the rest on the bare. Over the course of the punishment she gradually stops resisting and her submission becomes more sincere. She looks stunningly beautiful throughout, and it clearly genuinely hurts. At one point Hywel threatens to use his belt if she doesn't behave better, and I endured a few minutes of disappointment that this hadn't, in fact, taken place before he did indeed stop, put the strap down, draw his belt through his belt loops and continue the punishment with the heavier, thuddier leather belt. Genuine hotness.
At the end of the strapping/belting Amelia pledges to do better, and to maintain a clean slate throughout the final week. Scene 4 is the consequence of her failing to do so at the last hurdle, and is an intense bedroom caning in which the ever-mobile Amelia is penalised an extra stroke every time she breaks position. Finally, she loses her giddy edge, stops talking back, and the result is an intense discipline scenario with serious emotional impact.
Who won't like this film: People who want to see severe CP that leaves dark welts and bruises; anyone who prefers discipline scenarios which are wholly embedded in fantasy, rather than candid. This is also probably not a film to watch if you have recently ended a relationship, are still looking for a discipline partner, or otherwise have a sore spot when it comes to watching loving kinky intimacy.
Who will like this film: CP enthusiasts with a sense of humour, fans of AJR (who isn't?) who want to get to know her a little better, anyone who wants to watch genuine domestic discipline, dominance and submission, and unrehearsed scenarios with sparkling chemistry and intimacy.
I'd particularly recommend this as a film for couples to watch to get them in the mood to play. While it wasn't quite brutal enough to make me helplessly aroused (I always find it a bit tricky to react this way to things starring people I know, anyway), it certainly put me in the mood for a spanking and made me hungry for a D/S session with my lover. Anyone who likes their spanking hard, real and with high production values will find something to enjoy in this excellent first production from an exciting new studio.
Comments