Posted at 23:46 on 14 Jan 2013 by Pandora / Blake
I'm missing Tom a lot tonight. It's my own fault, of course: I was wondering why his phone kept going straight to voicemail when I remembered that I hadn't posted his phone charger back to him after he left it here last Thursday. Oops.
So while I've got some time to kill and I'm thinking of him, I'll tell you about our date last Wednesday. Tom and I are still doing the long-distance thing. It sucks, but at least I can pretty much guarantee that we'll play on the occasions when we do get together. And my lovely new flat (all to myself, alleluia!) is well-suited to nice long scenes without having to worry about housemates. The gaps between times tend to result in a nice variety of play too, as time passes and we find ourselves into the mood for different things.
He came down for the evening. I'd cooked a nice meal (grilled tuna steak and lots of fresh veg) and we snuggled in front of a film. Then I practically dragged him to the bedroom. Well. Maybe he dragged me there. One or the other.
I'd needed a spanking for weeks and weeks. I'd been spanked here and there, but I needed a proper, long, hard, extended CP scene that pushed me into subspace and kept me there until my bottom was sore and my cunt was aching. The last time Tom and I were together was for a shoot just before Christmas. It was fun to play with him on camera (and I may have self-indulgently written myself a 100 stroke belt whipping from him), but it's never the same when you're working. This time I wanted to indulge him, submit to his desires. Of course, key to this is the knowledge that he's a sadist and a hardwired spanko. As long as I wasn't fussed about what I got spanked with and how, I could be pretty certain that submitting to him would fulfil those needs.
He started me up with the gentlest of warmups. I relaxed happily over his lap, drifting off into a lovely floaty headspace. But still, I found myself wiggling in impatience. I wanted more.
When he stepped up the power a notch or three with his hand, I ate it up. I luxuriated in the hard thuddy spanks to the fullest part of my bottom, lifted my hips to meet his hand. I even welcomed the crisp, deliberate smacks to my thighs. It hurt, and hurt good. The stingiest spanks made me yelp and squeal somewhat, but I didn't struggle.
He got out the thick, heavy leather strap we brought back from the World Spanking Party last year. He was being cautious, still, testing my reactions. I didn't have to fake happy noises to reassure him; the strap generated lots of mmms and aahs all by itself. He gave me strokes in sets of six, swapping every so often to the other side of the bed. I don't know how many strokes he gave me here - maybe 50 or 60 . It hurt more coming from my off side, of course; most of the spankings I get are right handed, so the other side is less used to it. But still, it felt good. I was in my happy place.
After every other set he would ask me how I was doing and I would surface from the dopey, subby place I'd been floating in and tell him I was doing fine. Thinking back, I suspect I was being pretty quiet and introverted with my responses, just soaking up the experience, so it makes sense that he'd check on me - I wasn't being as vocal as I sometimes am. The third or fourth time he checked I told him I appreciated it, but I was likely to carry on being fine, and I'd let him know if I wasn't. I understand why he's being careful with me these days, but that night I felt like I could take whatever he wanted to give.
Sometime around then I asked if I could make a request. I could feel myself sinking down into a really deep masochistic zone, and I suspected Tom would want me to stay there if possible, so he could beat me as hard as he liked. I suggested that it would work well for me if he didn't stop after each six, but kept going; and in fact speeded up a bit and settled into a very regular rhythm. I have this recurring fantasy of being strapped hard, you see, rhythmically and indefinitely; one stroke every 3 or 4 seconds, no end in sight.
And that's just what he did.
It was amazing. It was so intense. I groaned a little at first, and then I think I just went quiet and fell through the bed, through the floor, through the universe. The strokes slammed into my bottom and rocked the bed. After each one it felt like my bottom swelled up a bit more. I had this image in my head that my bottom was absorbing the power of the stroke, feeding on it and becoming bigger and bigger as it grew more sore and tender.
I remember Tom's warm, big hand rested on the small of my back, holding me safe. I remember glimpsing him drawing his arm back out of the corner of my eye, sensing the whoosh and power as he brought the strap down. The rhythm was like a slow drumbeat, predictable and sure. It allowed me to learn the pain, relax into it, become one with it. I'm not sure I was even experiencing it as pain, just a deep beautiful pounding sensation, like drumming or dancing or fucking.
I don't know how long it lasted. Maybe four or five minutes in total, but it felt like an hour. Eighty strokes, a hundred, probably. I don't remember him stopping, but I do remember kneeling up afterwards, slowly, in a daze. Cheeks flushed and hot, hair in my face and head swimming, sinking gently back into my body, returning to reality.
He offered me a cuddle. I leaned into him wordlessly, took his hand in mine and touched it between my legs. That was the first sexual contact we'd had and I was already dripping with arousal. My cunt was so drenched that I could feel the wetness pooling between my legs, slickness filming over my labia and slippery on my inner thighs.
Even I hadn't realised I was quite that wet. I couldn't help but giggle.
"Well, look at that. I guess I must have some sort of spanking fetish."
I was feeling merry, mind and skin tingling. My bottom felt hot and swollen and happy.
He fetched a cane.
I didn't want the cane. But ... this was meant to be about what he wanted, not me. (Buzzing and giddy, I may have also said this out loud.)
"You seem to be in a receptive place," he said, ignoring my rambling, "So I'm going to give you quite a high number. Forty eight. You don't need to count them." I nodded. I knew it was going to hurt, but I felt accepting, not afraid.
The first one sliced through my haze, cutting deep into my sore buttocks.
"Ow. Ow ow ow ow ow." I had to laugh. After all my deep floaty subspace a single cane stroke jangled me back to reality.
They kept coming, one after the other. Once in a while he switched sides. It hurt a lot, and I knew he wasn't going really hard yet. Trying to process the pain, I whimpered and moaned and gripped the bars of my bed with my fists.
Then it was just concentrating on my breathing. Wait for the stroke, relax and lift bottom, hold breath. Stroke lands, inhale sharply, controlled exhale.
In, out. And again.
At first, he'd stop after every twelve strokes or so to give me a rub, and that was beautiful; his big firm palms soothing and stimulating my sore skin. But then there wasn't a rub when I'd expected one, and suddenly I started feeling the pain very acutely. It hurt, it really hurt, and it wasn't stopping, and I just wanted a break - not even a rub, just a pause to catch my breath - but the strokes kept coming and coming, relentless. I started to feel more and more sorry for myself. I whimpered and sniffled and wondered if tears would come. Were tears what I needed? But they didn't.
I wasn't going to ask for a rub, or a break. He hadn't forgotten; he was choosing his actions deliberately, testing my endurance. So I sobbed into the pillow, held my breath, exhaled slowly and sobbed some more. I buried my face in my arms and tried desperately to be good. Apart from my breath, I think I must have taken the last twenty four in pretty much total silence. And they were hard, really hard.
Afterwards he gathered me in his arms, and by then I needed the comfort. I clung to him and my whole body shook.
My reward for being good was permission to make myself come while he roughly squeezed and fondled and bit and licked my breasts. I dipped my hand into my warm slippery cunt and brought myself to a shatteringly intense orgasm that left me shaking and gasping and clinging to him all over again.
So yeah. As date nights go, it wasn't bad. ;)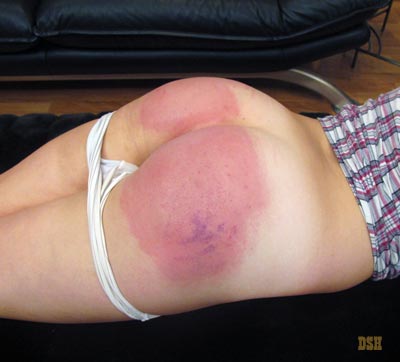 This isn't what my bottom looked like afterwards. It felt like it should have, but my bottom is clearly becoming more seasoned not matter how often I apply Vitamin E cream and shea butter, and all I could see when I craned round in front of the mirror was a dark pink. I could feel the ridges of cane welts under my fingers, but they didn't last the night.
Comments