Posted at 23:27 on 1 May 2013 by Pandora / Blake
After the shoot with Punished Brats, my friend Benman picked me up from David Pierson's house and drove me to Atlantic City. To avoid the rush hour traffic we took a long-winded route south, then east through Pennsylvania. This drive gave me the opportunity to see more of the picturesque, luxuriously spacious suburbs where we'd been shooting and, as we headed into the city, Philadelphia itself. As the buildings grew closer together and became more run-down, everything felt less alien, and we moved into a more recognisably urban cityscape of murals and mosques and high rise office buildings. The scenic route added over an hour to our journey time, but I appreciated it; it was good to see more of the state I was travelling through. Once onto the interstate we drove through a wooded national reserve, over the state boundary and into New Jersey, where there wasn't much landscape of interest en route to Atlantic City except a few small lakes.
We finally arrived at the hotel at 8pm and checked into our rooms. I opened the curtains and instantly fell in love with the view:
My hotel room was spacious and luxurious by London standards. I particularly loved the bathroom, which had marble tiles and a large mirrored dressing table (which I shamelessly hogged all weekend, even after my lovely roommate arrived)
I did some unpacking, then met up with Benman and his friends BradD and his wife, with whom I had chatted a bit online, plus some other people I didn't know. Once we were seated I realised that I wasn't the slightest bit hungry. After leaving the shoot I'd been starving, so we'd stopped at a supermarket in the car and I bought the smallest sandwich I could find, which was literally the size of my forearm. I only ate a third of it at first, but over four hours of driving I'd gradually polished it off, leaving me completely full. So instead of dinner I had a glass of wine, then headed over to the casino bar, where I met lots of early party attendees including Mike of Correction Collection, the lovely Judy (to whom I still owe a spanking - I'm sorry we didn't get to play this weekend), Emma Bishop and the party organisers: Mike Stein, Mike Tanner, Jules and Miranda. I also got to meet Richard Windsor for the first time, who was 100% exactly the man I expected from his blog. He presents himself very honestly, that one, and it was a pleasure to meet him.
I had fun socialising, and after a couple of drinks I was ready to head to bed. With classic timing, at this exact moment Alex Reynolds arrived, who was one of the people I'd been most looking forward to seeing at BBW. Of course I couldn't go to bed just yet. I'd had no idea she was arriving early and was delighted at the chance to hang out with her before the rest of her people arrived. Much hugging ensued, and - naturally - more drinking. We ended up in Mike Stein's suite cuddling with Richard Windsor on the sofa. Alex was wearing Rich's hat most of the night, and incidentally looking hot as fuck in it. I love this photo of the three of us snuggling and happy in our glasses, even though it kind of looks like I'm photobombing the two of them:
I hope I won't get in trouble with Mr Windsor for nicking that picture off his Fetlife.
Despite not getting to bed until 2am, in classic jet-lag style I woke up the next morning at 8am, even though I wasn't scheduled anywhere until midday. I could so have done with that lie-in. Instead I had breakfast with Benman, looking out over the Boardwalk and promising myself a wander along the ocean at some point during the weekend.
The rest of the morning turned out to be really useful alone time - I finished unpacking, decompressed, did some Dreams of Spankingwork on my netbook (although I couldn't get the internet in my hotel room to work) and had time to do my makeup and hair properly before my shoot with Sarah Gregory at midday. This had originallybeen scheduled for 1.30pm, but Sarah had moved it forward the night before, which I was very happy about as it meant I'd be able to go to Richard's pool party afterwards.
It turned out the scene we were filming was very topical, with Sarah and I playing friends spanked by Sarah's mommy Dana for swimming in the hotel pool after it was closed. The scene began with Dana dragging the pair of us into the hotel room dripping wet. Sarah and I had to jump into the shower in our bikinis twice to make sure we were wet enough before starting filming!
This was the first time I'd played with Dana Specht, although I'd really admired her after meeting her at TASSP last summer. She is so warm and gracious, with amazing poise. She also gives absolutely the best scoldings of anyone I have ever met, and being told off and spanked by her was really hot. At one point I was so in character and she was pitching it so perfectly that she nearly made me cry! Sarah and I both got hand spanked, and I got the hairbrush as well for being the instigator. I really enjoyed it and it was a pleasure to be invited into Sarah and Dana's intense mommy/daughter dynamic.
After being spanked for a fictional one, I was well in the mood for an actual dip in the pool. I found my way to the spa level in the other tower of the hotel - I was still adapting to the scale of the place. By the time I arrived a bunch of people were already there, including Alex looking even hotter than usual: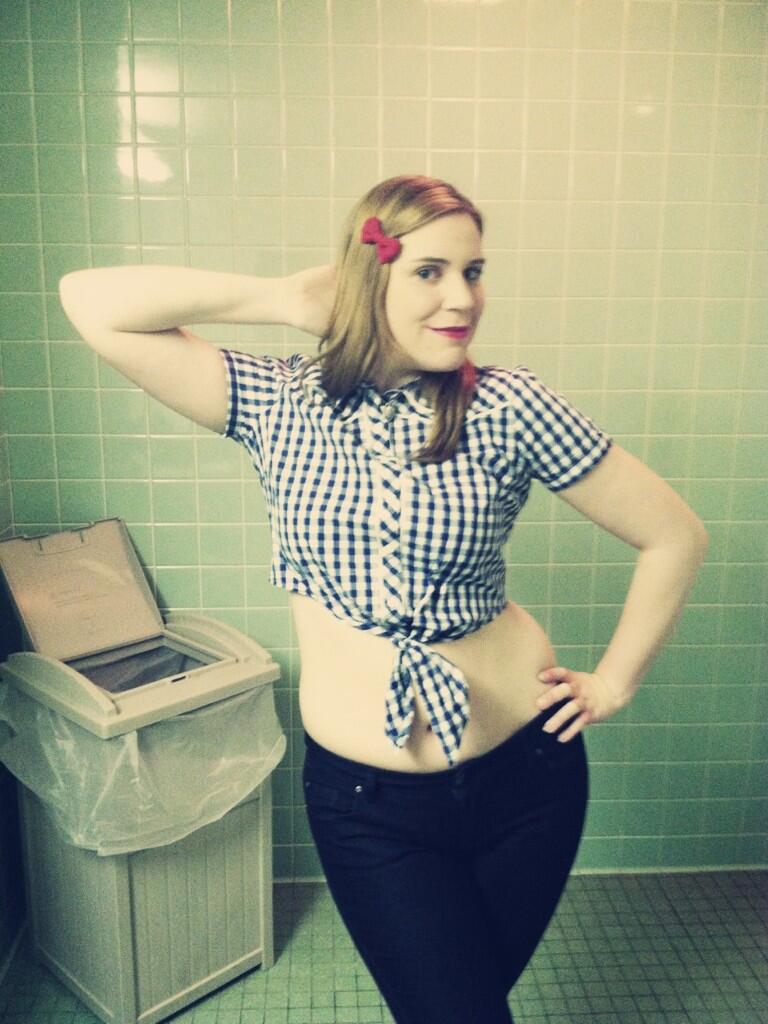 Being in the pool felt delicious. Cool water, kids laughing and splashing,sunlight streaming in through the glass roof and floor-to-ceiling windows showing a view over the ocean. Alex and I caught up on gossip and greeted other friends including Heather PTL, and Korey and James whom I had met in Texas. More and more people kept arriving, each and every one of them first class, amazing human beings. With every friend added to the mix, my mood was buoyed up one more notch.
Not only that, but I was meeting a lot of new people too, including some HOT new boys. In swimwear. In the sunshine. Oh yes, this pool party was a good idea. I was delighted to make the acquaintance of two party newbies: Oak from Sweden, slender and youthful with sharp, light blue eyes, a huge smile punctuated by long canines, and a neat blond goatee; and bulky, olive-skinned Corey with dark eyes, big pecs and broad shoulders. While chatting up these tempting young men I discovered an instant icebreaker: "So, are you going to the male top uniform party on Saturday?" Thank you party organisers for providing the perfect chat-up line! Even better, the answer in both cases was yes: Oak was going as a cop, Corey as a fireman. Hallelujah! I made dates to play with both of them; and later, I was even more pleased to discover that Corey also liked to switch. Hanging out in the huge, 10-ft-wide jacuzzi in the sun with old friends and new, I formed the firm opinion that this was the best party ever, and nothing has happened since to change my mind.
While the pool party was still going strong, I had to duck out to meet my new roommate, Jade. Alex got out to get dressed with me, but before we made it as far as the changing rooms we bumped into Heather, who was near where I'd left my towel and clothes. At this point I forgot that I was in a normal hotel pool with families and so on, rather than in magical kink land, and started taking my bikini top off to get changed. After all, my clothes were right there. With great tact, Heather said, "Erm, I don't think you can do that here. Because of the America." I blushed and hastily covered myself, while Alex laughed her head off. Even at a spanking party, I manage to be too naked.
I hadn't met Jade before, and didn't even know her that well online. I'd been aware of her as a blogger and followed her on twitter, but when she said she might be interested in rooming with me I had to go and check out her website to find out who she actually was. After that we talked on Skype, and I learned that she'd never been to a spanking scene event before and was travelling alone, which I thought was super brave. I was really looking forward to meeting her, and to being newbies together; although as many people in the spanking scene seem to know me already and I'd been to two whole parties already, I was also looking forward to being the experienced, well-connected one by comparison and to showing her a good time.
When I met her and showed her to our room, we instantly hit it off. I felt very at ease with her, which was convenient as we'd be in each other's space for the next four days. She immediately gave an impression of being calm, level-headed and mature, and we shared a boisterous enthusiasm about our BBW adventure, as well as certain over-analytical tendencies. As the weekend progressed that initial spark of connection cemented into a fast friendship, and along with Alex she's one of the people I've missed most acutely since the party ended.
On our way out for lunch, we met up with Alex and Fineous. I admit I'd forgotten how cute Fineous was. He's famous for his flogging technique, which I'd sampled in Texas last year, but I figured he must also enjoy spanking - being at a spanking party and all. We hugged and I asked if he'd like to do a spanking scene with me this weekend. He said yes, so I was a very happy lady as we walked along the Boardwalk looking for some food.
Alex, who had spent some time in Atlantic City growing up, gave us the Alex Reynolds Adolescent Memories tour, including key moments from her teenage years (sadly not commemorated by plaques, although they totally should have been). I was drawn helplessly into clothing shops that had cute, cheap party outfits on display, and ended up buying a purple bellydancing costume and a backless, bottom-enhancing dress which became one of the favourite outfits of the weekend. (Read on for pictures!)
After lunch (we bumped into other partygoers who were having pizza and decided to join them - this kept happening whenever I ventured out of the hotel), we headed back and I got ready for my first scheduled play session of the weekend, a switch roleplay with BradD. To my chagrin, I actually forgot the scene we'd planned (even though we'd emailed extensively about it ahead of time), but by a happy accident I managed to wear something appropriate: my red secretary dress. Brad threw me off balance by greeting me at the door in character, so I sat down and did a lot of serious nodding and "yes sir"s while belatedly trying to get up to speed with the scenario. I turned out to be a law clerk who had made an error with a case and requested corporal punishment to deal with it rather than suspension - cool. Once I'd caught up the scene flowed smoothly, and had an additional twist: after my superior had administered the punishment, he got a call to say there'd been a mistake and I had in fact been right all along, so it got turned back on him. Brad is a great roleplayer and I really enjoyed the scene with him - it was the perfect balance between immersive and playful. He's a good top and his bottom does the best happy dance when he's over the knee. So much fun!
Back in our room, Jade and I got dolled up in the new dresses we'd bought on the Boardwalk, and headed down to the Burger Bar for the Meet and Greet Registration.
In a short skin-tight party dress and 6" platform heels I was a tad overdressed and towered over almost everyone else in the room, but hey, at least it made me easy to find. I said hello to everyone I recognised from TASSP, had a drink with Buzz Lightyear, and greeted Indy and the Brits including Leia Ann (who had thankfully recovered from her stomach bug), Lucy McLean and Stephen Lewis, Paul Allen and other friends. Jade and I sat and talked with Korey and James over drinks, then at midnight we headed up to the 52nd floor for the first night of suite parties.
The party organisers had booked out the whole floor so we could take over the hallway as well as every suite, and it was crowded and raucous up there. However, there was also a strict no-photos policy, so you'll have to take my word for everything at the party that took place after midnight.
I bumped into lots more beloved people, including Jerry Diamond and his companion Tara, as well as the wonderful Ten and DrLectr, and many hugs were shared. In one suite I watched Oak spank a string of girls including Tara and Korey, which was a very eye-catching way to begin the evening. Surrounded by men spanking women, however, I quickly decided that the place needed some F/M action, and invited the male Corey over my knee. He was nervous about playing in public but he took a good spanking, and had a beautifully firm, muscular butt. I felt a lot more at ease after doing some topping, although I did then have to turn down a crowd of interested male bottoms who had gathered to watch me give a spanking. The party organisers once more provided a perfect social saving grace: it was very useful to be able to say "Will you be at the bad boys event? Oh, great! I'll see you there."
Somehow Thursday turned into another late night. I was shooting again at 10am the next morning, this time for Dana Kane, so I wanted to get a good night's sleep. Ha. At around 1am as I was heading to bed, I bumped into Alex in the corridor and we shared a good long hug. Realising that this might be our last chance for alone time before the rest of her polycule arrived the following day, I spontaneously asked if she wanted a spanking before bed, and she said yes. I found a spare chair in Mike Stein's suite and took her over my knee for a good girl spanking that was the equivalent of a bedtime cuddle. Despite the noise level in the room, I felt very connected to her. In the end it was the only time I topped her all weekend, so I'm really glad we got to share that moment. The only sour note was when some lady came in and exclaimed, "Oh, lovely! Little girls spanking each other! How adorable!" Growl. However, great though the insult to my honour was, I'm pleased to report that my ego survived. After all, it's hard to stay mad about anything with Alex over your knee.
Comments