Posted at 11:48 on 20 Jan 2014 by Pandora / Blake
Before Christmas I was asked to participate in a feature for FHM on women watching porn. For my non-UK readers, FHM is a "lads' mag", a lifestyle and softcore porn magazine for young men, kind of like a cheaper version of Penthouse. Interestingly, these publications also seem to be one of the few resources for young men which openly discuss sex and relationships, and so they aren't without value - although the quality of the advice varies hugely.
I hadn't met the writer before. When he'd asked for recommendations for "woman friendly" porn I sent him the list of websites nominated for a Feminist Porn Award last year. He'd bought short-term subscriptions to four sites for us to look at: The Art of Blowjob, Bright Desire, I Feel Myself, and X-Art.
I showed up at his North London flat, and he poured me a glass of red wine while we waited for the other woman he'd invited - one @lucyannhancock, another journalist and (I think) a friend of his. When Lucy arrived she joined me in a glass of wine - I think both of us felt that booze would be required to not find this experience weird. Originally, it was going to be Lucy and GirlontheNet, but GotN sadly had to decline when she learned that FHM intended to take photographs, and suggested me instead.
The idea was that we would watch some videos, react to them honestly, he'd tape what we said and the photographer would shoot some pictures, and it would all be turned into a feature for the magazine - I guess with the aim of reassuring FHM readers that not all porn was hateful to women. I was quite excited by the opportunity to show some feminist porn to people who had never seen it before - and intrigued, too, to see what these sites had to offer.
(I would like to apologise to Lucy in advance for anything I've remembered incorrectly. If I misrepresent you at all, please do comment and correct me!)
Our host set the audio recorder going, and, laughing, we began browsing porn. It was a fascinating, hilarious experience. All four of us - Lucy, me, the writer and the photographer - were roughly the same age and from similar social backgrounds, which made it more comfortable - and less diverse - than it might have been. Still, when it came to what we wanted from porn, Lucy and I couldn't have been more different.
"I don't think I've ever watched any feminist porn," she confided when I told her my job. There's nothing wrong with that," I replied. I meant it, too: we all have our preferences, and my agenda is improving the diversity of available options, not telling anyone else what they should or shouldn't watch.
I was intrigued to hear about Lucy's tastes. I think it was the first time that either of us had talked about our porn-viewing habits within minutes of meeting someone, but I've always been happy being open about this sort of thing, and Lucy is not exactly a shrinking violet. She mostly watched free clips on tube sites, preferably quite rough, anonymous, gonzo style fucking with lots of closeups. She told me this with an air of apology, expecting me to judge her for her taste. Instead I returned her confidence with the admission that I like to watch free gay male porn videos on Tumblr and RedTube, preferably rough anal with an abusive daddy/boy flavour. (Actually, now I think about it, that may not have been as reassuring as I hoped.)
As we began to explore our host's selection of "female friendly" porn, I was assessing what I was seeing on two levels. My first interest was in observing whether the material actually aroused me or not, while being aware that this was unlikely, given the artificiality of the situation, and the fact that none of our viewing material involved e.g. spanking, BDSM or gay rape. Secondly, and more usefully, I was making aesthetic, technical and political judgements - was it well made, did I appreciate what they were doing, would I recommend it to someone, and if so, who?
I don't know if much of what we watched pressed either of our involuntary arousal buttons, as it were, but then, none of it matched our usual tastes. We were still able to comment on what we liked and what we didn't, what we'd watch more of, and what left us completely cold. It wasn't my intention to sit there all evening saying like a stuck record "this doesn't work for me, it isn't kinky enough". I wanted to open my mind to see what else might tickle my fancy, and to appreciate and enjoy material I wouldn't normally watch.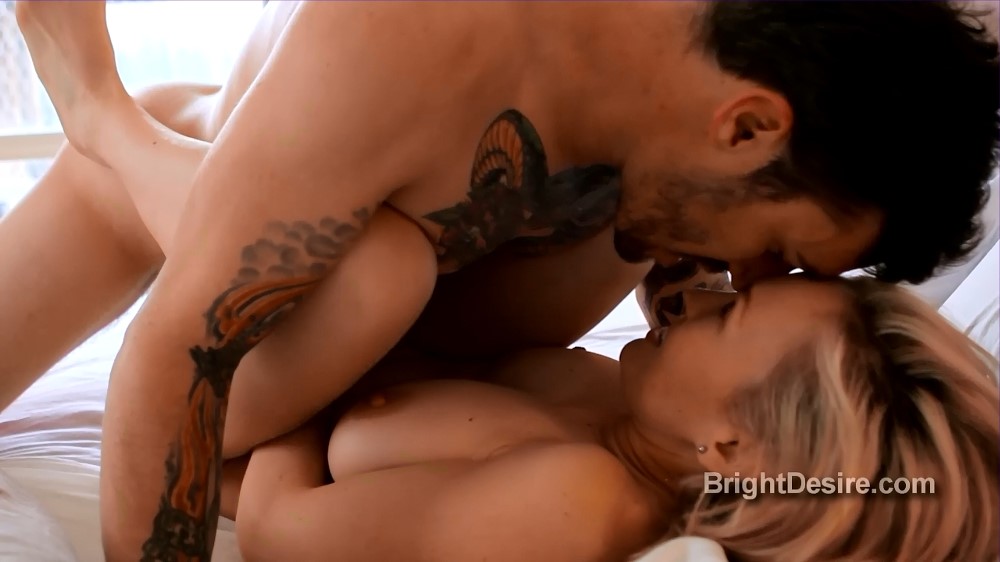 To my surprise, despite our differences it was remarkable how many things Lucy and I agreed on.
For instance, we agreed that we wanted to see rougher, more vigorous sex than many of the scenes portrayed; something with a sense of urgency, a touch of violence. A lot of what we watched seemed to show slow, sweet sex, and we were constantly clicking ahead to find something with a bit more energy.
We both valued real desire and reactions, especially from female performers - real couples, real lust and real orgasms were definitely preferable to phoney-sounding moans, and we tended to agree whether something felt "real". Bright Desire was good in this respect, although some of the older scenes on that site (apparently recycled from For The Girls) felt a bit more artificial.
However we also agreed that pleasure alone wasn't enough to keep us interested. We didn't just want "authenticity", we also wanted to see some skill in physical self-expression; performers who could portray a fantasy. Real couples who had no experience playing to the camera left us cold if their lovemaking was shy and quiet. We didn't just want real desire, we also wanted skilled performers who could produce energy, expressiveness and movement.
I Feel Myself was by definition authentic, because who would fake an orgasm while masturbating? But neither of us was very interested in watching women doing what we did at home - we both wanted more of a fantasy than that, something more interactive. X-Art offered a more mainstream, linear mode of sex which ended on male ejaculation in every film we watched, regardless of whether or the woman had come yet. Likewise, The Art of Blowjob only showed male pleasure. Camille Crimson clearly loves giving head, but her partner never touches her or gets her off in return. Boring. We agreed that mutual pleasure and genuine female orgasms should be a fairly essential part of any porn selling itself as "female friendly".
Which brings me to another area of common ground: we didn't only want to look at the women. I Feel Myself didn't seem to have a single male performer. The Art of Blowjob and X-Art were both in the habit of cropping the man's face, or not showing anything other than his cock, while the camera lingered exclusively on the woman's curves, face, eyes - practically the definition of male gaze. GirlontheNet has written a fantastic post on this trend, and it was disappointing to see it repeated in porn marketed as "for women". We both commented that we wanted to see fit male bodies, the faces of both partners, and mutual interplay.
To my surprise after her initial comments, Lucy also joined me in wanting scenes with more of a plot. All four of the sites we watched tended to show "gonzo" style porn, where the only premise is the casting; some people are in a room, then they have sex, without any scene-setting or dialogue. We agreed that all the scenes would have been improved by a bit more "because". Not a cheesy plumber intro, but perhaps just some dialogue introducing the characters. Let's say a scene shows a real couple: who are they both? What's their dynamic? Do they live together? What were they each doing before the cameras started rolling? Why are they having sex now, rather than later? Do they both want the same thing today, or is one of them trying to talk the other into a particular fantasy?
I'm sure we would have found some storylines if we'd had time to explore further, but in our flying visits we didn't stumble across any. The closest we found was a film on X-Art which began with a girl in a school uniform trying to seduce her boyfriend while he worked on a computer, but even that was a little flimsy, with no dialogue and no real sense of who these characters are outside the bedroom. I have described myself as a "plot fetishist", so it's no surprise this was something that bothered me, but I was interested to hear Lucy saying the same thing.
As the evening progressed I started to feel awkwardly choosy. So we wanted violent, vigorous sex; a non-sexist gaze that shows us men as much as women; genuine lust; high production values; beautiful, energetic performers; interesting storylines; authentic reactions and real orgasms. As the shopping list grew I began to wonder if we were being overly demanding. Thinking back, however, I don't think there's anything wrong or unusual with being selective about porn. In fact, as a producer, I can tell you that most viewers are. Porn is about one of the most personal things there is, and we have every right to be picky.
It's a shame we didn't have longer to browse, or more sites to look at - the scenes we watched were mostly selected by our host, and I'd be interested in revisiting some of these sites to see if it was a representative sample. But it was fascinating to watch some self-described "female friendly" porn with people who were new to it, and to discover how broad the umbrella really is. I found it very interesting that even from this small selection, despite our disparate kinks and preferences, we women still found unexpected common ground.
Comments