Posted at 23:43 on 10 Feb 2014 by Pandora / Blake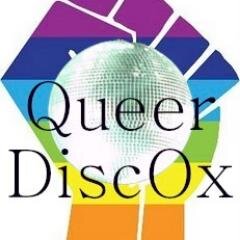 I'm just on my way home from a lovely evening chatting to the folks at @QueerDiscOx radio, a sex-positive LGBTQ* discussion radio show based in Oxford. I'd never spoken on radio before but my experience with erotic audio recording must have stood me in good stead, because I didn't feel nervous at all, and only at the end of my 15 minute interview did I realise my heart was thumping away at double speed!
It helped that my hosts Vishnu and Johnny were eternally sweet, including bringing me and my co-panellist gay porn star Lyle Boyce cups of tea from Cafe Nero when we couldn't find a kettle. Caffeine makes the sex industry go round. To prove it they even gifted us both with Queer DiscOx branded rainbow mugs.
We talked about fairtrade porn, safer sex, consent, porn as sex education and so much more. You can listen to the hour-long podcast here:
Queer DiscOx Episode 12 - Queer Porn With Porn Stars Pandora Blake & Lyle Boyce
Afterwards the four of us went for pizza, wine and unabashed loud conversations about porn, sex work, gender, class politics, dating, sexuality and lube. Vishnu proclaimed that sex workers are the most organised and efficient of any of the groups he has worked with to date, way more than poets apparently. Lyle and I reckoned it was something to do with being paid by the hour. After that I may or may not have tried to recruit all three of my companions for forthcoming porn projects (about which more below). It was with regret that I finally tore myself away from the fascinating conversations with lovely queer people and started the tortuous process of getting the train home to London across the flooded Thames Valley.
My weekend of gallivanting began with a visit to Nimue and Rosie in their new home in the midlands, where my lap was decisively claimed by their smallest, friendliest cat (who has totally stolen my heart - sorry, Fatface, I have been cheating on you with another cat!) and Nimue and I stayed up far too late conducting "research", viz. watching feminist hardcore porn and writing lists of what we liked (e.g. talking dirty) and what we didn't (e.g. using spit instead of lube).
Nimue and I are currently firming up the details of a new production company through which we intend to launch our next porn site/s as a joint venture. I'm really excited about the collaboration and we're going to start filming for the first project this summer. It's going to be feminist, fairtrade hardcore, queer and trans* inclusive, but with an emphasis on masculine bodies sexualised under the female gaze, and the male/female encounters which are so absent from most queer/feminist porn. And of course, this being us, it's going to be kinky, switchy, filthy and violent, with real dominant/submission dynamics, real couples and real intimacy.
That's all I can say about that for now - in fact Nimue may tell me I've already said too much. But it's exciting, no? In the meantime, please do go and listen to the podcast of tonight's QueerDiscOx radio show, we covered some really important topics and Lyle had some fascinating things to say about a very different part of the porn industry from mine. Thanks to Lyle, Johnny and Vishnu for being so welcoming and interesting to talk to, and leaving me all charged up with happy excitement and queer solidarity! ♥
Comments