Posted at 00:17 on 24 Mar 2014 by Pandora / Blake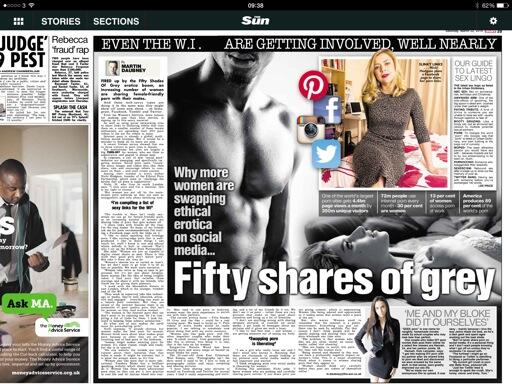 Given my general hatred of all things tabloid, I was surprised to learn that I'd been mentioned in the Sun newspaper. Even more surprised to learn that the article - on "the rise of social, ethical, shared porn for women" - has a positive spin.
Pandora Blake has a brilliant spanking website which shows you how to do it. Women like these more educational porn sites, so they can put it into practice in real life and let fantasy bleed into reality. Men tend to use porn in isolation, women want the porn experience to enrich sex with their partners.
The piece quotes Nichi Hodgson, a journalist and activist dedicated to promoting awareness of ethical and feminist porn. The glaring gender essentialism and inaccurate generalisations in the above paragraph aren't Nichi's fault, although if you click through to read the full text, you'll find plenty more. For the record, women use porn alone, men use porn to enrich sex, whether you like educational porn has nothing to do with gender. Okay, whatever. Misquotes and simplifications are to be expected from publications like this. I want to talk about why it's important that this article exists.
Nichi and I are very much on the same page when it comes to what makes porn ethical, why it's important, and the need to raise the profile of the fantastic work that feminist pornographers have been doing for years. These articles all want to seem ground-breaking, and so it's common to read statements that "porn for women is hard to find", implying that there isn't much good stuff out there; or that feminist porn is a relatively new phenomenon.
Women are put off by the mainstream porn websites as they are seen as misogynistic and only about satisfying men.

The trouble is, there isnt really anywhere we can go for female-friendly porn, so an increasing number of women are sharing links of porn that gets women off.
Actually feminist porn has been around for decades. Candida Royalle founded Femme Productions in 1984, the year I was born. Anna Span's first film aired in 1999 and Petra Joy launched Strawberry Seductress in 2003. The Feminist Porn Awards are going into their ninth year. Feminist porn isn't news - but it is niche. Or at least it has been so far, despite the best efforts of feminist pornographers to promote their work.
So despite the misquotes, the generalisations and the inconsistency (saying "there isnt really anywhere we can go for female-friendly porn" one moment; then listing female-friendly porn the next), I don't want to complain too much about this piece. Yes, it's annoying that it focusses on women "sharing" porn - presumably considered a less threatening activity than women making porn, or watching it, or y'know, wanking to it, any of which would surely be more relevant. But my desire to give feminist porn a wider audience is more important than tabloid coyness. The excellent work that politically-minded female porn directors have been doing for a generation deserves to be common knowledge. Articles like this help raise awareness that porn isn't all aimed at men; and that can only be a good thing.
Comments