Posted at 20:04 on 30 Oct 2014 by Pandora / Blake
Violet Blue was kind enough to link to my last post about the Porn Film Festival Berlin. I kept notes throughout the next four days of the festival, but didn't have time to post anything until I got back. The following was written last Thursday evening in Berlin, after midnight.
Oh my god, where to start? I can't believe I've only been here for a day. Including shorts I've seen fourteen films today - I've never consumed this much media in one go before. Every spare minute in between has been spent talking, processing, connecting with people. The scarcity of tickets not only makes the films seem more valuable, but having limited time to chat to people in between makes every conversation significant - and really forces you to be efficient. I didn't want to waste a single second in the film-makers lounge on small talk. Give me shop talk, gossip and analysis every time.
Fucking Different XXY
Thursday at 11am I sat down to watch Fucking Different XXY, a collection of 7 short documentaries on trans and queer sexualities by different producers/directors. Mostly, they focus on the stories of transwomen.
We started with an Arabic sex worker talking articulately about the difficulties she faced growing up different - including a powerful segment where she went back to her hometown, wearing full face veil so she wouldn't be recognised. We went on to a queer live music video; the story of the Clit Club, New York's top lesbian club for ten years; two trans female sex workers talking about their lives and sexualities; and a film about a female client attending a BDSM session, with two actors playing the sex worker - one transwoman and one transman. There was a piece of docu-portraiture which showed four people of varying gender identities talking about their relationships with their own bodies, genders and genitals. Finally, we finished with another docu-portrait, this time introducing a transgendered survival street sex worker in Canada who is a poet, activist, and instantly engaging - you can't help but laugh along with her.
Fucking Different XXY was funny, uplifting, normalising and powerful. I'd recommend it.
Momentum and A Call for Help
I met Morgana Muses just before the screening of 'A Call For Help', her collaboration with Anna Brownfield about mature female sexuality, particularly focussing on women over 50. The film shows a series of entertaining vignettes, all heterosexual, including a couple's romantic evening in, a pro-domme and her clients, and a quickie with a mechanic in the back seat of a car. The whole thing is brought together with a funny storyline about how one woman creatively solves her inability to orgasm - with a little help from her friends.
I definitely agree that the representation of women over fifty in porn, even feminist porn, is severely lacking, and often problematic. Diversity of representation covers age as well as everything else.
I'm proud of the mature performers I've worked with for Dreams of Spanking - so far I've found performers in this age range to be relaxed, confident, capable, and clear on their own tastes and boundaries. I think many producers would benefit from being more age-diverse, and I'm glad to see Morgana tackling this topic in her own style.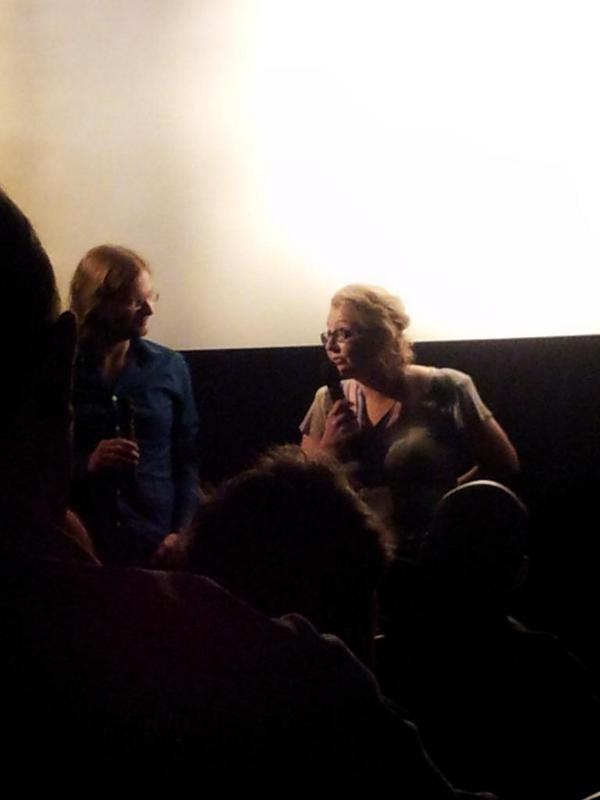 Morgana giving a Q&A about her film 'A Call for Help'
Next, I watched another Australian feminist porn film in a very different style: 'Momentum' by Michelle Flynn. Michelle's work is characterised by shockingly beautiful cinematography - which can be intimidating to a n00b filmmaker like me. The intro to 'Momentum' is gorgeously shot and composed, and perfectly sets the tone for the rest of the film.
We see two sex scenes: one boy/girl and one girl/girl. The straight scene is a real life couple, Kara and Devon, whom I recognised from Ms Naughty's site Bright Desire. They give compelling performances - Kara in particular is smoking hot, and the sex feels affectionate, believable and real, without any of the artificial pacing that often burdens M/F sex in mainstream porn. Likewise, the lesbian scene starring ChloeB and Kenji (I think) was hot, authentic and relateable. I felt like it was sex I had had, or would love to have.
The whole thing is filmed in sundrenched, everyday settings with gorgeous natural light. I loved the laughter, the candid moments, live negotiation and unplanned awkwardness - like when Devon came sooner than he intended, and when one of the lesbians caught her hair on something. This film was definitely horny for me.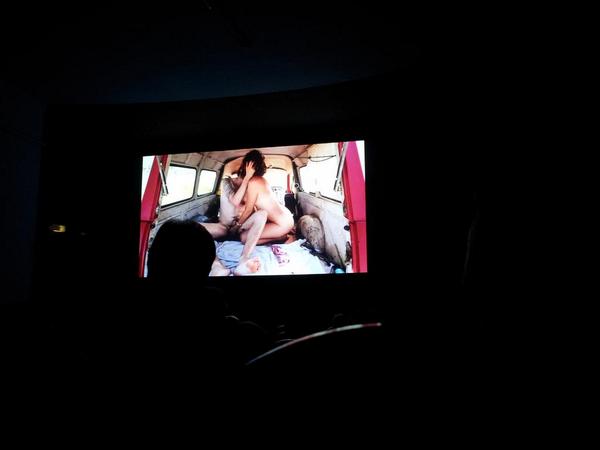 If I had a criticism, it was that the integration of the cinematic intro and the more continuous, real-time sex scenes was a little off; the pace switched from one to the other in a way that felt a bit disjointed. It would also have been good if the intro developed the characters in a way that was relevant to their sex scenes; we got a lovely sense of atmosphere, but not much in terms of identity, explanation or significance of the sex that followed. But I'm being picky only because 'Momentum' raised my expectations. Thinking about these things was a good learning experience for me, in terms of how to pace porn narratives in a way that works on the big screen.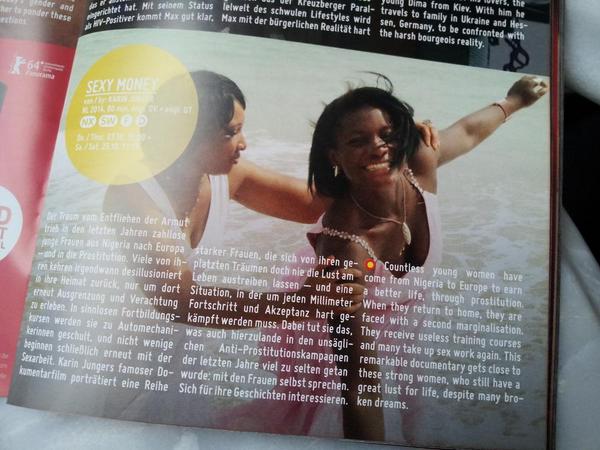 At the end of 'Momentum' I noticed my stomach rumbling and realised my last meal had been the day before, in England, before I got on the plane. I had a ticket to 'Sexy Money', a film about Nigerian sex workers which I really wanted to see, but I had to skip it and have lunch instead.
While I was eating, I was entertained by live lapdance performances. I fucking love this festival.
Sitting with a coffee and pumpkin soup, watching a hot boy in sexy lingerie give a woman a lap dance. That's how we roll at the #PFFB!

Pandora Blake (@pandorablake) October 23, 2014
The same cute boy is now giving another cute boy a lapdance. Oh my. *fans self* #PFFB

Pandora Blake (@pandorablake) October 23, 2014
Timewasters
Over lunch I chatted to Cheyenne Picardo, the director of Remedy, whom I met at the Feminist Porn Awards in April. This time she was screening three minute short called 'Timewasters', which I made sure I watched. It's a hilarious take on the mundane and absurd side of sex work, featuring visuals of pro-dommes eating doughnuts between sessions while voiceovers read the most ridiculous emails they ever got from clients who never showed.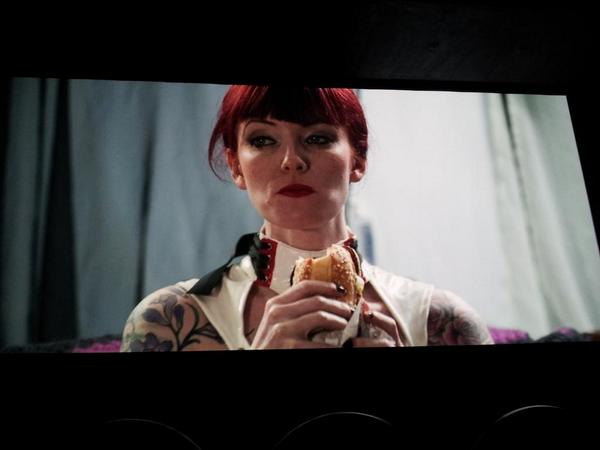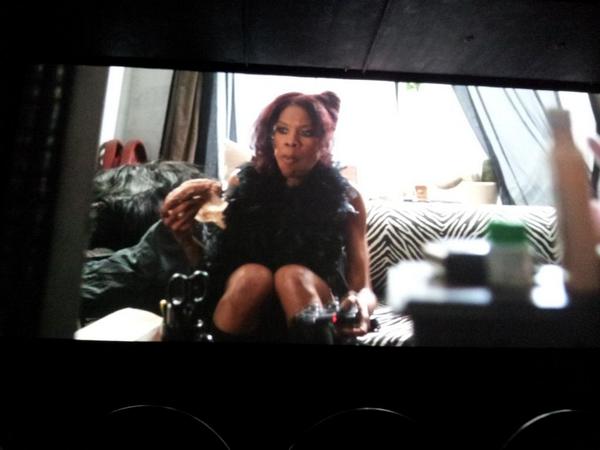 Pulsion
Next up was 'Pulsion' by Ovidie - again, someone whose work I was introduced to in Toronto. This cinematic feature film is an engaging, satirical sex comedy about a women with Persistant Genital Arousal Disorder, capably played by Emy Russo. She gets sent to a sex therapy clinic for a week where she is surrounded by people with various sexual differences, from fetishists to asexuals, compulsive voyeurs to narcissists. The handling of sexual diversity and dysfunction is light, witty and positive, and overall the film invites the viewer to question where healthy sexual difference ends and unhealthy dysfunction begins.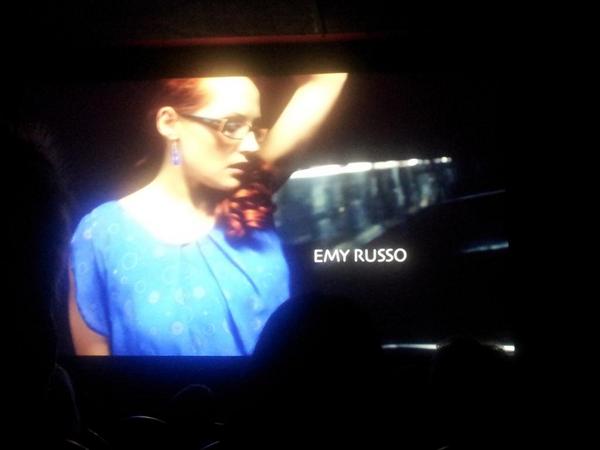 I was impressed. This feels like a high-budget feature, shot in a cinematic style that makes the sex scenes as beautiful as the dialogue - even though the former was improvised and the latter scripted. By the time each sex scene occurs you really know the characters, and why this event is significant for them - and you're rooting for them. All the sex in 'Pulsion' adds to character development, and all of it is witty and watchable - not to mention wankable. It's well-written, with a love story that doesn't feel saccharine, and a twist at the end. This is a porn film I would show my parents, and yes, that is a compliment - a big one. For me this was the highlight of the festival so far.
Queer Porn Shorts
After dinner I was thinking of going to bed, or perhaps just getting a drink in the bar, but instead I was persuaded to use my ticket for the Queer Porn Shorts rather than adding it to my skip pile. This was a long screening for the last of the night, with nine short films. Themes ranged from body hair to body part studies, feminist tentacle porn to fisting, banana blowjobs to BDSM, gender-bending, seashells and cybersex. This was the screening that really made me appreciate the diversity of the Porn Film Festival Berlin. I watched the curators welcome all film-makers to the stage with equal enthusiasm - no matter their budget, topic or experience. This was the screening that made me realise I was in the right place. The Porn Film Festival Berlin is home.
My favourite queer porn shorts were the last two: 'Biodildo 2' by Christian Slaughter, an amazingly pansexual foursome film that is beautiful, heart-warming and hot. It follows two apparently straight couples who turn out to be so much more, with an all-star cast of Jiz Lee, Wolf Hudson, KAy Garnellen (who was also in Fucking Different XXY) and Mor Vidal. I loved it.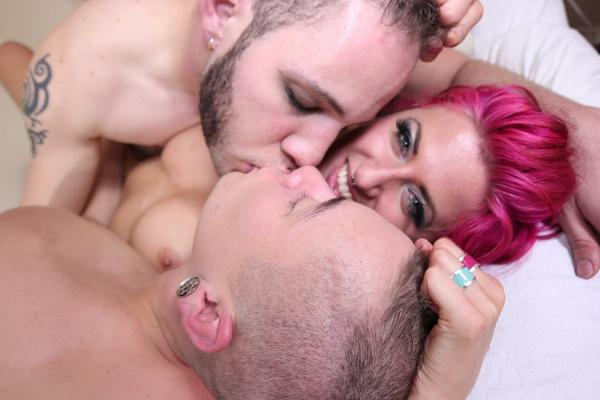 The night ended with the scene I'd most been looking forward to seeing - 'Heart Throb Marathon', the threesome between Zahra Stardust, Wolf Hudson and James Darling which was filmed in Toronto after the FPA. It was every bit as hot as I'd hoped. I loved the intro, with Zahra calling room service and requesting not one, but two male companions for the evening. I loved James' opening line as he met Wolf in the hotel corridor - "What, you again?" - which was particularly funny given we'd just watched Wolf in the previous film. But the most wankable moment for me was not, as I'd expected, the infamous double fisting of Zahra by Wolf and James, but when Zahra facefucked Wolf with her feet. Her playful dominance and his willing submission made me melt. That boy has a talented mouth.
And what about me? Well, I've learned a lot. I've broken through my unhelpfully competitive urge to compare my work with everything I see, and started feeling inspired, drinking in knowledge and learning what works well on the big screen. I love the egalitarianism of this festival, no one style of film privileged over any other, no cliqueness; new filmmakers warmly welcomed no matter what box you tick, with cinematic and gonzo, straight and queer, trans and cis, funny and serious all mixed up together. It does my heart proud.
I'm simultaneously frustrated not to be showing more of my own work, and glad to have this learning opportunity before I decide what to submit. I've got a film screening thanks to my collaborator Ms Naughty being organised enough to get it sent on time - but I also have five days to absorb, reflect and think about what films of mine will fit best, and how to edit them for a festival context.
In conclusion: I love the international porn community. I love Berlin. And I wish it was acceptable to wank in the cinema.
Comments