Posted at 23:14 on 11 Mar 2014 by Pandora / Blake
Last weekend I was at Eroticon 2014, the conference for sex bloggers, sex writers and writers of erotic fiction. I travelled to Bristol on Friday night to attend the meet and greet, and avoid a crack of dawn start on Saturday morning, as I was scheduled to speak in the opening keynote at 10am. Conference organiser (and all-round good egg) Ruby Kiddell had kindly offered to let me stay in her hotel room on Friday night, to make things easier. Given we had never met this was incredibly lovely of her. Ruby is a very impressive woman and it was an honour to get to know her this weekend.
She had sent me the room number by text, so when I got off the coach I found the hotel, made my way up to her floor and just knocked. She opened it and without bothering to introduce ourselves we leapt into each other arms for a massive hug: "HIIII! It's so good to meet you!" Travelling to a random hotel in a new city and opening the door to hug someone I'd never met before: I love that these things have become normal in the world of the online sex community.
That surreal combination of newness and familiarity continued all evening. I walked into the bar and a dozen unfamiliar faces lit up with recognition. Total strangers waved me over: "Pandora! Hi!" I had no idea who any of these people were, but they knew me, and I was looking forward to getting to know them. Most erotic writers and sex bloggers protect their anonymity online, so as one of the few people present whose face is attached to my name, I stood out. I'm actually pretty shy in groups of people I don't know yet, so this suited me fine. In fact I was grateful when people came up and introduced themselves; it made me feel instantly welcomed, and was so much easier than standing around trying to work out who to approach. When no-one was coming up and saying hello, it gave me the confidence to do the same, and so I got chatting to a lot of new people that night.
The conference itself lasted all weekend, but sadly I could only stay until 4pm on Saturday before having to shoot back to London. I had a wonderful day networking, making friends and attending workshops, and wished I could have stayed all weekend.
I put together a Storify of the Friday and Saturday which you can read here, but it's quite long, so here are the potted highlights from my time at Eroticon 2014:
At the end of this session Molly mentioned that one of the photos she'd wanted to take this weekend, if she could find enough volunteers, was of a line of bared bottoms, so maybe we could do that sometime this weekend? Not wanting to be left out of such an excellent idea, I piped up: "I'm leaving in two hours. Let's do it now!"
Eroticon did me proud: A dozen bottoms, both male and female, lined up to join in. Good effort, Molly. Our work here is done.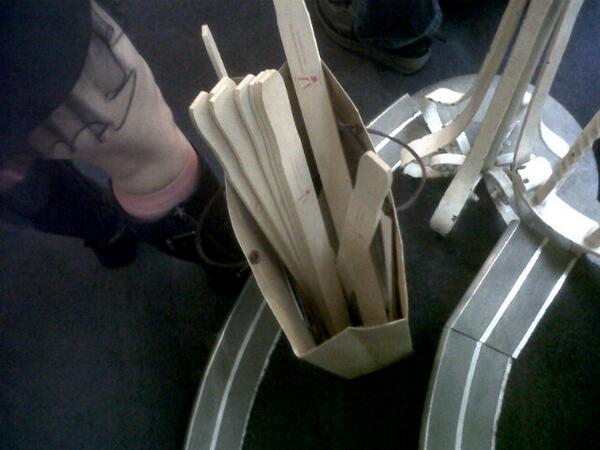 Renee's ingenious idea of printing her details on wooden rulers rather than business cards, and handing them out as free spanking toys. While Renee and I were chatting CJ Forrest came up and said he wanted to sample one before taking it. Sneaky. Renee demurred: "I'm a bottom!" Lucky I was there to help.
I have no idea why I look so manic in this.
Finally I attended an informative, motivating seminar by DomSigns and RubyGoodnight on driving traffic, which has inspired me to fix various things about my sites, including load time and how they look on mobile devices.
It was all too brief, but my time at Eroticon charged me up with inspiration, motivation, happy-making brain fizzes and excellent chats with with creative, interesting, lovely people. I wish I could have stayed for the cocktail party on Saturday night and the second day, but sadly I had to dash back to London for vanilla work on the Sunday.
What a wonderful, interesting group of people erotica writers are. New friends, check. Connections, check. Learnings, check. Professional opportunities, check. Many learnings, check. I'll definitely be back.
I connected with far too many people to name, but one I want to mention in addition to the above is Zak Jane Keir - an inspiring and remarkable woman.
Thanks to everyone who welcomed me with open arms, despite the fact I am not, in fact, an erotic fiction writer. But particularly, thank you to Ruby for not only being nice enough to invite me to speak, but also generously sharing her hotel room on Friday night.
Ruby, it's a shame there wasn't time, but if you were serious about wanting that spanking, come to London and claim it any time you like.
(Photos by the lovely Cara Sutra, Innocent Lover Boy and Renee Rose, and the title shamelessly nicked from a tweet by AM Harding. Thanks all!)
Comments