Posted at 05:45 on 21 Apr 2014 by Pandora / Blake
The Feminist Porn Awards and Feminist Porn Conference in Toronto were an incredible, intense experience for me. In the four days I was there I was challenged and inspired as a filmmaker, turned on by screenings of uber-hot new porn, affirmed in my politics and given a sense of community. I shot a lot of porn and made a lot of friends. I listened, shared ideas and explored areas of difference and common ground. As a producer I felt isolated in some ways and welcomed in others. I was emotionally exhausted every night from judging when I should let myself be critiqued and when I should offer critique of my own. I was invited to speak and I received acceptance, reassurance and validation.
It's a funny marriage - the awards in their ninth year, a Toronto project which has exploded to become an international event; and the conference in its second year, aiming from the start to bring people together from across the world. The two events have different organising committees and aren't particularly cohesive. They sit next to each other but there's no combined schedule of events, no public communal areas, no central hotel where everyone stays. If you want to know what's going on, you have to know the right people.
The awards (over Thursday and Friday) are all about celebrating the best in feminist porn. What with the press conference, brunches, workshops and shoots the days filled up quickly. I saw some amazing, erotic, cinematic films at the Public Provocative Porn screening on Thursday night, which both turned me on and made me think hard about the craft of film-making. It was a brief, horny masterclass in how to make engaging short erotic films. I left feeling inspired and motivated.
The Friday night gala was hugely entertaining, with burlesque, drag kings and queens, all-male dance troupes, and a male poledancer covered in glitter. At the same time, it brought home the differences between me and the rest of the audience. I was not only the only person there from the UK, but also the only producer making fetish porn that doesn't have fucking in it; one of the handful of producers making feminist straight porn; and the only producer of non-consensual fantasy fiction, rather than enthusiastically consensual, documentary-style "real world sex".
It was tempting to start wondering if a spanking film which centers non-consent fantasy, and in which people do not fuck, could ever win a feminist porn award. But since the work I'm doing is a long way behind the best of the best cinematically, first I have to raise my game. Being challenged to improve is an exciting feeling, and I came away with a lot of positive ideas for new things I can try in my films.
All this provided plenty of food for thought as I went into the feminist porn conference on Saturday and Sunday. As a nerdy post-graduate this is much more my comfort zone than glitzy awards ceremonies, so it's perhaps not surprising I found the conference more my style. But even so, the conference did feel like a more inclusive space, geared not towards picking out a few names to honour, but about opening up a dialogue and inviting everyone to take part. Everyone I spoke to seemed curious, excited and open-minded, keen to ask questions and challenge received ideas. I saw not only people putting themselves forward, but the organisers doing active outreach to give people a platform. For instance, in addition to the presentation I submitted, I and three other non-US producers were invited to speak on a panel called Pornographers Without Borders, in which we recognised and challenged the US-centrism of the feminist porn movement. It was extremely well-attended. The awards may be a little cliquey, but the conference made me feel included, heard and understood.
This is a game-changing, world-changing, life-changing event and it's still only in its second year. I am so glad I was able to go. The conference gave me more things to think about - and more creative and business ideas - than I know what to do with. I am incredibly grateful to everyone who made me feel welcome. I will definitely go back next year.
Overall, feminist porn week in Toronto was an amazing place to be simply because of the people. I got to meet so many queer porn performers and producers whose work I have been following online for years, people who have influenced and inspired my own development both as a pornographer and as a feminist. The US queer porn community is a close family built on bonds of intimacy and love, but people were so warm and welcoming it made me feel like this could be my family too.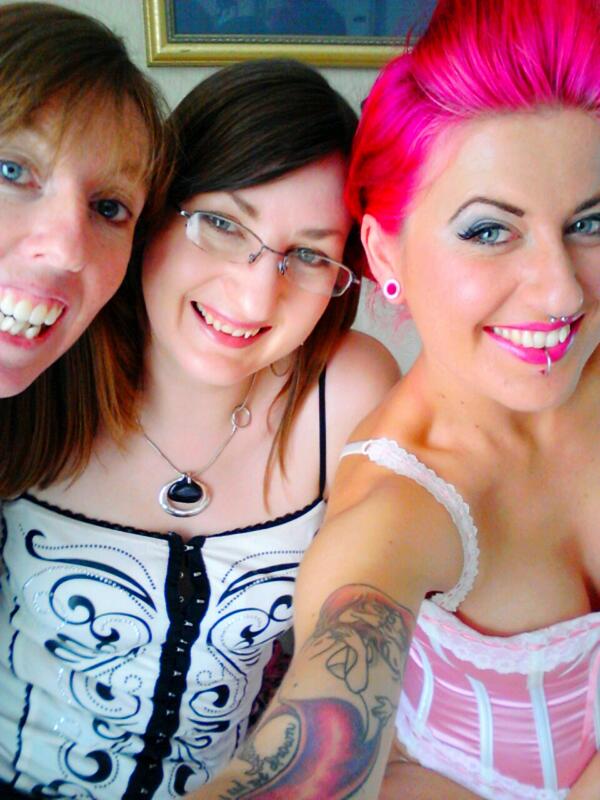 I was particularly glad that Ms Naughty was there. She has been a role model and an inspiration for me, and is still one of the only producers of feminist straight porn on the planet. Her work on the female gaze and the eroticisation of the male body; her porn which shows men's faces, pleasure, and personalities and which films male and female bodies as equals, has been absolutely groundbreaking. If you are still a bit confused about exactly what "feminist porn" means, read Ms Naughty's introduction to feminist porn - what it is, what it isn't and why it matters. She was one of the first people I met in Toronto - when I shot with her and Zahra Stardust on Thursday morning - and throughout the week she and her husband Luke were allies, supporters and kick-ass creative collaborators.
Thanks to my conference roommate Chris, I also got to sit down and have brunch with my heroes Jiz Lee and Shine Louise Houston. Shine has influenced so much of my thinking about inclusivity, consent and ethical production and continues to be an inspiration. When you're meeting people you admire so much for the first time it's easy to feel like an awkward fan, but both she and Jiz are so friendly and down-to-earth that it was a pleasure. We hung out and talked shop, and I came away with some exciting thoughts about submitting Dreams of Spanking films to PinkLabel.tv.
I also learned a lot about shooting hardcore scenes by making friends with people who were shooting them all weekend, and was touched to see performers opening their hearts to each other as well as their bodies. Queer pornstars can choose their friends and crushes as their scene partners and there was love, intimacy and affection all around. I'm not in that world, but maybe I will be one day. I did develop a few new porn crushes, particularly on hotties James Darling and Zahra Stardust (official Heart-throb of the year!), both of whom I had the pleasure of spanking on camera.
It was amazing to meet so many people whose work I have followed for years - such as Jennifer Lyon Bell, Maggie Mayhem (such a shame we never got to shoot. Next time!), Madison Young (whose story about "non-sharing toys" is now a personal favourite), Wolf Hudson (another porn crush!), Dylan Ryan, Courtney Trouble, and to make contact with exciting new (to me!) faces like Carlyle Jansen, Siouxsie Q James, Cheyenne Picardo, AnnaBelle Lee, Mara Dyne, the Cherry Stems ladies, Tobi Hill-Meyer, Sarah Stevens, Carey Gray and many more. I'm especially grateful to Lisa Duggan for taking the time at the conference afterparty to reach out and express her explicit solidarity and support.
I was really glad to have been invited to contribute to the Pornographers Without Borders panel, and was a bit star-struck to share it with three international pioneers of feminist porn - Ms Naughty, Jennifer Lyon Bell and Ovidie. I also hugely enjoyed the mind-blowing final panel on Interrogating Consent and Authenticity, in which I spoke alongside Madison Young, Sophie Delancey and Gala Vanting, who blew all of our efforts out of the water with her epic 5am Skype from Australia. Respect.
While I'm naming names, I have to give a special mention to my amazing roommates Chris and Kitty Lowrance, who took a chance on sharing with a total stranger, and provided company, conversation, support and solidarity throughout the weekend. They had lunch with me on the first day when I didn't know how to find anyone - not just any lunch, but delicious sushi over conversation about porn, code, consciousness and life on other planets! We shared dinner and post-dinner chats throughout the week; they came to both my sessions at the conference and did fabulous live-tweeting. And best of all, they were incredibly patient when I needed to kick them out of the room early in the morning and late into the night so I could shoot porn!
More:
And finally, here's Ms Naughty's mini documentary about the Feminist Porn Awards and Conference, including an up close and personal look at that male poledancer!
The Feminist Porn Awards and Conference 2014 from Ms Naughty (Louise Lush) on Vimeo.
Comments