Posted at 12:12 on 16 Sep 2014 by Pandora / Blake
The thing I love about modelling and porn performance, the thing that keeps me in love with it, is getting to do new things on camera.
Don't get me wrong - I love going deep as well as wide. I adore the fact that running my own website allows me to explore spanking, my primary fetish, year after year; to delve more deeply, and in more detail, into the psychology of my kink than than I ever dreamed possible.
But that long-term fulfilment - the profound satisfaction of going further up and further in - is different from the exhilaration of the new. Getting the chance to explore something completely novel, something that isn't my kink at all, in the safe space of playing a character on camera... that's what gets me bouncing up and down with excitement again. It's the pleasurable shock of dipping my toe in the water; the thrill of realising afresh that as long as I'm performing in porn, I will never stop expanding my horizons.
On Friday I filmed my first ever foot fetish scene, and I had a wonderful time. Silk Soles, the romantic, barefoot fetish site of premier glamour bondage producer Hywel Phillips, put a call out that they were looking to buy clips, and I decided to give it a whirl. I researched by browsing the site and watching the free trailers that Hywel sent me.
I'm fascinated and delighted by the endless variety of human sexuality. I genuinely believe that no fetish is abhorrent. Inside the privacy of your own head and the safe space of fantasy erotica, anything goes - and the more unexpected it is, the more pleasure I take in learning about it. It's incredible what we as humans can be aroused by, and I take it as a sign of our beautiful capacity for imagination. Whenever I start to wonder if I've seen it all, something new will come along and surprise me - and I love it.
I was intrigued to learn that in the bare foot fetish, it's not the smooth lines of an arched foot that appeal - like an arched back, with your tummy held in and your bottom pushed out. Rather, at Silk Soles the Platonic ideal of a bare foot is the crinkled sole caused by pointing your toes. I would never have guessed this - which only made it more interesting.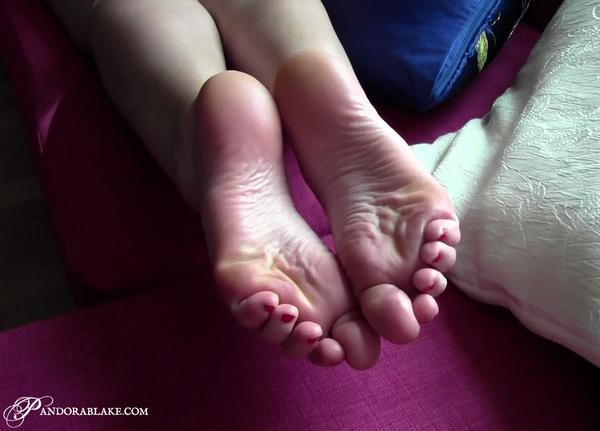 We had lovely natural light for the shoot. The concept was a fun solo scene with me flirting with the camera, playfully inviting the camera to massage my feet, worship them... or perhaps tickle them, or even use the crop on my sensitive soles. In addition to the talking-to-camera bits we also made sure we got lots of shots of my bare feet, particularly the soles - toes pointed, of course. I guess this is the equivalent of the long, lingering close-ups of punished bottoms on Dreams of Spanking.
After shooting each close-up my camera man and I watched the clip back to see what we could improve on, and I noted that I was moving my feet too much. The amount of movement which looks good on screen is always less than feels natural. So I ended up lying on my tummy with a glass of wine in my hand, moving as little as possible while the camera embarked on a slow zoom on my exposed soles. I could only hear my soft breathing in the silence as I focussed all my awareness on my feet, trying to move them minutely, languidly; enough to seem alive, but not so much that I seemed restless.
It wasn't until the shot came to an end that I realised that for the whole duration my attention had been completely centred on a tiny area of my body. This is the sort of focus that I struggle to achieve in yoga, and it had happened organically. I hadn't had a thought in my head; I had been completely unselfconscious, and had no idea what expression had been on my face. It was a pure, meditative moment in time, of absolute concentration on my feet - the subject of the lens.
That sort of moment is magic. They turn up unexpectedly sometimes in modelling, breathing deeply to relax into a pose - but this had been a much more peaceful stillness, without any exertion or discomfort. I've reached that place standing in cornertime before, all thoughts emptied from my head; or in the absolute, centred embodiment I feel when I'm taking a caning. But this time there had been no spanking, no pain, only a languid, positive focus on one small part of my body. It was a beautiful place to be.
Comments