Posted at 20:36 on 17 Nov 2015 by Pandora / Blake
Because it was my second year and I knew what to expect, my time at the Berlin Porn Film Festival was more relaxed this year. I arrived in Berlin earlier, left later, and allowed myself more time between screenings to socialise, eat and rest. Still, it was a full week - not least because the morning after I arrived, I had a shoot booked with Bright Desire.
Bright Desire offers smart, sexy porn shot for the female gaze, and its owner Ms Naughty is one of my best friends in the feminist porn community - not least because we were (until Dreams of Spanking was closed down by ATVOD) two of the only people running membership sites with regular update schedules, which set our production process apart from others. We bonded at the Feminist Porn Awards in 2014 - which is also where we shot together for the first time, filming Instructed, a kinky solo scene that went on to win the award for Best BDSM Scene 2015.
This time we were planning a couple shoot, and my co-star was up-and-coming queer porn performer Parker Marx, a hot kinky switch with a killer jawline and cute bum. Parker and I met at a party in London a few weeks ago, we got chatting about working in porn, and hit it off. After some successful experimentation in private, a mutual decision was made that it would be fun to shoot together.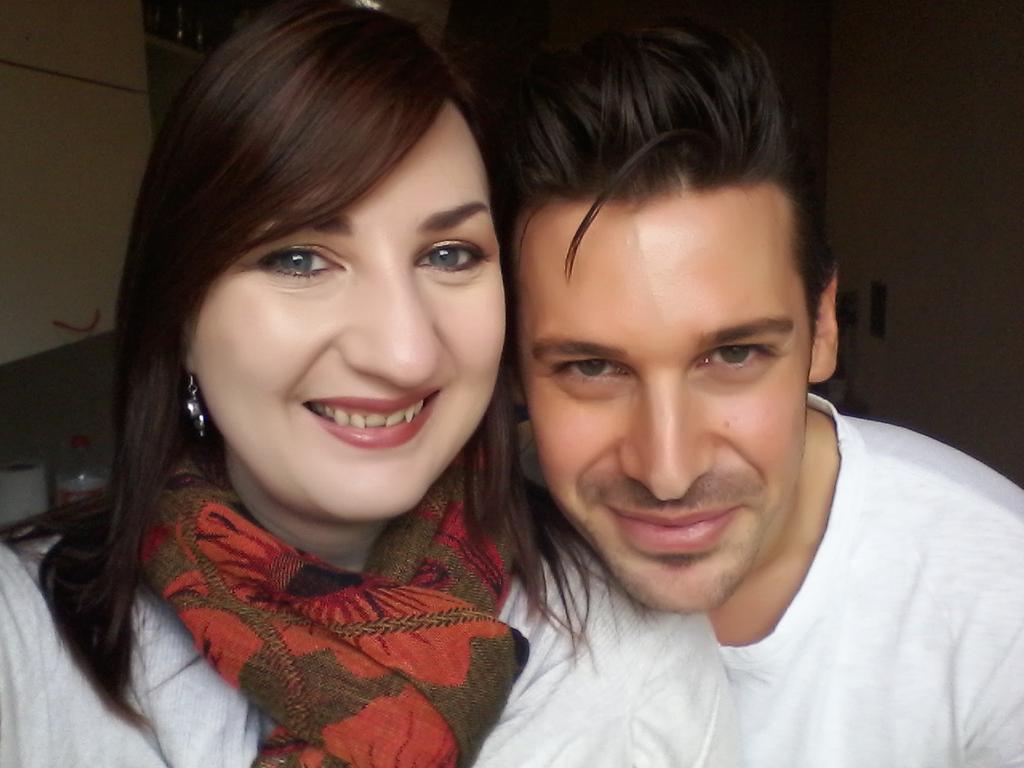 As far as the internet is concerned, this Bright Desire scene with Parker will be my first boy/girl hardcore scene. And in a way, it feels like it is my first: it was my first time getting paid to have sex on camera, my first time having sex for another producer, and my first time having sex on camera with someone I don't have a prior ongoing relationship with. However, it's also not my first time at all; I popped my hardcore cherry a year ago in the UK, shooting scenes with Nimue and D for a project Nimue and I were working on. Unfortunately, the new UK porn laws have criminalised many of the acts depicted in those films, and so the project is on standby until the Dreams of Spanking appeal reaches a conclusion. If it doesn't look like we can publish in the UK, we'll look into doing so overseas.
So while this was technically my third couple scene as a performer, the Bright Desire film with Parker will be the first one to see the light of day. Delayed publication times can really screw up your personal chronology in porn - especially in terms of keeping track of first times.
We negotiated a kinky, but not too kinky (Ms Naughty vetoed my idea of using my leather belt to do some consensual breathplay) switch sex scene that included both spanking and pegging. Given it was a new experience in many ways I think we were both quite nervous, and we'd both spent the previous day travelling so energy levels were low. Plus Ms Naughty and Luke were dealing with bad news from home regarding a friend who was sick - she is making a recovery now, which is a huge relief, but on the day it was all pretty stressful and distracting. So none of us were quite at our best, and we made a collective decision to take it slow.
As a result of both that, and the slightly complicated set-up shots we wanted to do, the shoot took about twice as long as we expected. But the atmosphere was totally relaxed, and I'm really glad we took our time and kept things chilled, rather than rushing and getting stressed out.
We started outdoors, with some shots of Parker looking hot and brooding by the canal in Kreuzburg. The premise is that both of us are staying in Berlin, and we bump into each other in the street, recognise each other from London and decide to spend some time together. In this version of the story we'd met at the party but not hooked up yet, and so the sexual tension starts simmering as soon as we cross paths...
Then it was back to the apartment to film some conversation and physical innuendo over tea. I found this a really interesting process. We were filming foreplay, but the actual shots were quite fiddly and time-consuming, so I expected to find it laborious rather than erotic. But it turns out that slowing down eye contact and suggestive gestures, and stretching them out over long, deliberate seconds to give the camera the chance to capture them, just intensifies their effect. I think both of us were surprised by how potent some of the flirtatious moments between our characters turned out to be in real life. By the time we'd finished shooting that section, I was definitely ready for more.
Also during this part of the shoot I got to legitimately drink a whole pot of tea. More porn scenes should have in-character tea.
Finally we'd filmed all the set-up shots, and it was onto the action.
One of the primary characteristics of feminist porn, for me, is authenticity - and that means a certain amount of flexibility and spontaneity, rather than sticking strictly to a pre-decided script. We had pre-negotiated which acts we were willing to do, safer sex preferences and so on, but once we got started we were basically playing it by ear. The only thing we had decided to definitely include was some spanking of Parker by me, and some pegging. Both of us were keen to show that being penetrated isn't always a submissive act or part of a degradation scenario, but can be an affectionate, playful act between two equals.
We agreed to start with me worshipping Parker's bum on the chaise. I'd been waiting to do this ever since perving over his Fetlife pictures, which included some particularly tempting images of his gorgeous derriere.
In retrospect, I think if we hadn't pre-agreed the spanking, we would probably have skipped it at this point. In a way it felt like a step back in terms of intimacy, to go from worshipping and licking his gorgeous arse into spanker mode. But selfishly, I'm glad we stuck with it; I loved watching his reactions, the eager way he stuck his bottom out for more, and the colour bloom on his toned cheeks. The belt in particular left beautiful stripes. I would have loved to keep going for longer, but we were already behind schedule - and for Bright Desire, it's the sex that's the important bit, not the spanking. Clearly, if Dreams of Spanking wins its appeal I'll have to hire Parker myself and spend a whole day indulging in some quality spanking!
Then came the act I was most nervous about: pegging. I'd never worn a strap-on on camera before, although it's a regular feature of my queer sex life. Still, it's a relatively new thing to me (compared to how long I've been having cunt sex for), and an irrational part of me was scared that more experienced folk would watch me fuck and think I didn't know what I was doing. It's also always a bit nerve-wracking fucking a new partner, as Parker and I hadn't done strap-on play together before. But I tried to forget my self-consciousness, and just focus on Parker as if we were alone. Which, to be fair, his extreme cuteness didn't make it hard to do.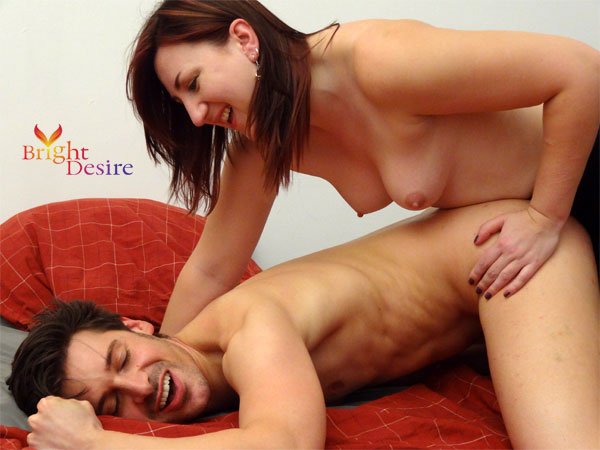 Ms Naughty and Luke are absolute experts at creating a relaxed mood on set, and they know how to disappear into the background so you forget they're there. I let go of my nerves and really enjoyed the rest of the scene - from rimming, to fucking Parker in his luscious, capable arse (I can't believe he asked for the bigger of my two cocks!) to receiving orgasm after orgasm under his skilled hands and tongue. We had been hoping to have PIV sex as well, but we ran out of time and after everything else it just didn't feel necessary. Everyone was tired, the cameras were out of battery, both of us already felt well fucked and we decided to leave it at that. In a way, it felt very appropriate for a Bright Desire scene, given the site's focus on female pleasure and subverting the tropes of mainstream porn, that the boy should be penetrated and the girl should be the one to come.
So overall, my first boy/girl scene was very different from how I expected, and contained none of the traditional boy/girl sex acts - no blowjob, no PIV, and while there was anal, it was the other way around from usual. But that just made me like it even more. I had enough orgasms to forget the exact number - it was at least three, so that sets a new record for me on film. I think beating that is going to be a fun mission. There's definitely going to have to be a Pandora and Parker Part Two scene at Bright Desire, next time we get the chance!
Parker was a sexy, adventurous and professional scene partner, and I loved shooting with him. I'm super grateful to Ms Naughty and Luke for facilitating a fabulous first-time shoot experience for both of us under what must have been challenging personal circumstances.
It was a long day, but a satisfying one. Afterwards we ate food together and hauled our tired bodies to the Moviemento to buy our first screening tickets, but both Parker and I were too exhausted to see the first film, so we headed back to the apartment for some introvert time catching up on Twitter and resting. I feel like working together cemented our friendship in a really lovely way, and it was great to have the rest of the week to hang out in Berlin, go to the spa and become increasingly comfortable together. I'd love to work with him again, and I can't wait to see the edited film at Bright Desire!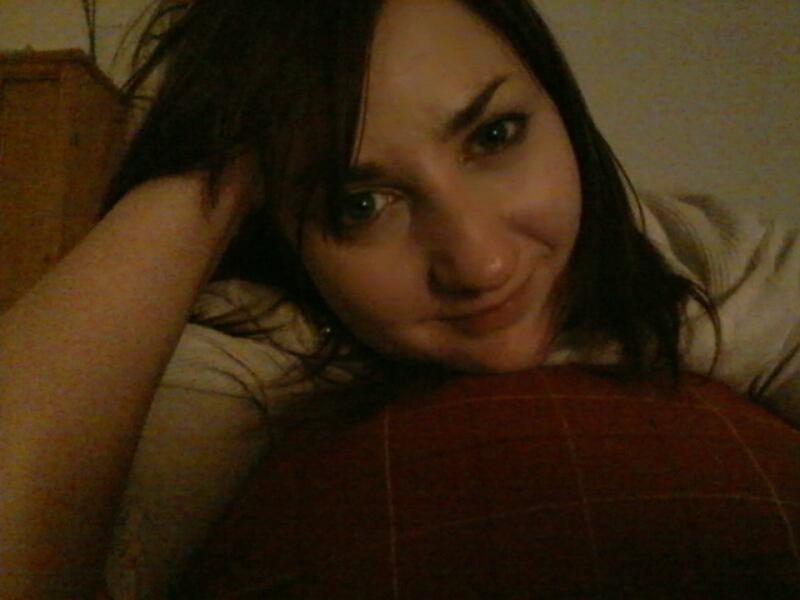 Comments