Posted at 23:13 on 2 Nov 2015 by Pandora / Blake

The Porn Film Festival Berlin is literally a life-changing event - and I don't say that lightly. It has certainly changed mine.
This year was its tenth anniversary, and a record 7 500 people attended screenings of cutting-edge porn from around the world. The offerings are incredibly diverse, including feminist porn, fetish porn, experimental porn, queer and trans porn, from short films to features ... but the festival doesn't only showcase film intended to arouse, it is also packed with documentaries, art films, docu-portraits, and myriad factual and fictional pieces exploring sex, gender and sexuality.
Gala Vanting made me grin in the fetish porn programme discussing her piece Chrysalis, when an audience member commented that it wasn't really 'porn'. "No, not really," she replied. "Some people make films intended to arouse but I like other emotions. Sadness, fear, devastation..."
The moderator nodded. "Yes, it's an art film."
"That's right," said Gala, "We lure you in calling it the 'Berlin Porn Film Festival' and then we drop this on you."
"We wouldn't sell as many tickets," added the moderator, "if we called it 'The Festival of Alternative Sexuality'."
Which isn't to say that the festival isn't crammed full of porn. The quality and variety of smut on display is glorious to behold - monument to the colourful variety of human sexuality. Personally, I would like to take every anti-porn feminist who thinks they know about porn because they typed "porn" into Google once and watched some ten-year-old free videos on a tube site, and sit them down at the Berlin Porn Film Festival, Clockwork Orange style, forcing them to watch screenings until they admit that the genre is far broader, and more interesting, than their own narrow politics.
It's an emotional experience. Every day is a rollercoaster, riding the feelings that are triggered by the films themselves; feeling inspired, affirmed, validated, encouraged and jealous; then eventually reaching your limit of visual erotic stimulation, what I call "porn saturation" - that point at which you are so bored of watching people fuck that it becomes unbearably irritating, and even the most gorgeous films leave you completely cold.
...Slogan #4: "PFFBerlin: I'm Full Of Porn." @PFFBerlin #pffbslogans

— Jennifer Lyon Bell (@jenniferlyonb) October 26, 2015
Then there's the social aspect - meeting performers and producers you've fangirled for literally years, people who have given you orgasms for over a decade, and trying not to be too tongue-tied when you bump into them in the filmmakers lounge. Struggling with FOMO, yearning to form as many connections as possible with the amazing, beloved porn family which is so missing the rest of the year and is suddenly everywhere you look, running out of social energy halfway through conversations and having to run away, carefully leaving yourself sensible gaps in your day and then getting swept along by lunch invitations and fascinating conversations and journalist interviews and recommendations for an amazing film you just have to see, I can probably get you a guest pass... until it's 5pm and you realise you haven't eaten or hydrated properly all day and you're about to fall over. It's intense.
I tried to limit the damage by avoiding buying tickets to anything in the evening, and setting myself a limit of three screenings per day, but even so I only managed to make it back to the apartment for some solitude a couple of times during the week. Mostly I basked in the all-too-rare experience of community. Porn people are the perfect balance of sex people and nerds to match my personality (I'm often too sexy for my nerd friends and too nerdy for my sex friends), a festival full of introverted voyeurs and exhibitionists. I spent over half the time talking shop, discussing billing providers, content management systems, web marketing strategies. Of all the porn events I've been to, Berlin is the most welcoming, the least cliquey, the most diverse.
And oh, the films. Films that make you horny, films that make you laugh, films that are so emotional or dazzling or outrageous they leave you feeling high. Films that claim to represent you and fail so badly they make you furious. Films that are so perfectly filthy they make you squirm in your seat until you're tempted to slip your hand under your coat, but you don't want to be a sex pest so you behave, promising yourself you're definitely going to meet up with your friend with benefits for a fuck later, but then by the time you get the chance you're both so worn out the erotic desire has been replaced by more urgent needs - food, solitude, sleep.
...and the all-time best slogan is Slogan #4: "PFFBerlin: I'd Like To Fuck You, But I Need To Eat Something." @PFFBerlin #pffbslogans

— Jennifer Lyon Bell (@jenniferlyonb) October 26, 2015
Conversation is easy, no matter who you're talking to - "What did you watch today?" and suddenly you're listening to them analyse a porno from a genre you've never even heard of, or hearing all about an amazing, heart-breaking film that you missed and will never get the chance to see again. Making new friends everywhere you go. Realising you can't tell the difference between casual chatter and business networking any more. Constantly moving between intimate gossip with close friends, and small talk with people you want to impress, so that you end up failing to find the right mode for the context, and find yourself being being too gossipy with the new people and too self-consciously polite with your friends.
And then, if you're a filmmaker or an aspiring filmmaker and kind of insecure, there's the constant up and down of loving what you watch and being unable to help comparing everything you see to your own work. Admiring beautifully produced films at the same time as hating them for having more resources than you. It takes effort to resist, that neurotic tic that can flip you in a moment from the joy of experiencing a beautiful film to the despondent conviction that there's no point even trying to compete. Of course it's almost impossible to compare two porn films. That's the beauty of this festival; porn is so personal, so visceral, so irrational. We can't help what turns us on, or what turns us off, and everyone's tastes and triggers are different.
I noted down countless ideas to use later, analysed and memorised dozens of cinematic techniques that could improve my work (if I can only work out how to get the camera to do what I want), but then found myself agonising later over how many of them I should actually try and use, because I didn't want to become derivative. Personally I have a tendency to think "I want to do that!" every time I see something cool, but then once it's all shaken down inside my head I realise my creative process is in danger of going in a million directions at once. This year it was even worse, as I don't have the framework of a membership site with a specific brief to keep my ideas grounded. I can't distribute at the moment, but that isn't stopping me thinking about production; and without site members to keep happy I'm in the giddy position of being able to consider making anything I want. But with so much amazing inspiration surrounding you it's too easy to be influenced. I realised it was important not to let my creative process be spun out by everything I'd seen, and that whatever I do next, I should stay true to myself and focus on my own experiences, my own fantasies, my roots.
Going back to the apartment every night and planning the films you want to make over the next twelve months.
I did that last year too. After my first Berlin Porn Film Festival, I went back to the UK inspired. I spent four days with Nimue Allen shooting explicit docu-portraits of ourselves and our friends, capturing the intimacy and romance of consensual violent sex. Two weeks later the new porn laws criminalised everything we'd shot - facesitting, fisting, squirting, choking, needles, caning, we'd pretty much ticked every box of the new AVMS regulations. This year, I mourned the absence of that film from the festival programme - I had intended to edit and submit it in 2015, but without any way of distributing it, there was no way we could afford to invest time in post-production. The footage is still sitting on our hard drives, waiting for an opportunity.
In April, with ATVOD's investigation of Dreams of Spanking for breaching the new regulations already well underway, I axed the planned scenes I'd been discussing with brand new queer porn performer Tai Crimson and decided to shoot a more cinematic piece. We filmed Houseboy in a single day, and I only just managed to edit it in time for the Berlin festival deadline in July. It was a rushed edit, with only a half day to select music, and I wasn't entirely happy with some of the decisions I'd made. But overall, I was pleased with my first attempt at a cinematic short film - it had a story, two cute trans performers, pretty imagery and explored themes I care about a lot, like self-actualising submission, polyamory, queer relationships and loving dominance. Plus the camera lingered over Tai's beautiful genderqueer body and eager cock in a way that pleasingly subverted the traditional straight male gaze of spanking films.
Tai was in Berlin, and we had fun doing the Q&A after each screening. They are a confident and charming speaker with totally adorable enthusiasm for all things spanking. It was great for me to have them there, so the audience wasn't just taking my word for it that my spankee performers were enthusiastically consenting participants. The moderators asked me about the UK porn laws, so I got to point out that this film is currently criminalised under the new regulations as it depicts belt whipping that leaves purple marks.
Houseboy was well received - I heard lots of positive comments, as well as some useful constructive criticism from fellow filmmakers that confirmed my thoughts for how to improve it. However, I had no idea exactly how well received it had been until the Sunday night awards ceremony.
You don't submit films to any particular program - the festival curators decide how many times your film will be screened, and what category it will be billed under. I was expecting Houseboy to end up in Fetish Porn, or maybe Female Porn (which was renamed Femancy Porn this year, as in female emancipation apparently, although until that was explained to me I was interpreting the word to describe feminist pornographic magic, which sounded awesome) or Queer and Trans Porn, but I was told a couple of weeks before the festival that it was being screened in the Short Film Competition. I have no idea how the curators decide which of the hundreds of short films that are submitted each year to include in the competition. I guess they prioritise variety, but other than that it must be down to personal taste. Anyway, being nominated for the competition was a compliment, but also a bit daunting as it meant my queer polyamorous spanking story would be being watched by people who hadn't sought out that particular niche. Being in the competition felt more exposing, somehow, than being screened in a specific category.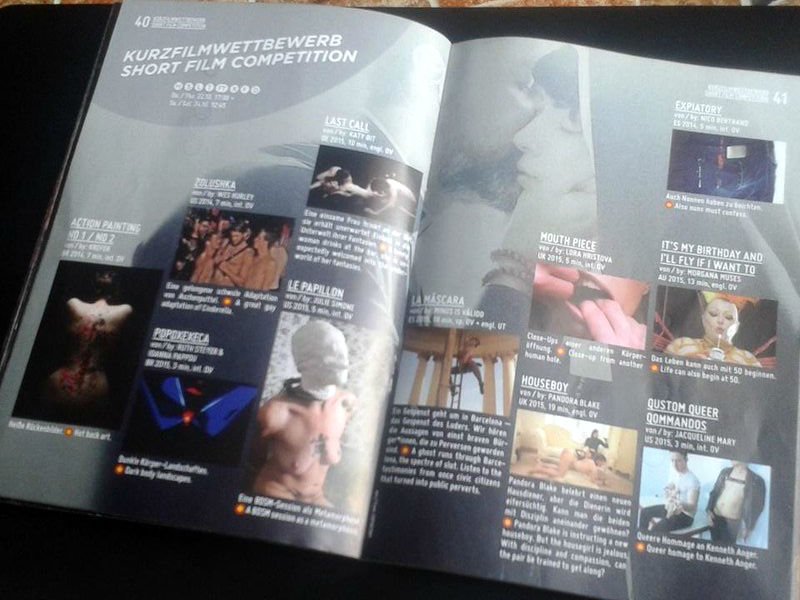 The Short Film Competition
Over two screenings I got to know the competition programme well, and there were some amazing films in it. The opening piece, Action Painting, was a breathtaking, artistic depiction of two backs during sex - one male, gradually adorned with vivid, bloody scratches as his partner claws at him, and one female, progressively splashed with different colours of wax.
The shape of the backs plunging in and out of the light as the bodies moved and heaved was abstract and compelling. I thought the two halves would have benefited from being shown the other way around - the more predictable (but still gorgeous) wax play first, and then the more confronting scratching and laceration second. The other change I'd have made would be to add music - it was soundless, and I think it would have been better with some sort of ambient drone soundscape, rather than total silence, which is never quite achievable in a cinema filled with fidgety humans. But it was beautiful.
I loved Zolushka, the comedic remake of Cinderella set in a gay bar. Pole-dancing twinks for wicked stepsisters, a sparkly drag queen fairy godmother, Colby Keller as the prince, and the perfect rimjob instead of a glass slipper. It was hilarious, adorable and cleverly edited. I was even more impressed when I learned that it was filmed in only three hours at the Pony bar in Seattle.
I really liked Qustom Queer Qommandos, a tantalising short piece by Jacqueline Mary starring James Darling and Parker Reed. I'd never seen anyone fucked with an electric guitar before - and the closing shot of ejaculate trickling down the pastel pink lacquer was perfect.
I also found Expiatory very affecting - an elegant and edgy priest/nun scene, beautifully backlit with glowy white light, in which he cradles her with steady hands while helping her purge her sins with two fingers down her throat.
But my favourite film from the competition was Last Call by Katy Bit, a stunningly cinematic short film starring Sadie Lune as a lonely woman at a bar, lustfully watching flirtatious couples and drifting off into a drunken fantasy of fetish play and orgasmic threesomes. It was atmospheric and gorgeous, with beautiful lighting and great acting, particularly by Sadie. I particularly liked the bit where she is walking through the play party in slow motion, glimpsing moments from different scenes - it was exciting and erotic and very well done.
So I was surprised, at the awards party, when Last Call was announced as the runner up in the competition - surely, I thought, it deserved the winning place - but nowhere near as surprised as when I heard that Houseboy had been awarded first prize.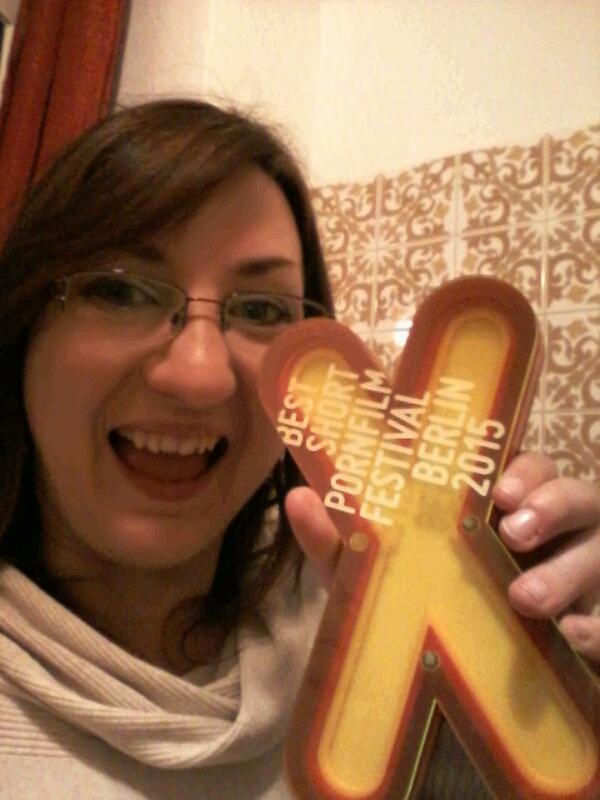 I remember going up on stage in a daze where Zahra Stardust had this delighted smile on her face as she handed me the trophy. I suddenly realised I was going to have to say something and I hadn't thought of anything, so I gabbled into the microphone about how grateful I was to my amazing first-time performers, and to the festival itself for inspiring me to attempt a more ambitious project. What else is there to say?
A week later, I still can't believe it. This was my first solo submission to the Berlin Porn Film Festival (last year, Ms Naughty submitted our joint piece Instructed, which was the reason I discovered the festival in the first place) and being awarded the first prize is totally surreal. I was particularly touched by the juries' comments: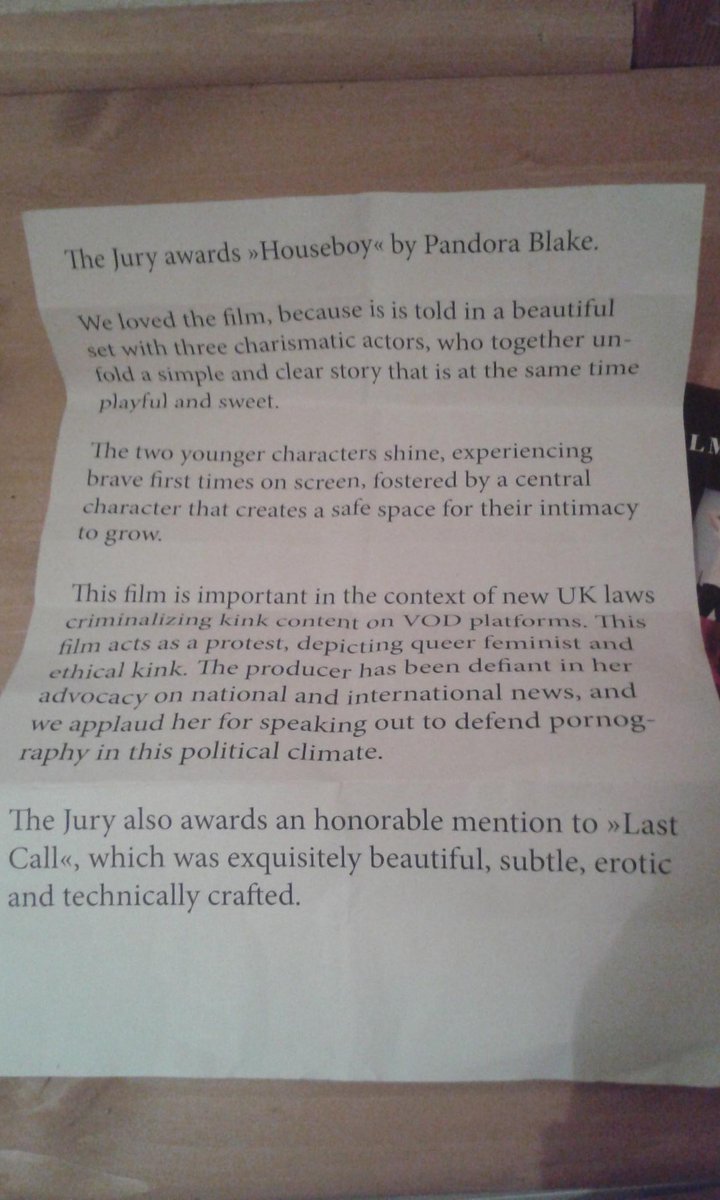 I am incredibly grateful to Tai Crimson and Eliza Grey for trusting me with their porn debuts, and for throwing themselves into the project with such courage and personal honesty - and for being so articulate and enthusiastic in their behind the scenes interviews. It was brilliant to have Tai with me in Berlin, and I wished Eliza could have been there too. I also owe a massive debt of thanks to Matt Christie, who contributed not only his skills as a cinematographer - his first serious video project - but also the beautiful set, which was designed and built him for his boudoir photography, and lent the whole project an atmosphere of elegance and eroticism which would otherwise have been impossible to achieve within our budget.
Speaking of budget, I think it's a really good thing that the Berlin Porn Film Festival are willing to award a first prize to a first-time indie film shot on a shoestring in a single day. It's always been an essential part of my production ethics to pay everyone on set equal pay for equal work, so I'm quietly happy that the first prize didn't go to a film that depended on unpaid labour. While I'm still not sure that Houseboy was strictly speaking the best film in the competition, as an innovative piece of queer cinema that pays homage to classic tropes of BDSM fantasy while simultaneously subverting and updating them, I'm delighted that it's received recognition.
After all the struggles and setbacks of this year, I feel affirmed and encouraged. Fuck UK porn censorship - ATVOD and the BBFC might deem this film too extreme to be seen, but an international jury of my peers thinks it has artistic value. If nothing else, this prize has made me determined to carry on filmmaking in 2016 - whatever it takes.
You can still purchase Houseboy and the extended scenes at my Clips4Sale store.
Comments