Posted at 01:06 on 5 Nov 2015 by Pandora / Blake
I'm back in the UK for three short weeks before I go travelling again, and I can't believe how quickly the time is passing. There's an awful lot going on at the moment - almost all of it good! Here's a brief snapshot of my autumn:
Sexual Freedom Awards
I've been nominated for a Sexual Freedom Award! I'm a finalist in the Publicist of the Year category for my work promoting ethical porn and campaigning against censorship and for sex work law reform. It's an incredible honour to be named - in fact I've been aware of the awards for ten years, and it's a bit of a dream come true. Thank you so much to those who nominated me - you know who you are. ♥
I'm in absolutely fantastic company, and feel honoured to be listed among so many brilliant people. I'm also thrilled that the other two finalists in my category are people I deeply admire and respect, so whichever of us win, I'll be happy with the result!
I'll be attending the awards ceremony next Monday - you can buy tickets here. It's an amazing event for a very good cause, raising money for the Outsiders Trust which supports disabled people to express their sexuality. Maybe I'll see you there?
ClipsFatale live show
Last month I participated in the first ever live chatshow hosted by ClipsFatale, a video-on-demand site specialising in femdom films (and deliberately challenging the authority of ATVOD). The event took place at the Camden Crunch, and it was a hoot. I loved meeting the ClipsFatale team and putting some faces to names I've known online. The show is available to watch online here, and I think there are more in the works.
English Collective of Prostitutes
I've been organising with the ECP recently, a fierce and dedicated political group who have spent forty years lobbying for sex work law reform, for the workers rights of sex workers and for sex work to be recognised as work. On Tuesday we held a symposium at the Houses of Parliament, presenting the evidence around the decriminalisation of sex work to MPs and other interested parties. It was incredibly well attended, with people standing around the edges of the room and sitting in the aisles, and we heard from international speakers including Catherine Healy from the New Zealand Prostitutes Collective, who spear-headed the campaign to decriminalise sex work in New Zealand twelve years ago, with verifiable success in improving health, safety and human rights. We had other guests from sex worker organisations in Sweden, Canada, the US, Thailand and Taiwan, plus academics and other experts, especially sex workers - we are the experts in our own lives, after all. MPs spoke as well, including John McDonnell the Shadow Chancellor, who hosted the event, Natalie Bennett from the Green Party and a representative from the Liberal Democrats, both parties that have sex work decriminalisation as a manifesto policy.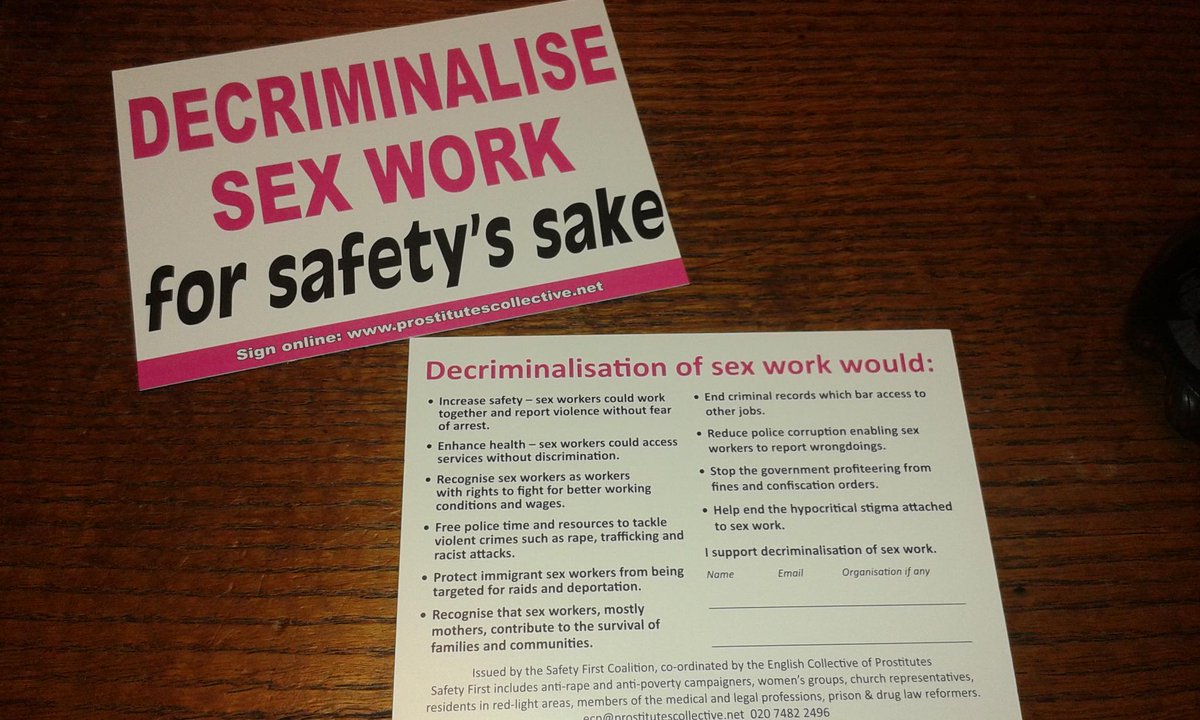 It was an amazing experience to occupy a packed committee room in Parliament, and to have sex workers speaking alongside politicians and academics. Nothing about us, without us! I live-tweeted the event - you can read the hashtag at #evidence4decrim, or by scrolling back in my feed. (If anyone wants to make a Storify, that would be really useful and much appreciated!)
Sex Worker Open University
There's also a lot going on with SWOU at the moment. Last month I gave a workshop at the Sussex Uni anarchist society on sex work law reform, which seemed to go really well and had a pleasantly large and interested audience. This month things are stepping up even more, with Hands On skillshares (I attended one today on pro-subbing, and found it incredibly useful both personally and professionally. Community is so important!) and, this week, a conference spanning two days - one for current sex workers only to share resources with each other and have nuanced discussions about the complexities of our work, and another open access day to discuss issues like legal models and stigma. The full conference programme is here. I'll be there both days, and I'm so excited!
As if that wasn't enough, on Sunday SWOU are hosting a sex worker film festival screening films by sex workers about their work - including some pieces by friends, and others I haven't seen before. I'm really looking forward to it, and overall I feel so honoured to have such a strong sex worker community in London, providing support, resources and amazing events like these.
Novara Media report on sex work
Novara Media are a new left politics online video channel, and I was interviewed as part of their documentary on sex work entitled Decriminalisation, Policing and Fighting for a Better Future. They spoke to some amazing activists including Aisling Gallagher from SWOU, Laura Watson from the ECP and Alex Bryce from National Ugly Mugs. I'm really happy with how the video came out and I think it's a great introduction to the legal models surrounding sex work, and why they matter. Please watch and share!
Australia tour
Last but not least, I'm currently gearing up for my big trip of 2015 - six weeks in Australia and South East Asia. I fly out on November 16 and am coming back in early January. I've never travelled to either continent before and I'm feeling simultaneously excited and daunted!
I'm planning to spend time visiting friends, attending the Perv Queererotic Film Festival in Sydney and whatever other cool sexy/kinky events I can blag an invite to, and I want to squeeze in as many shoots and 121 spanking sessions as possible while I'm at it! My dates currently look something like this:
Nov 18 - 25 - Melbourne
Nov 26 - Dec 6 - Sydney
Dec 7 - 22 - Melbourne
Then I'm planning to spend a couple of weeks exploring Thailand, and am very much looking forward to spending Christmas Day on a beach. I'm not going to work over Christmas and New Year, so I'm keen to fit in as many bookings as possible while I'm in Australia. I'm available for g/g and solo porn shoots (particularly with likeminded feminist and queer producers), spanking and BDSM shoots as a domme, spankee or switch, and I'm offering spanking and BDSM one to one sessions with me giving, receiving or both!
I can also offer duos with kinky friends including Zoe Montana, Artemissia de Vine, Nina, Gala Vanting and Molly Malone, who will be visiting as well while I'm there. That's quite a collection of sexy and talented BDSM practitioners, all close friends with whom I have fantastic scene chemistry. So if you'll be in Melbourne or Sydney at a time that matches my schedule, send me an email and we'll work something out. I'm looking forward to meeting as many of my friends and fans down under as possible!
Comments