Posted at 02:08 on 17 Dec 2015 by Pandora / Blake
Last November my friend Nimue Allen and I got together with our partners for a week to shoot some porn. We've both worked in the BDSM porn industry for years as performers and producers, and we were ready to delve deeper. We spent three days shooting a feature-length explicit documentary about our queer, kinky, polyamorous sex lives. We filmed interviews, video portraits, narrative sequences and hardcore sex scenes, capturing the intimacy and affection of BDSM play between people who love each other. The scenes were spontaneous and unscripted, a natural representation of the sex we have in private, and in the natural course of events they ended up including facesitting, fisting, squirting, caning, needles, breath play, dominance and submission and plenty of hardcore sex. It was authentic, caring and beautiful.
A week later, full of happy excitement about our new project, we learned that every scene we had filmed had just been criminalised under new UK porn laws. It would now be illegal for us to publish any of them. These honest depictions of our sex, pleasure and intimacy had been deemed so extreme that even informed, paying adults couldn't legally watch them.
Furious, Nimue and I both decided that we wouldn't do the censors' work for them. We refused to change the content on our existing sites, Dreams of Spanking and Nimue's World, to comply with the regulations. Instead we spoke out about the unjust and regressive nature of the new laws; particularly the way they disproportionately target marginalised forms of sexual expression, including fetish play, female sexual dominance, queer sex and unfakeable female pleasure. I debated porn censorship on Newsnight, and gave interviews to every journalist who asked.
In January, sensing the need to strengthen our stance with some cold hard cash, I a organised fundraiser to raise money for Backlash, the non-profit organisation doing invaluable work to defend sexual freedom in the UK.
Nimue and I put our bottoms on the line and volunteered to take one hard cane stroke for every ten pounds raised, to a maximum of 50 strokes each. The pledges poured in. In the end we had to recruit eight additional bottoms to take a total of 383 cane strokes, raising £3836 for Backlash. Each of the canings was filmed, and the video released online under Creative Commons, including interviews and statements from the performers about how why they felt it was important to take a stand against the new laws. Publishing protest films of banned acts, and raising money to fight censorship in the process, was a deeply satisfying act of resistance.
In February at the Women of the World Festival, I debated the social impact of porn on BBC Woman's Hour in front of a large live audience. That same month I received a letter from ATVOD - the new UK internet porn regulator - regarding my website Dreams of Spanking. None of the other UK spanking paysites - all clearly linked from my site - received a similar letter. It was clear that my outspoken criticism of the new regulations had singled me out as a target. ATVOD CEO Peter Johnson, speaking to The Independent, said quite clearly that sites are more likely to be investigated if they appear in press reports. Does this mean that speaking out against the laws makes you ripe for censorship?
"Peter Johnson, the CEO of ATVOD, said that the organisation has published "clear guidance" on how to comply with the rules. He added that most services are investigated after complaints or "if a service comes to our attention through other means – for example through press reports."
Let that sink in for a moment: I talked about the porn regulations, and I was singled out for censorship.
My spanking site Dreams of Spanking is unlike any other. It centres female fantasies and the female erotic gaze, shooting performers of all genders without prejudicing one type of body as more deserving of sexual attention than another. The site includes all gender pairings - including male/male scenes, which are often ghettoised into separate physical and virtual spaces by the heteronormative BDSM community. My cast includes trans and non-binary performers, and my films show people of all genders as equally capable of consensual dominance or submission, removing any sexist or misogynistic implications from erotic power exchange.
All of this is underwritten by a strong ethos of fairtrade production, including equal pay for all performers (regardless of gender or body type), and a performer-driven shoot process that centers the preferences, sexualities and informed consent of the participants; particularly of those playing a submissive role. Communication with performers is my first priority on set, limits are always respected, and no-one is pressured to do anything they don't want to. I started out as a performer, and I still love to get in front of the camera, so I know what it's like.
I'm constantly aiming to learn and improve my process. I also urge viewers not to take my word for it - I'm only the director - and, if they want to check out my production ethics, ask the performers themselves, or check out their blogs, twitter feeds, unscripted video interviews and out-of-character behind the scenes videos, which are published alongside every scene. Dreams of Spanking aims to be a safe space and an online community promoting acceptance, self-expression and inclusiveness, which affirms and empowers performers and members alike.
So it's interesting that this site is the one ATVOD targeted for censorship, under the guise of cracking down on "harmful" porn and making society "safer". It's interesting that this site - which was doing visible and innovative work to raise the standard of ethical porn production in the UK BDSM industry - was the one ATVOD decided to make an example of. Is their aim to reduce harm - or to stifle free speech?
After a gruelling seven month investigation, ATVOD ruled that Dreams of Spanking was in breach of the new regulations. Firstly, they objected to the transparent site structure, which aimed to destigmatise my kink by making certain materials visible to non-members (behind clearly signposted links) and therefore did not put all explicit content behind a credit card paywall. Secondly, they found me in breach of the regulation against publishing material that is too 'extreme' to be classifiable, even as R18, by the BBFC.
Personally I love receiving a hard spanking from the right person, and I fantasise about it even more. As such the majority of my videos include spanking or whipping that leaves welts, bruises or red marks. However, the new regulations ban any material showing BDSM that results in marks that are not "transient and trifling". It was impossible for me to comply with this rule without removing the vast majority of material on the site; and attempting to do so would go against the core principles of honesty, self-acceptance and kink positivity that underpin my work.
As a feminist pornographer, I aim to make films that authentically depict consensual adult sexuality, with an emphasis on female pleasure and desire. To comply with these regulations would be to become fake. I couldn't do it while remaining true to myself.
So I didn't comply, and with the help of Backlash and the inimitable Myles Jackman, I fought ATVOD every step of the way. They made their final decision regardless, and on 27 August I was obliged to take Dreams of Spanking offline. I appealed to Ofcom, and will be waiting many months before they make a decision.
Meanwhile in Europe, the Berlin Porn Film Festival awarded a Dreams of Spanking film which is banned in the UK the first prize in their Short Film Competition - showing that in some EU countries at least, BDSM porn that includes welts and bruises can be held to have have artistic and cultural value.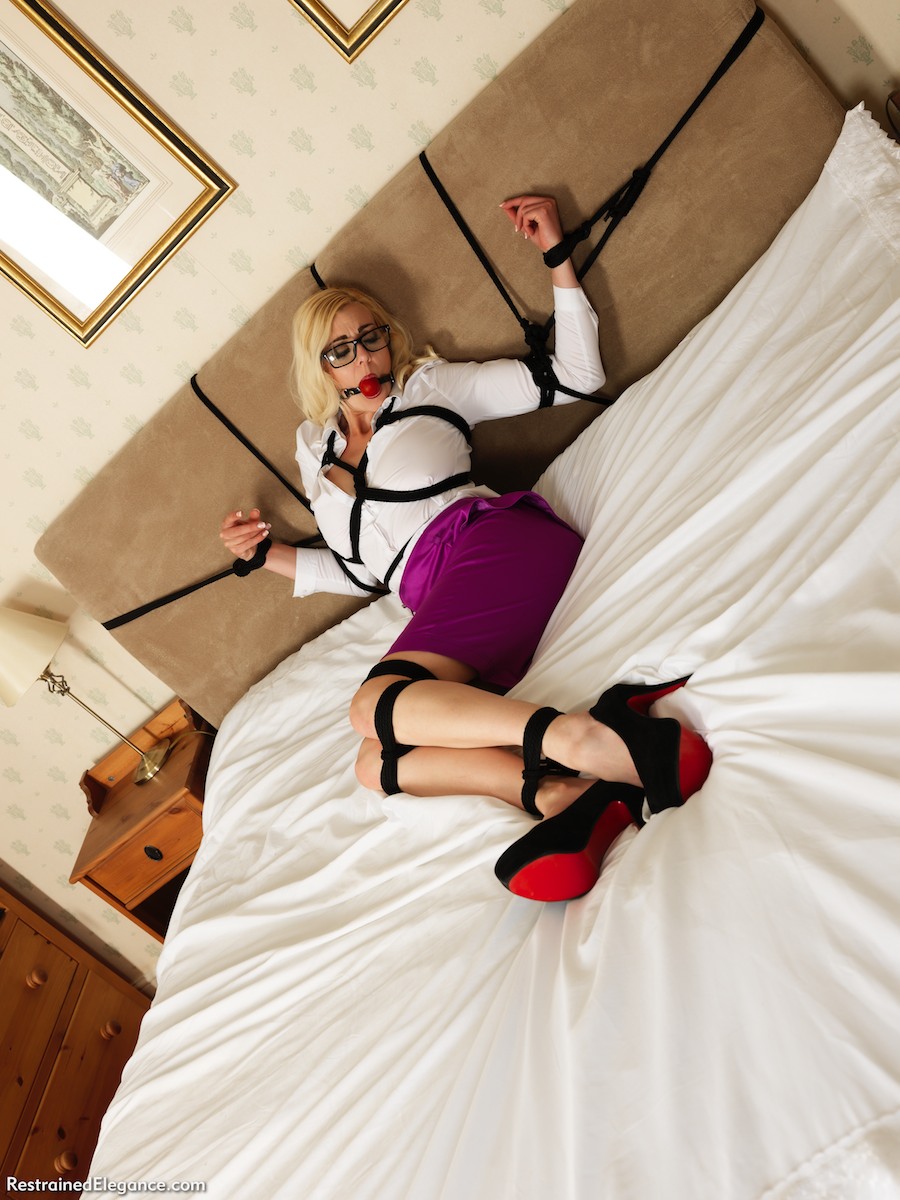 I still can't publish the beautiful, intimate films I shot with Nimue a year ago. We have recently learned that ATVOD will be folding next year, and Ofcom will be taking over primary regulatory oversight. So now ATVOD are stepping it up while they still have the chance. More and more brave, beautiful, authentic erotic projects, such as husband-and-wife owned bondage site Restrained Elegance, are coming under investigation. It seems that ATVOD intends to go out with a bang, and Ofcom shows no sign of calling for the regulations themselves to be overturned.
The AVMS guidelines ultimately derive from the Obscene Publications Act, a 56 year old piece of legislation that dates from a time when it was illegal to have homosexual sex, or depict any explicit sex on film. The new list of banned acts isn't even up to date with the case law on the OPA. It's a lazy and arguably illegitimate piece of lawmaking that doesn't affect current social standards in the UK. British consumers can still access material banned under the AVMS by viewing porn published offshore, and so these regulations have no impact on UK society except to close down UK independent businesses, stifle free trade and halt the flow of funds from overseas customers into the UK economy.
We must not give up this fight. The internet has been an invaluable resource in helping my generation come to a more open and accepting view of our own sexuality, and feel more empowered to seek out pleasurable experiences that affirm and fulfil our natural erotic desires. Let's not undo that good work by accepting these out-of-date regulations that stigmatise sexual expression and stifle free speech.
We must continue to fight for our right to express ourselves sexuality, to enjoy kinky play between consenting adults, and to make porn that reflects our authentic erotic selves. Censorship never succeeds: it only serves to make the banned material more exciting, and young people know better than any of us how to get around online age controls. Instead of censorship, we need age-appropriate sex education that teaches young people about consent, pleasure and porn literacy.
Please write to your MP, write to your local paper, support Backlash and Myles Jackman, and continue being your sexy, kinky, uncensored selves as visibly as you can - until our legislators realise the tide of public opinion is against them, and these regressive, unjust and draconian laws are overturned.
This article is also published at the KCL intersectional feminist society blog
Comments