Posted at 10:55 on 10 Dec 2015 by Pandora / Blake
On my first visit to Sydney I accidentally rented accommodation in one of the fanciest parts of town. I hadn't realised how expensive the area was until I started telling Sydneysiders where I was staying, and they would raise eyebrows at me as if I had said something snobbish. It wasn't deliberate - I just had Headmistress bookings on the Saturday, and I had booked somewhere that looked the part; old wooden furniture and art on the walls. I enjoyed staying there, even if it was a bit of a mission to get back to after midnight, when the Perv screenings and parties were over. It was fun pretending to be someone else for a while - someone with lots of money and an immaculately decorated home.
Sydney gave me a warm welcome. Once I'd recovered from the stress of my cancelled flight and missing the Perv short film competition, I was immediately cushioned in the hospitable bosom of the Sydney kink scene. Penelope Dreadful met me at the station after my first booking and took me out for delicious Vietnamese food (which rapidly became a fixture of my Sydney experience). We'd chatted on Facebook after she offered to lend me a cane (I couldn't fit one in my luggage); I didn't need to take her up on it, but it was a pleasure to meet her. We talked and laughed over pho, and swapped stories of working as a BDSM provider in different cities. I love that sex work gives me the opportunity to meet so many wonderful people - and sex workers are the best people. I feel like sex workers are like this global family, and I have the potential for a community of likeminded humans wherever I go. It's pretty amazing.
I enjoyed the Perv film screenings on Friday night - particularly Airport by Manuela Kay, a dyke classic - in fact it was the first ever German lesbian porno, a funny and sexy all-girl gangbang set in the public bathrooms of an airport. The film quality is like a bad rip of a VHS tape, but the performances and the editing are so on point that it doesn't matter in the slightest. Shutter by Goodyn Green is a present-day snapshot of the lesbian scene in Berlin, a diverse collection of queer sex beautifully shot in radiant natural light.
I also loved the spotlight on Antonio da Silva, a gay filmmaker whose films combine sensitive, humanising interviews with queer men about sexuality and relationships, with lots of explicit footage of their erect, spurting cocks. I'd seen Solos in Berlin, and really liked it - great storytelling, beautiful men, intelligent discussions about fantasies and desire, and the way it's all edited together is charming and very watchable.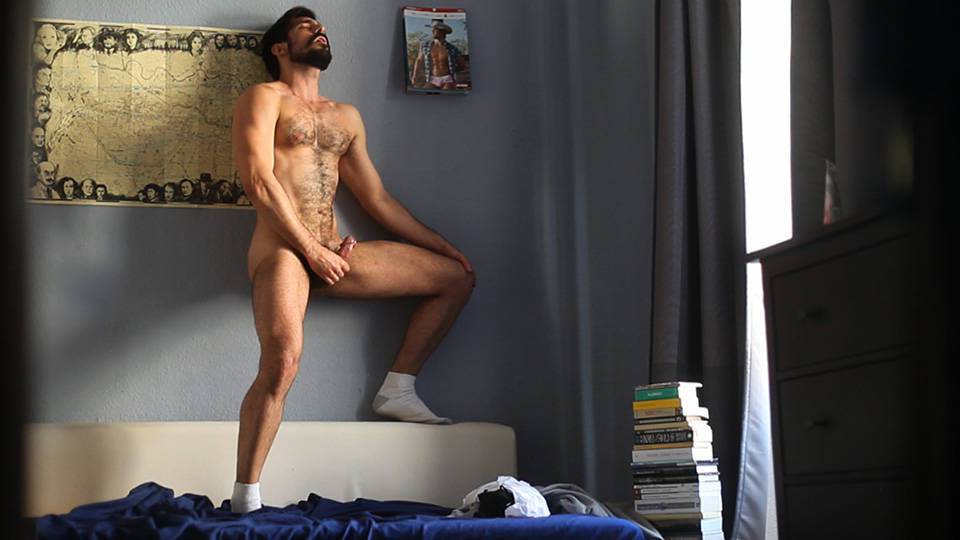 Perv screened Solos alongside three other da Silva films - Daddies, Nude Dudes, Spunk and Ecosexual. They were all superb, and each of them would have stood alone as a highlight of any film programme, but da Silva's work is very consistent, and I felt that placed back to back the recurring themes started to feel a little bit samey.
Still, I have a pretty large appetite for seeing hot men get themselves off, and I really enjoyed seeing more of his work: Daddies is a very sexy portrait of older men, with some incredibly filthy shots of them handling their rock-hard erections through the fabric of their suit trousers. I think a few involuntary groans of lust might have escaped me while that was playing.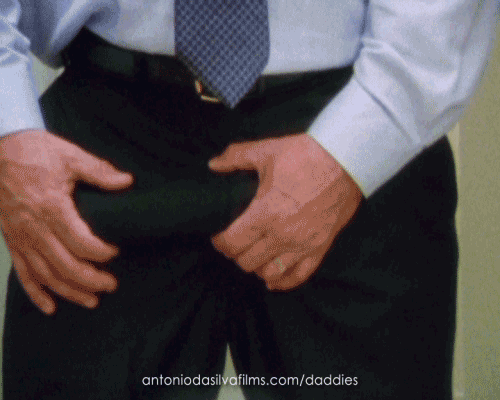 Spunk (the title is styled like the Skype logo) explores the gay world of cybersex, chatrooms and webcamming, and it's a thoughtful discussion of voyeurism, exhibitionism and performative sexuality that is both entertaining and enlightening. My favourite part was the home-made late 1990s style popup ads, which disrupted the screen at random intervals and were laugh-out-loud funny - a brilliant satire on a cultural phenomenon we are all familiar with.
I also loved the way the video was enhanced with increasingly surreal graphics, culminating in the motif of white, glittery sparkles illuminating every jet of spunk. It was cute, very Internet (reminiscent of animated gif adverts for every porn site ever), and a nice visual riff on the idea of spunk as a symbol of sexual energy, life force, something magical in nature.

That theme continued into the final film, Ecosexual, which was (I think) the most recent, and definitely the strongest in my opinion. It's a subject close to my heart - I definitely identify as ecosexual (someone who is aroused by being in nature) and I've felt increasingly so on my Australia tour. This film is a poetic study of salt water, waves crashing, sunlight beating down, and hot-climate plants such as aloe vera, agave and prickly pear. Spiny exteriors disguise soft interiors; plant bodies and human bodies mirror and touch each other.
I loved watching Rowland smear fresh aloe vera gel all over his skin in the heat of the Portugeuse sun; lubricate his hard cock with it; and finally fuck the split spear of the aloe plant. Erotic, powerful and passionate - this film is definitely worth watching.
We come to natural places to escape human thoughts and concerns. But what we discover there is our human nature: not separate from, but a thinking, feeling part of Nature.
I got back late to my fancy apartment after the screenings, and realised to my dismay that the blouse I'd worn for my booking that afternoon wasn't clean enough to wear again. Underestimating how much I'd sweat in the Sydney heat, I'd only packed one domme outfit. Worse, the apartment, despite its fine aesthetic qualities, bizarrely didn't have a washing machine, and I couldn't find any laundry detergent either. Thus it was that 2am on Sunday morning found me laboriously hand-washing my session clothes one by one in the sink of the bathroom using generic soap, and draping them over top of the shower cubicle to dry. Sometimes sex work is so glamorous, you wouldn't believe.
Still, I was ready in time for my first booking on Saturday. After asking social media I'd borrowed a couple of canes from Artemisia de Vine the day before, and I was all set for my first detention as Headmistress with a very naughty schoolboy. Sadly, neither Artemisia nor I had realised that these particular canes - peeled, unvarnished rattan, I think, with crook handles - needed soaking before use. My careful scene-building and strict persona suffered something of a blow, therefore, when the cane I was using was so brittle it shattered on the very first stroke.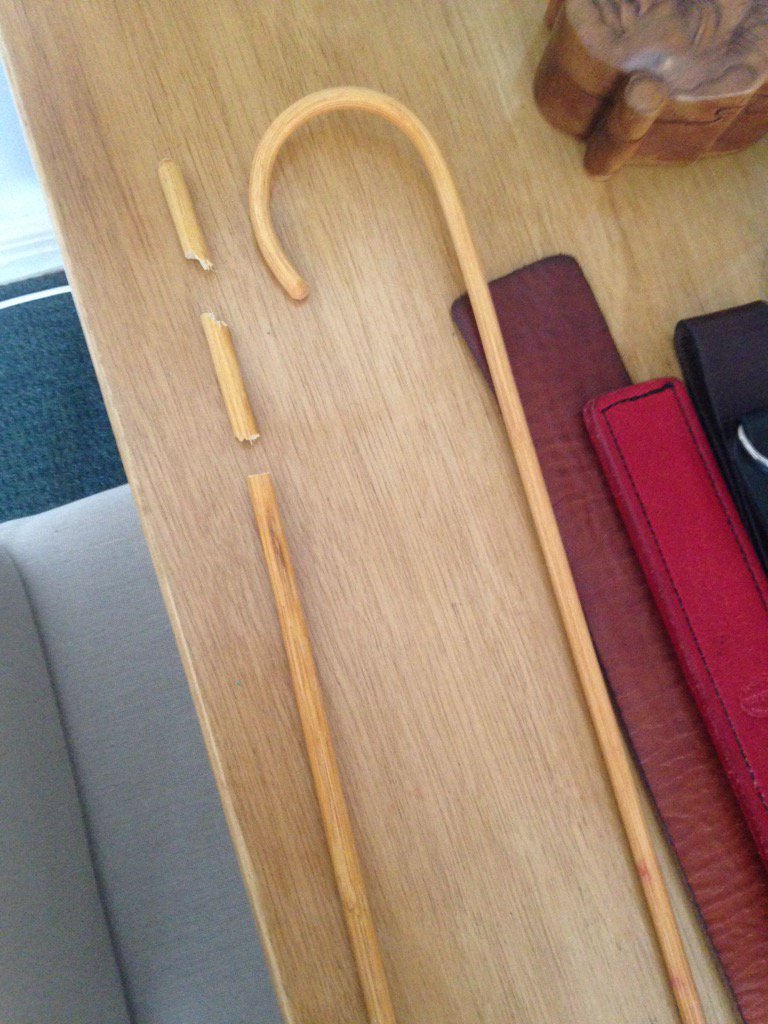 Luckily, my playmate had seen my posts asking to borrow a cane, and had thoughtfully brought his own: we only had to halt the scene for a few minutes while he got dressed out of school uniform back into civvies, and went down to the car to fetch it. I was very grateful for his prescience. His bottom was a bit less happy about it.
Armed with the borrowed cane (he was kind enough to leave it with me after he left) my second booking went well, and I spent the rest of the day at a garden party hosted by Sydney mistress Electra Amore, hanging out with all sorts of luscious individuals. There was a generous spread of food, and it was the perfect way to relax and warm up for the main event of the weekend: the Perv afterparty.
I ended up being asked to give a spanking workshop after the person who was booked to lead a workshop was unfortunately unable to make it. Louise, one of the Perv organisers, even found me a beautiful volunteer to be my bottom. I've given a few spanking demos before, so I felt pretty good about winging it (although I felt slightly self conscious doing so in front of some seriously experienced professionals, such as my good friend Molly Malone who was also in Sydney that weekend), and my demo partner was wonderful to work with. We had a surprisingly large audience, and after the workshop was finished the sounds of spanking and slapping started to be heard from different corners of the venue remarkably quickly. It was a great way to kick the evening off, and it certainly got me in the mood!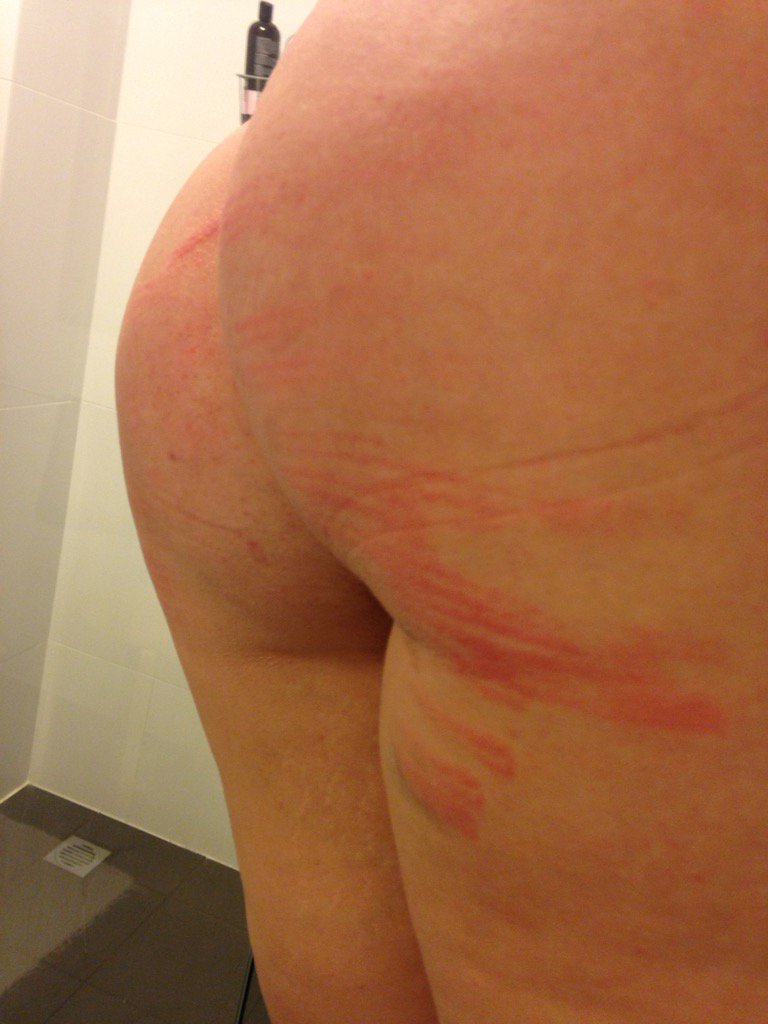 I had a lovely time chatting to friends I'd made at Electra's gathering and at the screening the night before. My initial sense that I wouldn't know anyone well enough to play soon proved unfounded. I ended up sinking deep into an extended impact scene with a new friend, who I'd met in Melbourne on my first day in Australia, for a glorious two hours of punching, spanking, flogging, belting and caning. I closed my eyes, receiving the blows like dry earth soaking up the rain. We hadn't intended it last so long, but once we got going it was hard to stop. It was a beautiful tension release, culminating in a heavy flogging that finally brought forth the tears that needed to flow. Afterwards I was high as a kite, and my bum felt like a tenderised slab of meat. I even had a few marks to show for it - although not as many as I felt I deserved!
Sometimes, after a cancelled flight and a few long days and late nights, what you need is a massage and an early night. And sometimes what you need is another late one, and a good beating. The end effect is more or less the same.
Comments