Posted at 00:11 on 2 Jun 2015 by Pandora / Blake
D and I have just got back from a lovely holiday in Barcelona, which is just as beautiful as everyone says it is. While we were there I made certain we had a look round the Museu de L'Eròtica on La Rambla. It's a small museum with an exhibition on sex through the ages, mostly dedicated to historical erotic art. The section on BDSM was disappointingly tiny, but the entry price included a free glass of champagne so I didn't mind too much. I particularly enjoyed the collection of 18th century European (mostly French, Italian and English) erotic art. Forgive the crappy cameraphone photos, but there were some images I just had to share...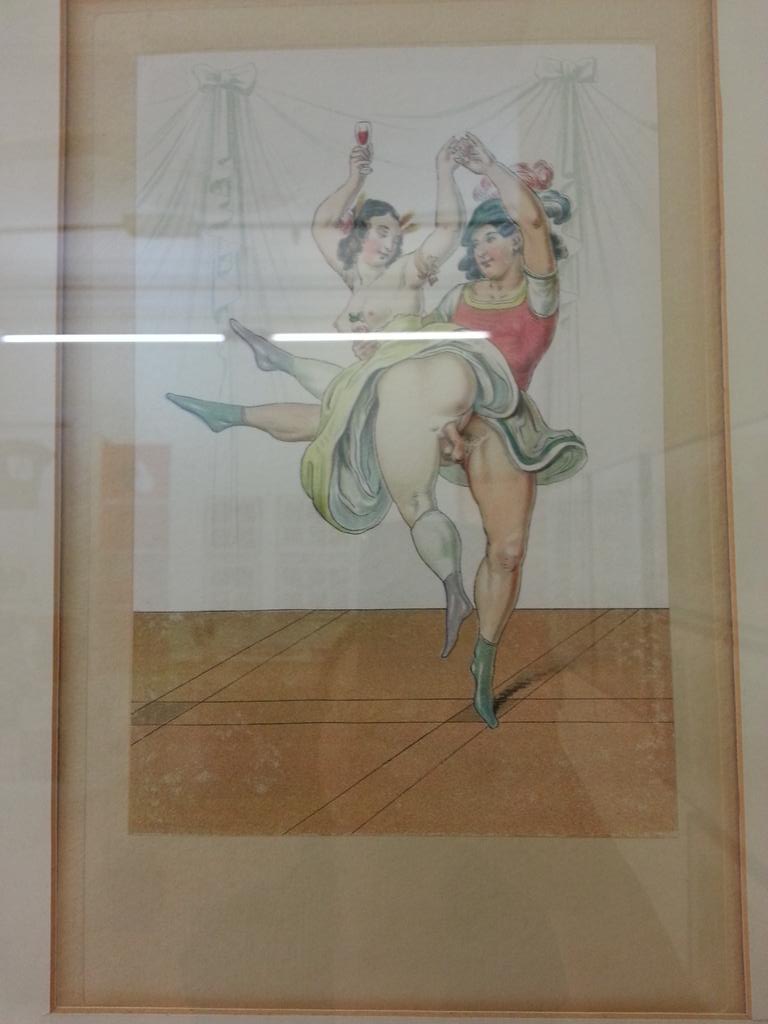 I was struck by this drawing of two lovers engaged in acrobatic sex - one for ballet lovers everywhere. I like the way the woman is being lifted off the floor, gravity held at bay merely by the strength of an erect cock and one dainty hand. But most of all I'm intrigued by the feminine appearance of her lover. I don't think the concept of a trans woman (which was my first instinctive interpretation) existed in the same way back then, but there were definitely some gender-benders - is this intended to depict a male cross-dresser or drag queen, I wonder? Or is this sort of feminine appearance perfectly standard for a male ballet dancer of the time?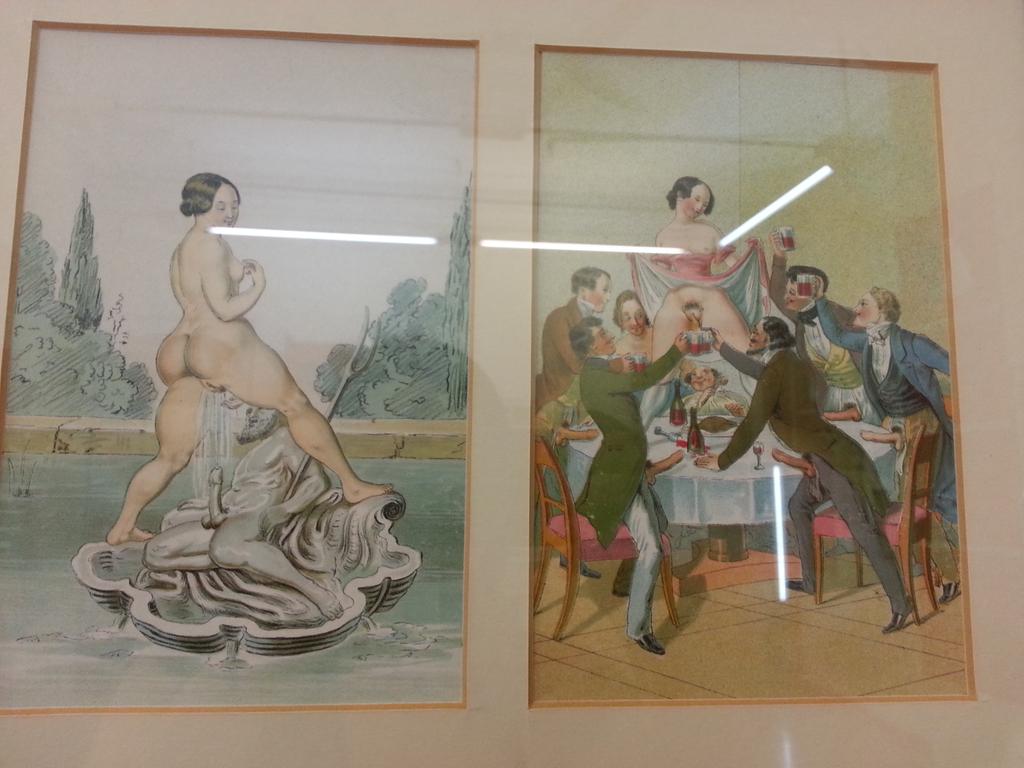 ATVOD take note: watersports isn't new. Fantasies of public urination and drinking fresh piss have clearly been around for hundreds of years at least. Actually I suspect watersports has been around pretty much forever, or at least as long as humans have pissed in private - and I suspect it'll stay with us as long as we have social taboos around urination. Unlike other fetishes, wee isn't something you only find in some cultures. Humans always do it, and it's always associated with our sex organs. So the UK government are definitely fighting a losing battle with their recent ruling that photos or films depicting someone urinating on another person, or urine being consumed, are 'obscene' and can't legally be published. Watersports has been around forever, and despite ATVOD's efforts I guarantee that it isn't going anywhere any time soon.
Moving onto what I think of as the 'genital surrealism' school of 18th century erotica. Porn went through a phase where cocks and cunts were used as decorative motifs - in page borders and as standalone illustrations, often completely dehumanised and crammed on top of each other in increasingly bizarre and extravagant designs. Giant cocks were a theme, and animals sporting cocks for heads were another favourite, particularly cockerels (geddit?) because everyone loves an easy visual pun.
So this next image doesn't stand alone: it fits into a context of grotesque cartoons and ornaments. Still, it took me a couple of long moments before I realised what I was seeing: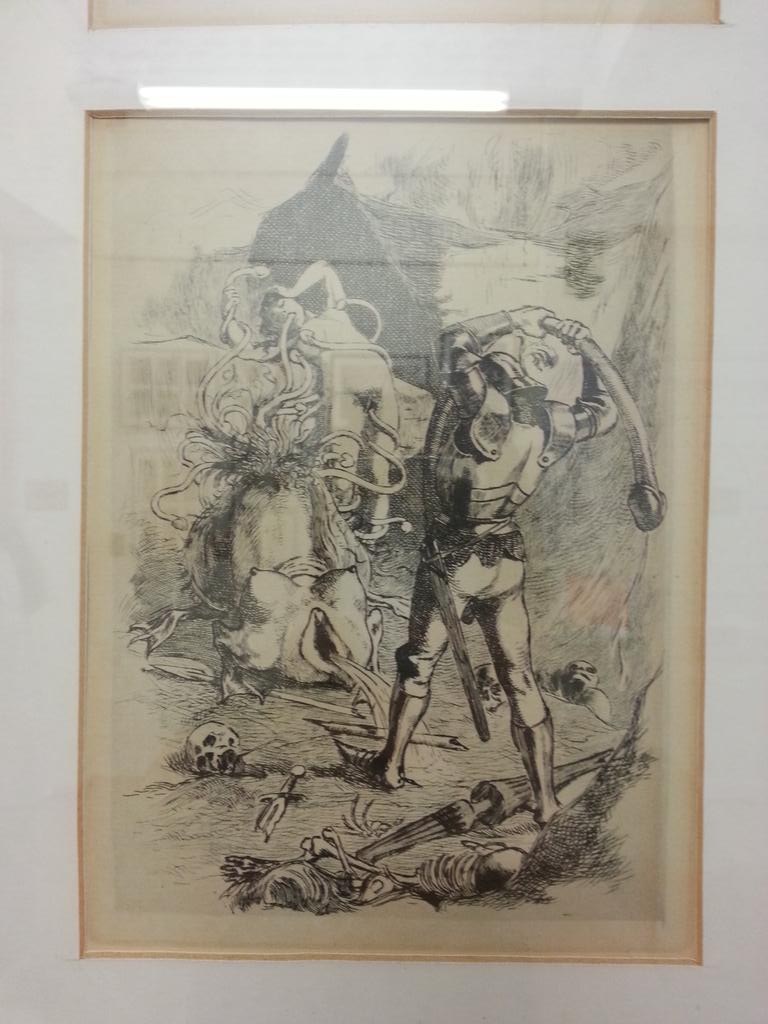 Yes, that is a tentacle porn monster with a cunt for a mouth and breasts for eyes, double penetrating (at least) a hapless victim, and fighting a man wielding a giant dick. By squirting ejaculate, no less. 18th century erotic art, I salute you.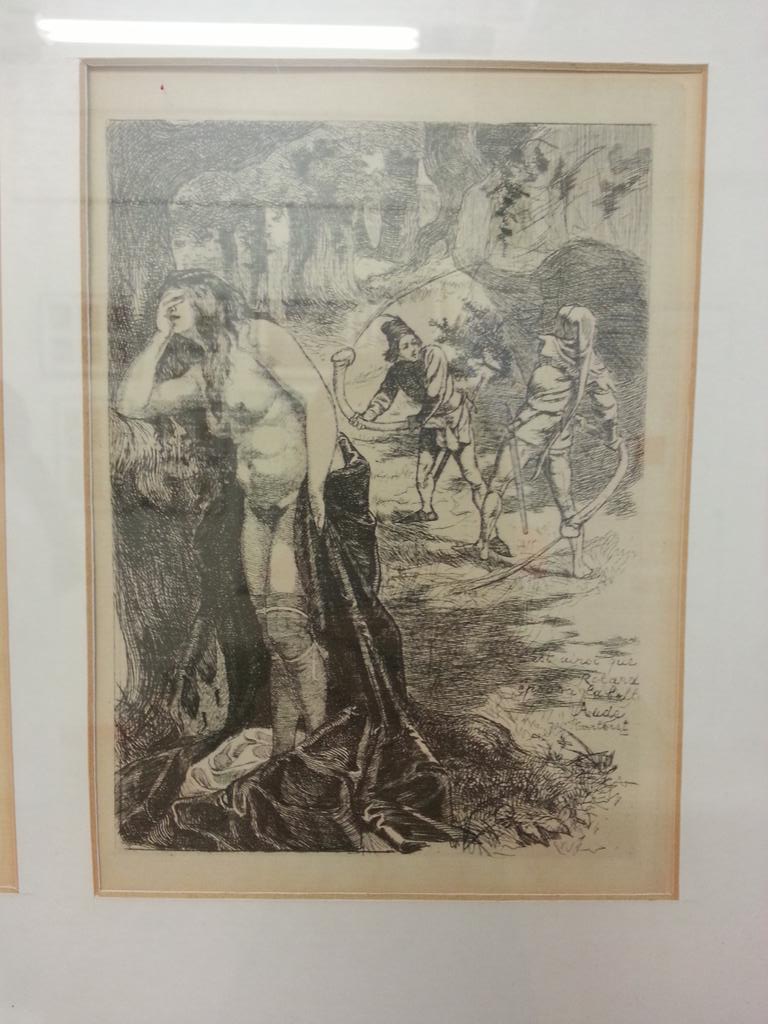 This is my favourite though. It's a woman facepalming while two men literally have a cock slinging contest behind her. I empathise, lady, I really do.
Comments