Posted at 20:02 on 20 Jan 2016 by Pandora / Blake
The British Fetish Film Festival is still brand new. The first event, in 2013, was a closed group of producers only, testing the format and giving kinky UK filmmakers the chance to screen their work in front of their peers. This was actually the first film festival I ever went to, and it was invaluable to see how fetish films play on the big screen.
I learned a lot about the different requirements of a festival compared to viewers watching films individually online: for instance, pacing needs to be much tighter in a festival edit; long kinky shots that would allow viewers the chance to climax at home are wasted on the big screen, because people probably aren't masturbating at a film festival; and funny films are almost universally better suited to festivals than unfunny ones. In fact, it was watching my online edit of Marital Discipline on the big screen at the zeroth British Fetish Film Festival that inspired me to start cutting festival versions of the films I wanted to submit to the Feminist Porn Awards that year, a process which eventually resulted in my shooting Houseboy for the Berlin Porn Film Festival, and winning the Short Film Competition last year. So I owe a lot to the British Fetish Film Festival, and I'm keen to help other UK filmmakers benefit from it too.
Lovely afternoon with other kinky pornographers at @britfetfilmfest. I think we really are all as shy, quiet and introverted as each other!

— Pandora Blake (@pandorablake) May 19, 2013
Last year was the first official British Fetish Film Festival; open to the public but not heavily promoted, as the organisers wanted to test the waters at their chosen venue and not attract too much attention. The festival is run by Hywel Phillips and Ariel Anderssen, the couple who run glamour bondage site Restrained Elegance and Silk Soles. The 2015 event was relaxed and low-key, with a small, sympathetic audience composed of fetish filmmakers and enthusiasts. I got to see films from some producers I already knew well, and some I'd never heard of. I also was pleased to see that many of us who had been to the zeroth event had made a conscious effort to raise our game and produce more cinematic films with higher production values. I screened Instructed, my feminist porn award-winning collaboration with Ms Naughty, which was the naughtiest film on offer by far.
As well as the film screenings, there was also a discussion on ATVOD and UK porn censorship; I only had just received my first letter from ATVOD notifying me that they were investigating my site Dreams of Spanking. I was also fascinated to attend the filmmaking workshop run by Hywel Phillips on how to light and shoot cinematic short films, during which we all collaborated on making a fetish film, which was a really fun exercise. Thanks to some super-quick editing by their assistant Pippa, a rough edit of our film was even available to watch before we went home, and I think we were all surprised and pleased by how well it came out.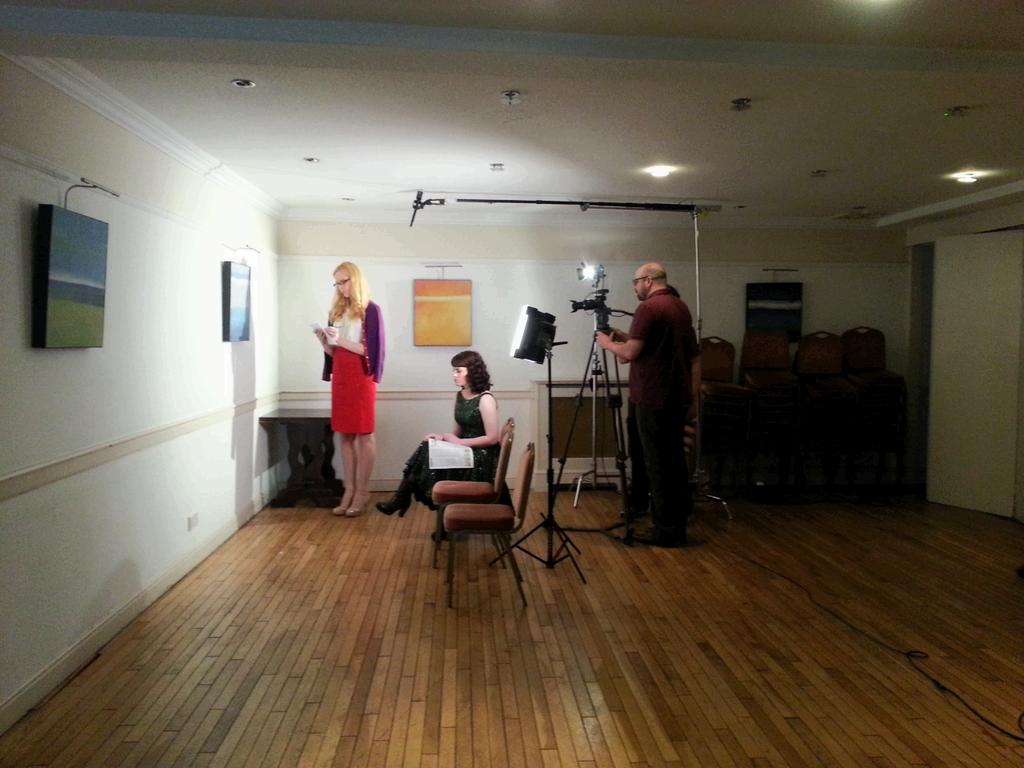 This year, Hywel and Ariel organisers are hoping that more UK filmmakers will submit work, and more people will attend. I'm going to be there, along with my partner D, and I've submitted Houseboy, so if you haven't seen it yet and would like to, now's your chance. The 2016 festival is taking place on Sat 26 and Sun 27 February in Welshpool. There'll be another hands-on filmmaking weekend, film screenings and discussion, and I've even heard hints that obscenity law expert Myles Jackman will be in attendance.
Last year the range of films was limited by the fact that most of the attendees were producers who had worked with Ariel at various points, and so most of the films depicted female submissive bondage or BDSM (with a couple of exceptions; I particularly enjoyed the heavy rubber film by Fetish Eyes). But I know that there's much more to the UK fetish scene than that, and I'd love it if filmmakers from other kinks and other orientations would submit work too. In particular, it would be awesome if Houseboy wasn't the only film featuring male submission, or non-binary/trans performers. So if you shoot femdom films, queer porn or any other fetish that differs from traditional bondage/BDSM, send something in! The deadline is 1 Feb, and the submission guidelines are here.
If you make kinky videos to sell online, you should definitely consider submitting your work to make sure your genre is represented. Follow the @britfetfilmfest twitter account to stay updated - and if you can attend in person, I look forward to seeing you there!
Comments