Posted at 17:30 on 18 Oct 2017 by Pandora / Blake
I very much enjoyed the SCL (Society for Computing and Law) event on Sextech, porn and the law last week. It was hosted by lawyer Neil Brown, and chaired by Daniel Cooper. There was a sizeable audience and four speakers in total; in addition to Neil and myself, Sarah Jamie Lewis and Dr Kate Devlin.
Dr Devlin kicked things off with an engaging talk about sex robots, one of her areas of research. She shared some of the hype and misinformation that the media tends to indulge in around sex robots, and why a lot of it is hyperbolic and sensationalist. She talked about what sex robots can and can't offer; including a preview of the Harmony bot which is being developed in California at the moment. Dr Devlin went to visit the lab working on this project, and she describes the robot as a beautifully crafted silicon sex doll with an animatronic face and a recorded voice controlled by AI. They've got an in-house AI team and the AI is apparently remarkably good; you can chat to Harmony. The robot head mounts onto the standard sex dolls, meaning the body is poseable, but doesn't move independently. Read Engadget's report on meeting Harmony here.

(Photo from Realbotix)
Dr Devlin spoke about the Campaign Against Sex Robots, which argues that these robots sexually objectify women, and escalate abuse for those who want a passive, non-responsive sex partner. Her take on this is that the heteronormative, male gaze, "by men for men" approach that has mostly been taken to sex robots so far does arguably perpetuate existing gender inequalities, but that there is scope for our relationships with machines to be so much more. She writes, "Aided by technology, society is rethinking sex/gender dualism. Why should a sex robot be binary?
I was intrigued to hear Dr Devlin's description of the community of people who own high tech sex dolls. Most of them, she argues, simply want companionship. Men, women and couples have these dolls in their lives, give them personalities and names, and interact with them. Friendships and community have formed amongst people who spend time with the dolls. She made the whole thing sound a lot less sinister than some people make out.
I was entertained to hear Dr Devlin's descriptions of trying to organise a Sex Robot academic conference which was banned in Malaysia; apparently it was very well attended by journalists who were hoping that it would be salacious. Actually they talked about law and ethic, but it was nonetheless the most well-covered academic conference she'd ever been to.
It sounds like she's doing really interesting work. You can read her article on why it's wrong to try to ban sex robots here. As far as the legal ramifications are concerned, the law is ill suited to cover the potential development of sex robot technology in future, and is going to have to work hard to catch up with technology where sex robots are concerned.

(photo by Dr Kate Devlin)
Next we had Sarah Jamie Lewis talking about privacy and anonymity with sexual technology. She told the story of how she let anonymous users remotely control her vibrator via the TOR network, which I have to say is pretty fucking cool. This provokes various thoughts about security and privacy. If you're able to remotely control someone's device over the internet, does that make your device hackable? Lewis' code was end-to-end encrypted and secure - unlike some companies who have got into trouble for collecting sex toy usage data.
"Most sex toy apps are awful from a privacy (and often security) perspective - they leak data + metadata & encourage risky security practices." @SarahJamieLewis
Sex tech is developing fast - we can now interact with other humans remotely via networked devices, and send stimulation patterns to vibrators and blowjob blueprints to masturbation sheaths. There are also cock rings which could potentially record the unique way someone gives oral sex to the person wearing it. For Lewis, this idea of quantified sex poses the question: to what extent is our sexual activity fingerprintable? Some measure 'thrusts per second' - a very impersonal, competitive way of looking at sex - while other toys collect data on body temperature, blood pressure, heart rate, how long you have sex for, how often you have sex, and what kind of sex you have. It occurs to me that we already have phones and game controllers that can detect where they are and how they're moving in three dimensional space; having this kind of three dimensional tracking on sex toys would pretty much result in your sexual activity being reproducible.
At what point does this represent a violation of privacy? Would these data potentially be de-anonymisable? Are we going to end up with an identifiable sex fingerprint, in the way that, for example, machine learning is getting very good at gait recognition?
Lewis' talk raised lots of interesting food for thought, some of which is quite scary. As a queer rights activist, Lewis is well aware that on the case of trans and queer people, who you have sex with can literally get people killed. This isn't just a problem countries where homosexuality is illegal; even in Western countries, being outed to family members or work mates can potentially be devastating. We have a right to sexual privacy, and we need to make sure that sexual technology is developed in a way that respects our anonymity. You can buy a copy of Sarah Jamie Lewis' book, Queer Privacy, on a pay-what-you-like basis here.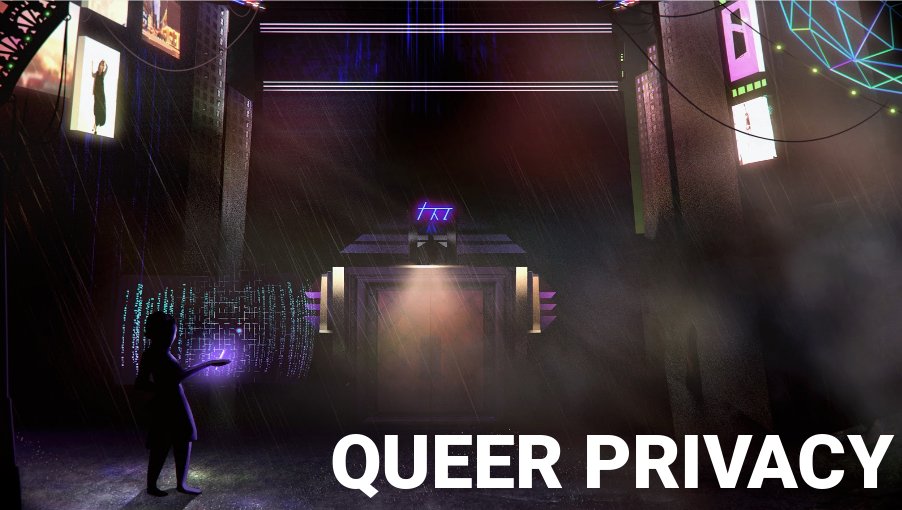 Next I got up to talk about the UK regulatory framework controlling online porn. I was asked to give a high level legal overview of the laws controlling porn in the UK, along with some details of my personal experiences, and how this impacts people in the porn industry. With just 20 minutes it was an ambitious brief, because UK porn law is extremely complicated and confusing. It's built out of a lot of interlocking laws which control different aspects of it, all of which are interestingly flawed in different ways.
So I gave a whistlestop tour or UK porn law, from the Obscene Publications Act to the Digital Economy Act. I touched on the way this has impacted me personally, the impact on small businesses and the way the laws disproportionately affect gay and BDSM communities. I spoke about the ways in which UK porn and obscenity law has historically been, and still is, paternalistic, patriarchal and classist.
I also talked about the privacy implications of age verification, and concerns around corporate monopoly, with the risk of big companies like MindGeek exploiting the policy to increase the inequalities between mainstream porn companies and 'cottage industry' providers, and expand their control of the global porn industry.
I just about managed to fit it all in under time, giving people a massive information overload in the process. It was satisfying to gradually reveal more and more of the "what the fuck?" moments of UK porn and obscenity law. I've uploaded my slides, and you can view them here.
Finally, Neil Brown gave a presentation on sex tech and the law, exploring several different ways in which the law might relate to sexual technology, and some of the potential gaps.
Talking about safety, he mentioned the Internet of Things and the fact that you can print 3D sex toys off the internet via Thingiverse. If you download the design for a butt plug and print it, who is liable if something goes wrong? No-one: you're on your own. You have to take responsibility for yourself if you want to practice safe sex tech.
Brown also talked about sex robots, pointing out the limitations of current AI. Would you trust Alexa to process your safeword? Is AI good enough to respect our consent; can we trust it to be safe if it's running the thing we're having sex with? He also raised some complicated issues of consent. If you're asked to agree to new privacy terms and conditions while mid-session, is that really freely given consent? What if your expensive device stops working if you decline?
He explored Sarah Jamie Lewis' scenario of someone remotely controlling your vibrator via the TOR network in some depth. How do they know that the person holding the toy has consented? By opening your vibrator to be controlled anonymously, are you consenting to anything that happens, or to anyone that might use it? If your ex for instance, or a family member were to control it, would you have consented to that? What if a child picks up the sex toy? Is the person sending the controls at that point consenting to the interaction, if they believe in good faith that there's an adult at the other end?
As we enter the age of remote sex, we realise that our social and legal understanding of consent drastically needs an update.
One snippet that caught my attention referred to the Offences Against the Person Act (1861).When it comes to the crime of actual bodily harm, the case law is complicated if the victim claims to consent; but overall in UK law, it seems that consent is not a valid defence. But what about a robot? If the assault is not conducted by a person, does this means that you could have a caning robot who could go further without risking breaking the law?

(photo by Dr Kate Devlin)
Our developing relationships with sexual machines also have interesting legal implications. We can't yet marry a robot; at least not until robots are sentient and able to give legal consent. But if robots could consent, would they not prefer to marry each other instead?
As for divorce: while adultery specifically refers to sexual liaisons with someone of the opposite sex (holy shit, I did not know that), the grounds of "unreasonable behaviour" is quite broad. Brown explained that the court looks at the history of your marriage and whether a behaviour is new, or has been in the background all along. His advice was that if you want to use of sex tech in your marriage, whether you're having sex with a robot or using sex toys, get it in early to avoid it being used as grounds for divorce.
Overall it was a fascinating evening. The audience was engaged and interested, and asked some great questions - I really enjoyed the Q&A afterwards, and the ensuing conversations in the bar.
It was fantastic to get to finally meet Dr Kate Devlin and Sarah Jamie Lewis in person and to connect with them. I'll definitely be following their work more closely in future. Neil and the other SCL folks were very welcoming, and I'm looking forward to future conversations.
Giving talks like this is a great way to raise awareness of issues around sexual freedom, privacy and the law. If you missed it, feel free to check out my slides
- and do come along to hear me at ORGcon in a couple of weeks. And if you're organising an event and you'd like me to speak at it, please do get in touch.
---
If you've enjoyed reading this, you can join me on Patreon to ensure I can keep writing. Your support makes this possible.
Comments