Posted at 19:09 on 7 Nov 2017 by Pandora / Blake
A couple of weeks ago I broadcast my first very own live radio show for Radio Ava, a DIY sex worker community project. I presented 90 minutes of DIY Queer Porn, including steamy audio teasers and interviews with some of the hottest up-and-coming stars of the UK queer porn scene. It was great fun - I really enjoyed playing at being DJ with the tunes I'd picked out, and it was so great to be in the studio with other sex workers.
I broadcast an interview I'd recorded and edited earlier in the week with Cookie Cosmos, in which they have loads of interesting things to say about being a trans porn producer, the ways in which mainstream porn lets down trans performers, the value of social media for DIY porn, and their exciting forthcoming projects. I've been lucky enough to meet Cookie now, at the trans femme porn screening they showed work at, alongside their wife and fellow porn maker Rae Cosmos, and Chelsea Poe. It was an amazing evening; so great to connect with other trans non-binary folk including three icons of trans porn, and see some of the exciting work being produced by new filmmakers in the UK right now. I'm eager to collaborate with Cookie and Rae and already plotting ways I can find time to get together and create some work with them.
The first interview of the show though was with Blath, talking about their project Foxclore Films. Blath gives great radio, and we had a fantastic chat about authenticity, fantasy, and the constraints of creating porn in an artistic and cinematic way. Blath talked about the way that their shooting style aims to communicate their artistic vision, and express the taste and atmosphere of sex. It requires a certain amount of planning and artifice to create the beautiful lighting and shots that generate an emotional mood, which means that the sex itself is often not as immersive or authentic as sex in real life. And yet, despite the sex being less spontaneous on set, the resulting films are much more true to life; they capture the feelings and the moments of sexual intimacy much more expressively, and arguably authentically, than just pointing a camera and recording everything that physically happens.
I really enjoyed our conversation, and we could have chatted for a lot longer. We also talked about the films they've screened at Berlin, and including In Berlin with Valentine vonBettie, which was showing at the Porn Film Festival the following week. I was really sorry not to be there, but us mere mortals who didn't joining porn Nirvana in Berlin can still watch Blath's films here and here.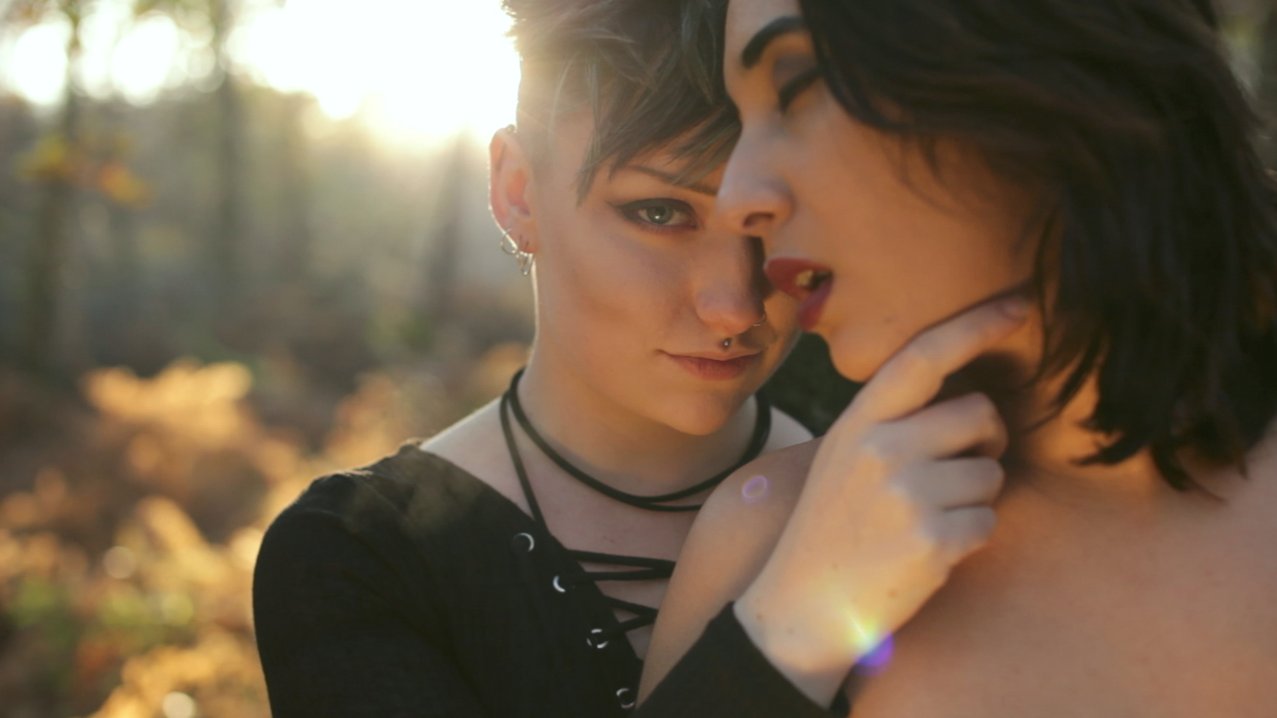 It was a bit of a dive into the deep end for me in terms of radio presenting when I did my little opening spiel. I haven't listened to it yet so I'm not sure how it fared in the edited version of the show, but during the live broadcast it didn't quite come out the way I expected. I'd written myself some notes on the train, and when I got there I realised that my handwriting was rather scrappy and I was worried about not being able to read it, and freezing up when I got in front of the mic. So I typed up a script, and I was going to read it off my laptop screen.
Unfortunately when we were live the microphones were so sensitive that I couldn't scroll down on my laptop without the clicky computer sounds being really audible. And the computer was in the wrong place for me to continue to speak while I was doing this, so I had to move out of reach of the mic. Every time I got to the end of the screen (and I'd set the font large for readability, so this was often) there was an awkward pause while I scrolled down. I ended up skipping it and trying to do it from memory, but the result was less smooth than I wanted. The Radio Ava host told me afterwards that natural speech sounds better than reading a script, which was probably a hint! So I've learned my lesson: next time I'll talk off the cuff - perhaps with a printed-out page of notes containing any relevant information, but definitely not relying on a laptop screen.
I'd scheduled myself another talky bit later in the show, which I was planning to ad lib, but in the end I just ended up using the time to extend the interviews instead, because that felt more natural - and interesting.
I spent the last half hour of the show speaking to the fierce and lovely Dion de Rosso and DiscoTitts from the Sluts4Sluts Collective, a brand new indie porn co-operative that's launched in London with some exciting queer porn in the pipeline. I'm very excited about the project, and really looking forward to seeing them publish their films. The three of us had a good natter which ranged from hilarity to sexiness to much more serious topics. We talked gender, survivorship, how much of oneself to reveal in public, representation and consent in porn, and what Sluts4Sluts are trying to do differently. They're trying to change the conversation in the UK porn industry, challenging expectations about how porn will be shot and how performers can expect to be treated while they're on set.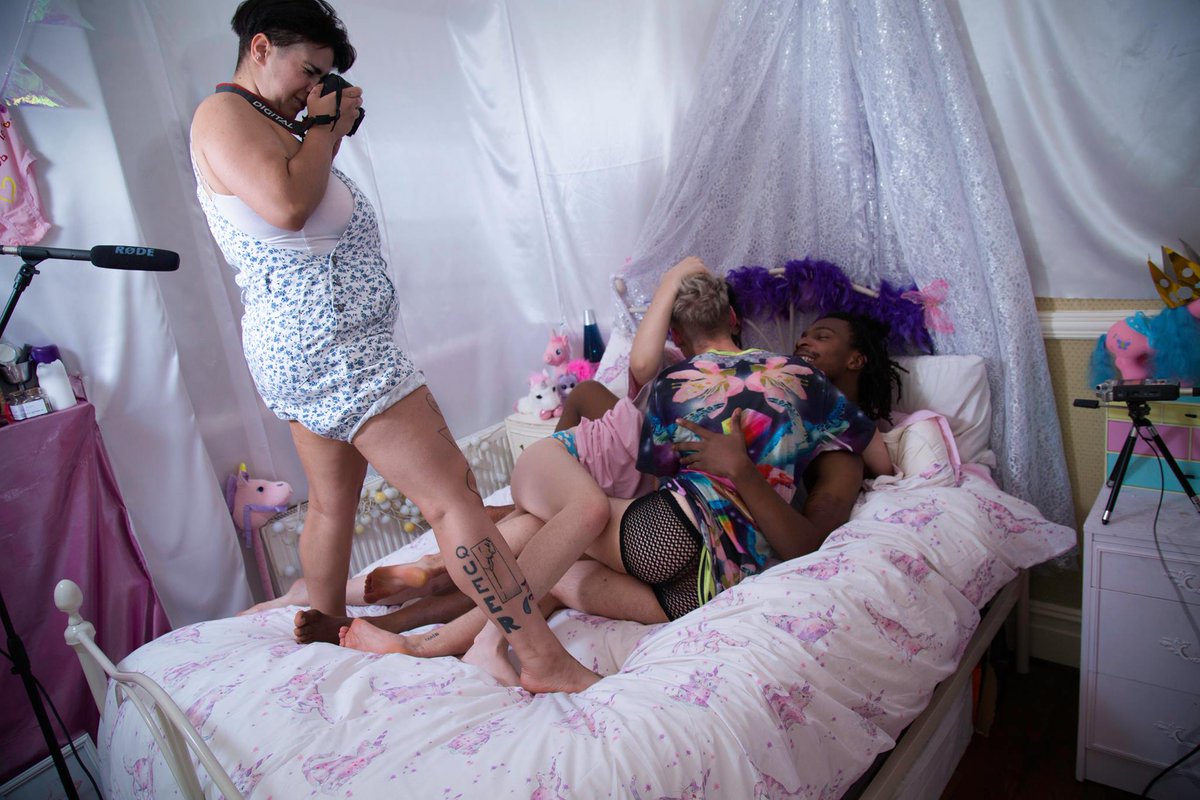 I am eager to join the collective myself and hoping I can arrange to shoot with them - I really, really dig what they're doing, and they are hot stuff!
The time flew by and I had a blast. I loved being in the studio with Radio Ava, meeting the other "Ava"s and amazing sex workers contributing to this DIY community project that is by sex workers for sex workers. And spending the whole day interviewing and chatting to other trans enbies making porn was incredible.
Afterwards I hung out with Dion and DiscoTitts while Laura from the English Collective of Prostitutes presented a show on the harsh realities of police raids and criminalisation for sex workers on the streets in England - the less fun and glamorous side of sex work politics, a matter of survival for many. Write to your MP to urge them to support the Home Affairs Select Committee's recommendations on prostitution.
I loved spending time with my sex worker family, feeling so much community and solidarity. I wish I could do this every month. I must admit producing this show took a lot of time, preparation and energy so I'm not sure if I can do it regularly, but I really love the format and the medium, and I would love to produce some more radio. Maybe independently as an occasional podcast, and maybe on Radio AvA. We'll see how it goes.
If you missed the show it's out on the Radio AvA on their Mixcloud, and you can listen to it here: Oct 17 Part 1: Pandora / Blake with DIY queer porn and sex workers speaking up in Rome. Should I do more radio shows? Let me know what you think!
---
If you've enjoyed reading this, you can join me on Patreon to ensure I can keep writing. Your support makes this possible.
Comments