Posted at 12:18 on 3 Mar 2017 by Pandora / Blake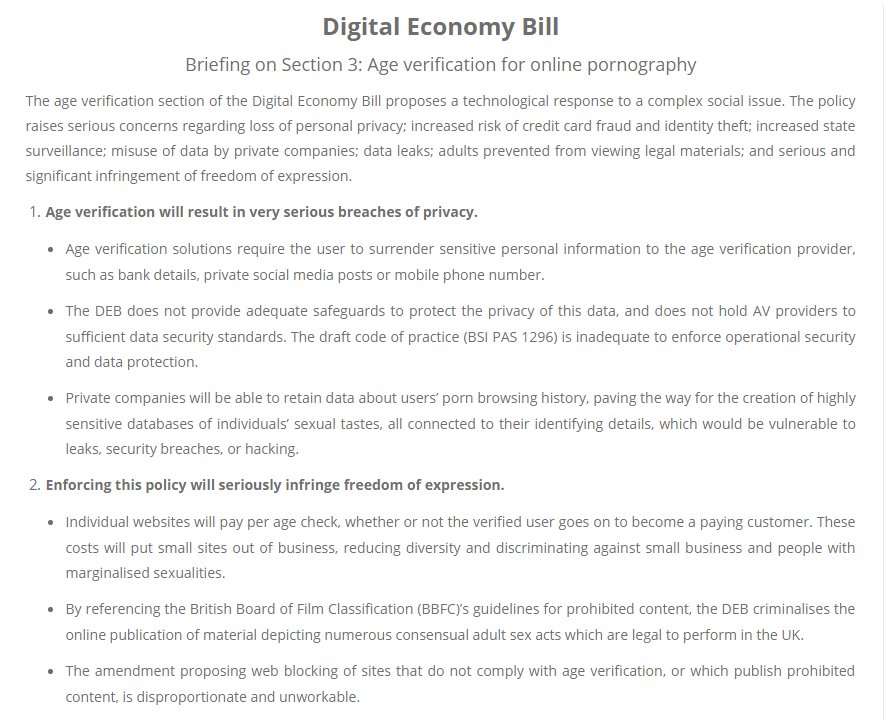 Along with the statement about the Women's March, one of my first actions in my new role as spokesperson for Backlash was to write a briefing about section 3 the Digital Economy Bill, and send it out to 151 members of the Lords, in advance of the Bill going to Committee stage. We targeted the briefing to those members sitting on relevant committees, those who had contributed to the second debate on the Bill, and Liberal Democrats whom we might hope would be sympathetic to issues of net freedom, privacy and civil liberties.
It was no easy task to condense my research and findings on the potential harms of this bill into a short, easily digestible format. To make it more likely that the briefing would be read, I summarised the main arguments in a single cover page, and then fleshed out the three sections - privacy, freedom of expression and lack of supporting evidence - in more detail over three subsequent pages. If you're looking for a succinct introduction to the problems with the age verification policy, I think it's a reasonable start.
Although I've submitted evidence to the government on age verification several times already, including a response to the initial consultation and two submissions to the MP Select Committe, for some reason I found this lobbying effort more nervewracking than the others. Perhaps it's simply the pomp surrounding the House of Lords, with strict admonitions on the Parliament website to make sure you address each person correctly using the right long and flowery titles. As I collated the names and titles of the peers we wanted to reach, I found myself growing painfully aware of the massive gulfs between my life experience and theirs. It made the task of trying to persuade them of my point of view particularly daunting.
Or perhaps it's simply that since the second debate in the Lords, I have been aware of an apparent consensus in that house that age verification and censorship are good things, and that no unpleasant side effect is too steep a price to pay for the noble goal of "protecting children". Still, I knew that if we didn't at least try to put our point across, I would regret it. This document is my best attempt to make the case against age verifications briefly and persuasively.
Since then I've been following the committee debates closely. To my surprise, I saw a couple of the points I mentioned in the briefing raised by certain Lords proposing amendments to try and curb the most problematic vaguenesses of the Bill - for instance relating to privacy, appeals, and the complications around prohibited content. I was very encouraged to see Baroness Jones of Whitchurch explicitly mention that "the Crown Prosecution Service's guidelines on this issue are out of date"; an argument Myles Jackman and I have long been making against the way in which the BBFC prohibited content guidelines are being applied online, but which I haven't seen taken up by anyone in Parliament until now.
Unfortunately Lord Ashton, the Minister for Culture, Media and Sport, seemed immune to the arguments even when there was a strong agreement amongst committee members, and has rejected most of the proposed amendments that would improve section 3. So it's on the committee now to raise these issues at Report stage.
The Open Rights Group has been doing fantastic work reporting on the progress of the Digital Economy Bill through the House of Lords, and you can read their summary of the Committee debates here.
I shall continue to closely monitor the progress of this Bill, and am determined to continue to appeal to Parliamentarians to consider the implications and potential harm of this regressive legislation. I'm incredibly grateful to all of my patrons who support me to do that on their behalf, and if you would like to help me continue this time-consuming work I'd be so grateful if you would consider a small monthly donation via my Patreon campaign.
Comments
Commenting has been disabled on this post.