Posted at 16:38 on 12 Mar 2018 by Pandora / Blake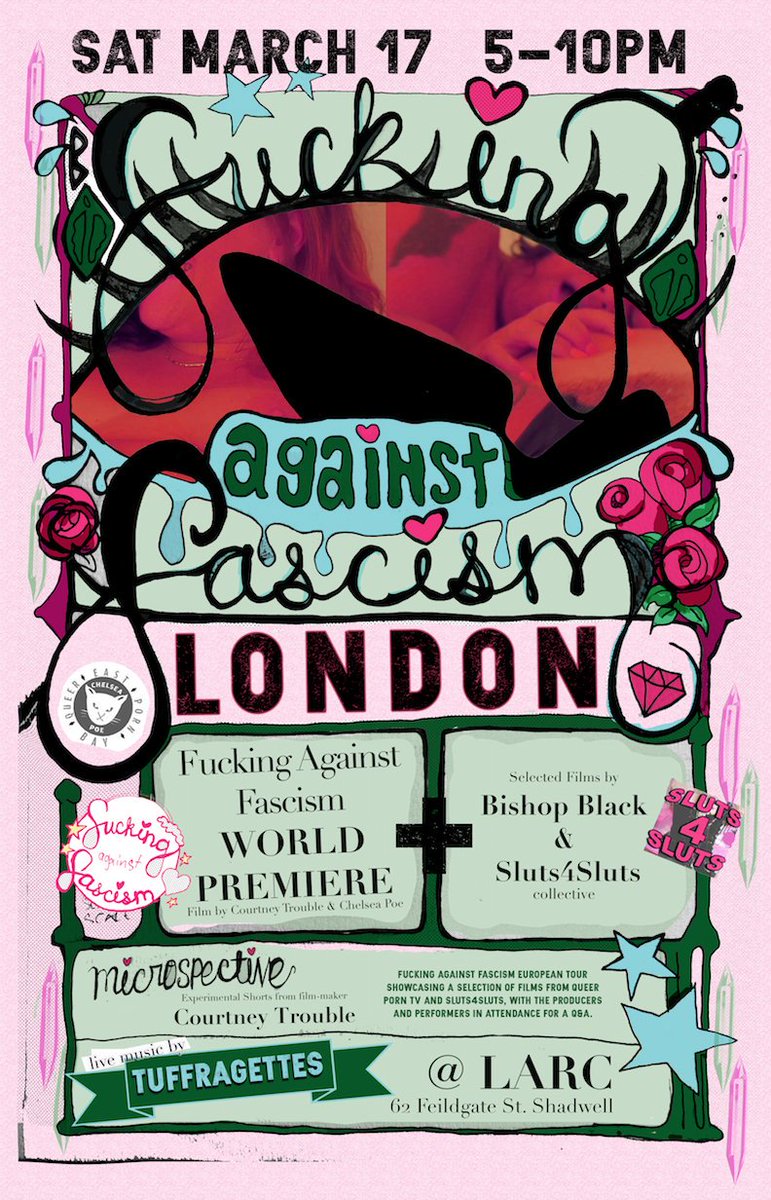 I'm super excited for this queer porn screening that's touring Europe right now! The headliner is Fucking against Fascism, a collaboration between Courtney Trouble and Chelsea Poe, which is screening alongside selected films by Bishop Black and the Sluts4Sluts Collective. The UK event is a week tomorrow, Saturday 17th March from 5pm-10pm. Here's the Facebook event. If you're in London you should come!
Courtney Trouble is a rad queer porn director, one of the pioneers of queer porn; they run QueerPorn.tv and RealQueerPorn.com. Chelsea Poe is a gorgeous transfemme performer, known for her work with Gods Girls, Trouble Films and TrenchcoatX.
I'll be at the screening and I'm really excited, but even MORE exciting is that I'm going to be shooting earlier that day with Courtney and Chelsea, to create some brand new queer porn! I am ridiculously pleased about this, I have a big porn crush on Chelsea and I can't wait to work with her. It'll be a treat to shoot with a director as experienced and talented as Courtney, and I'm stoked to get back into shooting with a collaboration with two other queer trans folk.
Do come to the screening if you can to check out some awesome, subversive and hot queer porn, and come say hi!
Paris and Berlin screening info:
UPCOMING SCREENINGS MARCH 2018 LONDON 17 with @Sluts4slutscol @ChelseaPoe666@courtneytrouble @BiszhopBlaczk and The Tuffragettes
PARIS 19 March with @carm_ina and @letagparfait
BERLIN 23 March with @ChelseaPoe666 @courtneytrouble Fluidos Sudakas Vuqboyrim and Yah Yah
---
If you've enjoyed reading this, you can join me on Patreon to ensure I can keep writing. Your support makes this possible.
Comments